Published 09-02-09
Submitted by eBay Inc.
eBay, the world's leading online marketplace, today announced the launch of the eBay Give. Good. Green. campaign, a social-media focused initiative designed to inspire their community of 88 million buyers and sellers - and any individual that is inspired to join - to make a difference through a variety of activities on eBay.
Rooted in eBay's belief in the power of the individual to make a difference, the campaign is the first of its kind to link all of five of the company's pro-social initiatives - eBay Foundation, eBay Giving Works, MicroPlace, WorldofGood.com by eBay, and the eBay Green Team - together to create collective, lasting, and scalable social good.

"eBay Inc. was founded on the belief that people are basically good," says Robert Chatwani, Head of eBay Global Citizenship. "Over the years, we experimented with a variety of ways to empower our users to not only be good - but do good when they use our products and services. Today, we have a strong portfolio of five powerful programs, each unique in their social mission and purpose, but bound by a common trust in the power of every individual to make a difference. It's our hope that the Give. Good. Green. campaign sheds some light on how eBay and our community can promote more sustainable commerce."
How it Works
Anyone interested in participating can do so via the campaign website at www.ebaygivegoodgreen.com. From there, individuals are given a menu of ways to take action on eBay - from investing on MicroPlace, to joining the eBay Green Team, to buying on WorldofGood.com - each of which is rewarded with an entry into a sweepstakes to win one of a whole list of amazing prizes: including an exclusive $20,000 Tazzari ZERO electric car!
Additionally, for every person who uploads their photo to the Give. Good. Green. community page, eBay Foundation will donate a dollar to one of three charities (HandsOn Network, Oxfam America, and the Environmental Defense Fund), showcasing how eBay continues to partner with its community to make a difference in the world.
The eBay Global Citizenship Initiatives
eBay Foundation contributes to the economic and social well-being of local communities by engaging our employees and everyone through charitable giving and volunteerism.
eBay Giving Works offers consumers many convenient and trusted ways to give to more than 19,000 nonprofits while they buy or sell on eBay.
WorldofGood.com connects consumers with ethically sourced and eco-friendly goods. Independent organizations called Trust Providers verify the positive impact of every product on people and our planet.
MicroPlace enables individuals to extend their budget to make a difference in the fight against poverty by making investments that fund loans to the world's working poor.
eBay Green Team connects thousands of eBay buyers and sellers, who are committed to helping the world buy, sell, and think green every day. The Green Team is reducing, reusing, and recycling to make a big difference for the planet.
Fast Facts


More than $2,000 worth of goods are traded every second on eBay
Every 18 seconds, someone makes a difference on eBay
Since inception, eBay Foundation has invested more than $19 million in nonprofit organizations
The eBay community has raised more than $165 million for charity to date
WorldofGood.com by eBay empowers impoverished artisans in over 85 countries around the world
More than 30,000 microloans have been funded by investments through MicroPlace since its inception
In the last three years, buying pre-owned handbags on eBay had the same effect as planting more than two million trees


About eBay
Founded in 1995, eBay Inc. connects hundreds of millions of people around the world every day, empowering them to explore new opportunities and innovate together. eBay Inc. does this by providing the Internet platforms of choice for global commerce, payments and communications. Building on this positive foundation, eBay Global Citizenship was formed to harness the capabilities that underlie our core businesses to further our ability to be a "force for good." Our citizenship portfolio includes the eBay Green Team, the eBay Foundation, eBay Giving Works, MicroPlace, and WorldofGood.com by eBay.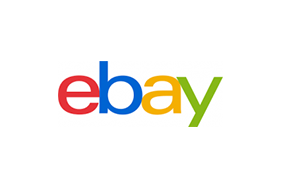 eBay Inc.
eBay Inc.
eBay Inc. (NASDAQ: EBAY) is a global commerce leader including the Marketplace, StubHub and Classifieds platforms. Collectively, we connect millions of buyers and sellers around the world, empowering people and creating opportunity through Connected Commerce. Founded in 1995 in San Jose, Calif., eBay is one of the world's largest and most vibrant marketplaces for discovering great value and unique selection. In 2016, eBay enabled $84 billion of gross merchandise volume. For more information about the company and its global portfolio of online brands, visit www.ebayinc.com. 
Global Impact is the good that happens when people connect on eBay. It's how we bring our purpose to life: Creating a better, more sustainable form of commerce—where people are empowered, causes are supported and opportunities are open to everyone.
More from eBay Inc.