Published 08-05-09
Submitted by BrownFlynn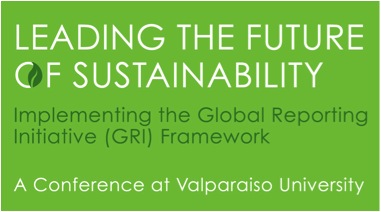 Cleveland, August 5 /CSRwire/ - From October 23rd through the 25th at Valparaiso University, BrownFlynn Learning LLC will partner with leaders from around the globe to host, "Leading the Future of Sustainability: Implementing the Global Reporting Initiative (GRI) Framework." This ground-breaking conference will help to enhance companies' sustainability efforts.
GRI, the world's most widely used sustainability reporting framework, is the focus of the conference which will provide attendees not only with a comprehensive overview of reporting their environmental, social and economic policies, but also ideas for establishing or enhancing their company's sustainability strategy. Many professionals may benefit from this conference including EHS directors, executives in investment relations, human resources representatives, engineers or corporate communications officers.
BrownFlynn Learning, the first company in the United States to be certified by GRI as trainers, will teach attendees its signature course, The GRI Process. Additional topics include: Business Case for Sustainability, Measuring, Managing, and Reporting a Company's Economic, Environmental, and Social Performance, Challenges of Reporting, Reporting in the Utilities, Mining, and Public Agency Sectors, Sustainability Strategy Planning.
The "Greenest CEO in America" and author Ray Anderson, is scheduled as a keynote speaker for the conference. As Founder and Chairman of Interface, Inc, Anderson's strides in the world of sustainability are unparalleled. Other specialists in the consumer goods, utilities and public agency sectors are being identified and confirmed for the conference.
"The core of our business has always been about the triple bottom line - people, planet and prosperity," says Principal and Co-owner of BrownFlynn, Barb Brown. "The 'Leading the Future of Sustainability' Conference at Valparaiso University is a great opportunity to exhibit our recent GRI certification and solidify our commitment to educating others on corporate citizenship."
"With Wal-Mart recently announcing the development of its new sustainability index-consisting of questions regarding Energy and Climate, Material Efficiency, Natural Resources, and People and Community-we recognize how the GRI reporting framework can enhance social responsibility efforts now more than ever," comments Beth Meany, Director of BrownFlynn Learning. "The topics covered by the index are encompassed within the GRI performance indicators, but more importantly, The GRI Process serves as the management tool for improving answers to those questions in a meaningful way."
Other conference partners include Valparaiso University, the Global Reporting Initiative, Valparaiso MBA Plus Program and Symbiotic Engineering.
For more information about the conference, visit VU-GRI.org.
About BrownFlynn
BrownFlynn is a corporate responsibility and sustainability consulting firm headquartered in Cleveland, Ohio. We partner with clients to integrate environmentally and socially responsible practices into their business strategies, and help them communicate those messages internally and externally, creating a cultural shift that results in bottom-line impact. BrownFlynn Learning is a division of BrownFlynn. Visit www.brownflynn.com for service offerings, case studies and our sustainability resource center.

BrownFlynn
BrownFlynn
About BrownFlynn
Founded in January 1996, BrownFlynn is a leading corporate sustainability and governance consulting firm. The Firm advises Fortune 500 and privately-held companies to drive value creation by focusing on and managing their greatest impacts by understanding their landscape, setting their direction, telling their story, and engaging their stakeholders. BrownFlynn is the first U.S.-certified training partner of the Global Reporting Initiative (GRI). The Firm shares its expertise through speaking engagements, whitepapers, webinars, collaborative partnerships, and regular columns in leading publications. To learn more visit brownflynn.com.
More from BrownFlynn