Published 07-07-09
Submitted by PricewaterhouseCoopers
NEW YORK, July 7 /PRNewswire/ -- To support individual action and embed a culture of responsible leadership, PricewaterhouseCoopers LLP (PwC) today announced two additional approaches to driving the firm's corporate responsibility efforts through empowering its people and impacting the community in the midst of challenging economic times.
Through an innovative program called Project Make [it] count, the firm encouraged its people to demonstrate their responsible leadership. "Our 30,000 partners and staff have collectively made an indelible impact in their communities through Firm-sponsored efforts, and we wanted to show how one individual can make a difference and inspire others to take action," said partner Kelly Barnes, member of PwC's Leadership Team.
This inaugural effort invited individuals to create and implement a community service project that would positively impact the marketplace, people, their community and the environment, which are the four pillars that comprise the firm's corporate responsibility strategy. From the hundreds of submitted entries, 23 individuals were randomly selected. Each participant received $450 in seed money to develop their project "" an amount that represented a typical month's expenses for coffee and cab rides or work-related parking costs.
This scalable, low cost, employee-driven volunteer activity was successful in rolling out 23 creative and inspiring projects that demonstrated the impact that one person can make. It also helped drive behavioural change by showing people that making different personal choices "" like making coffee at home or taking public transportation to work"" can lead to less waste and extra dollars that can be spent on those in real need. Moreover, this effort demonstrated how a company can add value to their community even when resources are limited.
To learn more about Project Make [it] Count and view videos of selected participant's projects, please visit www.pwc.com/us/projectmakeitcount.
PwC is also continuing to provide its partners and staff distinctive work experiences through flexible work options. The firm introduced a new flexible work initiative that enables PwC professionals to pursue community, educational and personal interests through partially paid sabbaticals of up to 16 weeks or take advantage of a Reduced Work Arrangement, which will allow employees to take advantage of a reduced work week for some or all of the time between Memorial Day and December 31, 2009. Additionally, as in years past, the Firm is offering "Flexible Fridays" between May 25 and September 7, providing its professionals an opportunity to compress the work week and take some time off on some Fridays during the summer months. These work options provide PwC with added workforce flexibility, work load balance, scalability and the benefit of helping the firm's cost management efforts.
"PwC recognizes that its people are committed to investing in their communities and want to work for companies that are responsible corporate citizens," said Shannon Schuyler, managing director for corporate responsibility at PricewaterhouseCoopers. "It's the right thing to do for our people and the community. At the same time, these programs are good for the health of our business, by helping us manage costs and continue our strategy of retaining the professionals we need to emerge from this economic downturn in a position of strength."

About PricewaterhouseCoopers
PricewaterhouseCoopers (www.pwc.com) provides industry-focused assurance, tax and advisory services to build public trust and enhance value for its clients and their stakeholders. More than 154,000 people in 155 countries across our network share their thinking, experience and solutions to develop fresh perspectives and practical advice.
© 2009 PricewaterhouseCoopers. All rights reserved. "PricewaterhouseCoopers" refers to PricewaterhouseCoopers LLP or as the context requires, the PricewaterhouseCoopers global network of other member firms of the network, each of which is a separate and independent legal entity.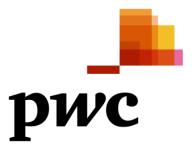 PricewaterhouseCoopers
PricewaterhouseCoopers
PwC firms provide industry-focused assurance, tax and advisory services to enhance value for their clients. More than 161,000 people in 154 countries in firms across the PwC network share their thinking, experience and solutions to develop fresh perspectives and practical advice. See pwc.com for more information.
© 2011 PwC. All rights reserved. "PwC" and "PwC US" refer to PricewaterhouseCoopers LLP, a Delaware limited liability partnership, which is a member firm of PricewaterhouseCoopers International Limited, each member firm of which is a separate and independent legal entity.
More from PricewaterhouseCoopers