Published 06-26-09
Submitted by eBay Inc.
SAN JOSE, Calif. - June 26, 2009 - This weekend, the eBay Green Team and ecofabulous will present the interior design and décor of the Reclaimed Space Showhouse, exclusively on display at the 2009 Dwell on Design show floor in Los Angeles. The program spotlights the growing trend of using reclaimed, repurposed and sustainable products to create high style design and décor that is planet friendly and price accessible.
Custom built by Austin-based pre-fab builder Reclaimed Space, the 400 square foot sustainable living space will be designed by ecofabulous and furnished with high-quality vintage, repurposed and reclaimed items found on eBay, including a pair of vintage Edwardian sconces, a brass chinoise garden stool, and a set of Vintage Cabinet Pulls and door hardware. The house will be on display at the show from Friday, June 26 through Sunday, June 28 "" and will simultaneously be listed for purchase via eBay Giving Works, with proceeds to benefit Habitat for Humanity LA. The listing can be found at ebay.com/reclaimedspace
"As the largest engine online for the re-use of goods "" and the premier destination for millions of style-savvy consumers and designers searching for vintage and reclaimed products "" eBay has a unique opportunity to showcase how using what exists in the world today can be good for the planet and great for your pocketbook," said Amy Skoczlas-Cole, Director of Citizenship Outreach for eBay. "The eBay Green Team and ecofabulous share a passion for helping consumers make smarter, greener shopping decisions every day, and we're thrilled to be working together."
The eBay Green Team (ebay.com/greenteam) started as a grassroots effort of 40 employees that wanted to bring their environmental values to work, and has since blossomed to more than 100,000 employees and community members in more than 23 countries, all pledging to make smarter, greener shopping choices every day.
The eBay Green Team is rooted in the belief that small individual actions can have large collective impact. For instance, in 2008 alone, the purchase of used laptops on eBay saved more than 96,000 tons of greenhouse gas emissions. Over the last ten years, 88 million buyers and sellers on eBay have reused at least $100 billion worth of products.
"Working with eBay Green Team and Reclaimed Space on this project has been a fantastic opportunity to highlight impressive design using reclaimed materials as well as sustainably sourced products from affordable, accessible companies," said Zem Joaquin, founder of ecofabulous. "We're looking to provide a design experience what will leave visitors impressed by the style and aesthetic, as well as some eco-wisdom about how they can infuse reuse and sustainability into their everyday lives,"
The Showhouse, which was custom-designed for the 2009 Dwell on Design Show, features refinished 100-year-old reclaimed pine and oak, reclaimed low-e windows, a queen Murphy bed, a full bathroom and an outdoor shower. The rustic, yet modern space features energy efficient design with cross-wind ventilation and heat reflective materials, and comes equipped with 85 percent recycled newspaper insulation. The unit is built compliant with Los Angeles City Building Code.
The Reclaimed Space Showhouse will be auctioned on eBay through eBay Giving Works, which empowers its community of buyers and sellers to support their favorite charities when they buy and sell on eBay. The program has raised more than $150 million for U.S. charities since 2003. The charity auction started June 23, and bidding closes Sunday, June 28 at 5 p.m. PT, and can be found at ebay.com/reclaimedspace.

About eBay Inc.
Founded in 1995, eBay Inc. connects hundreds of millions of people around the world every day, empowering them to explore new opportunities and innovate together. eBay Inc. does this by providing the Internet platforms of choice for global commerce, payments and communications. Building on this positive foundation, eBay Global Citizenship was formed to harness the capabilities that underlie our core businesses to further our ability to be a "force for good." Our citizenship portfolio includes the eBay Green Team, the eBay Foundation, and our ventures for social good - eBay Giving Works, MicroPlace, and WorldofGood.com by eBay.

About ecofabulous
ecofabulous is a publishing and content development firm that has become the leading resource for eco-friendly home, fashion, beauty, and lifestyle products. The company has built its impressive level of trust, credibility, and experience by curating and providing fresh, informative reviews of today's hottest products that meet stringent sustainability criteria. In every product review, ecofabulous considers purity from toxins and lifecycle assessment, as well superior efficacy and aesthetic design.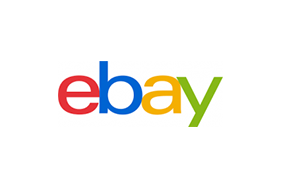 eBay Inc.
eBay Inc.
eBay Inc. (NASDAQ: EBAY) is a global commerce leader including the Marketplace, StubHub and Classifieds platforms. Collectively, we connect millions of buyers and sellers around the world, empowering people and creating opportunity through Connected Commerce. Founded in 1995 in San Jose, Calif., eBay is one of the world's largest and most vibrant marketplaces for discovering great value and unique selection. In 2016, eBay enabled $84 billion of gross merchandise volume. For more information about the company and its global portfolio of online brands, visit www.ebayinc.com. 
Global Impact is the good that happens when people connect on eBay. It's how we bring our purpose to life: Creating a better, more sustainable form of commerce—where people are empowered, causes are supported and opportunities are open to everyone.
More from eBay Inc.