Published 06-18-09
Submitted by United Nations Global Compact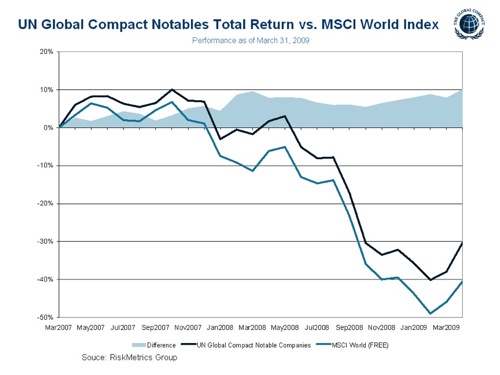 NEW YORK, NY. - 18 June 2009 - UN Global Compact participants recognized as good, or "notable", sustainability reporters have outperformed a major stock market index over the past two years. This is the key finding of a new study released by the RiskMetrics Group, a provider of risk management and corporate governance services to the global financial community. The group's research, commissioned by the Global Compact, found that publicly listed Global Compact participants whose annual Communications on Progress (COP) were recognized as "notable" by the initiative have consistently outperformed the MSCI World Index by an average of 7.3 percent since March 2007.
A commonly used benchmark for market performance, the MSCI World Index tracks a collection of publicly listed companies around the world. Notables are a subset of Global Compact business participants that are recognized for the exemplary disclosure of environmental, social, and corporate governance (ESG) issues in their annual COP (see Notables criteria). The group of Notables tracked by RiskMetrics comprises 73 publicly listed companies representing approximately 30 developed and emerging market countries across various sectors.

Despite the sharp market drop in October 2008, the Notables outperformed the market by 6 percent, suggesting possible market valuation benefits associated with progressive disclosure on ESG issues.

As of 31 March 2009, the Notables achieved 10 percent higher returns than the MSCI World Index - with Notables down 30 percent for the period compared to a 40 percent decline for the MSCI World Index.
While the higher performance of Notables over the MSCI World Index itself should not be seen as evidence of a causal relationship between CR and stock performance, there is a clear correlation between publicly listed companies that disclose ESG information under the Global Compact's framework and the resiliency of their stock market valuation over the long term.
"We are very pleased to see the results of this new research," said Georg Kell, Executive Director of the United Nations Global Compact. "We encourage others to investigate the suggested linkage between comprehensive disclosure and stock-market performance."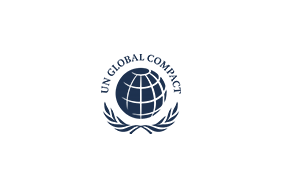 United Nations Global Compact
United Nations Global Compact
Launched in 2000, the UN Global Compact brings business together with UN agencies, labor, civil society and governments to advance ten universal principles in the areas of human rights, labor, environment and anti-corruption. Through the power of collective action, the Global Compact seeks to mainstream these ten principles in business activities around the world and to catalyze actions in support of broader UN goals. With over 4,100 participating companies from more than 100 countries, it is the world's largest voluntary corporate citizenship initiative. For more information, please visit www.unglobalcompact.org.
More from United Nations Global Compact