Published 06-18-09
Submitted by CECP
NEW YORK, NY, June 2, 2009 ⎯ The Committee Encouraging Corporate Philanthropy (CECP), a global forum of business CEOs and chairpersons focused exclusively on corporate philanthropy, welcomes three new leaders to its distinguished board of directors "" Douglas R. Conant, president and CEO of Campbell Soup Company, Jay S. Fishman, chairman and CEO of The Travelers Companies, Inc., and Klaus Kleinfeld, president and CEO of Alcoa, Inc.
"Doug, Jay and Klaus all possess a deep appreciation and personal commitment to effective corporate philanthropy," said Harold McGraw III, chairman, president and chief executive officer of The McGraw-Hill Companies and chairman of CECP. "Their collective experience and abilities will further strengthen our board and help us expand on CECP's successful record of increasing the quality and level of corporate philanthropy. I am tremendously proud of our progress and am optimistic about the future of corporate giving."
Douglas R. Conant was appointed president and chief executive officer of Campbell Soup Company and elected as a director in January of 2001. Conant joined Campbell with 25 years of industry experience from three of the world's leading food companies: General Mills, Inc., Kraft and Nabisco.
Campbell is a global manufacturer and marketer of high-quality foods. Its portfolio is focused on simple meals, heavily anchored by Campbell's soup; baked snacks, with Pepperidge Farm in North America and Arnott's in Asia-Pacific; and healthy beverages, heavily anchored by the V8 brand. Campbell focuses its community strategy, "Nourishing Our Neighbors," on efforts investing in vital communities that build on the company's core competencies of health and wellness, including nutrition, hunger relief, childhood obesity and education. Campbell's work in the communities in which it operates includes signature programs such as Labels for Education and Stamp out Hunger, as well as cash grants, product donations and employee volunteer service.
Jay S. Fishman is chairman and chief executive officer of The Travelers Companies Inc. He has served as the company's chief executive officer since the 2004 merger of The Saint Paul Companies, Inc. and Travelers Property Casualty Corp. The company consolidated under the Travelers name in 2007. Mr. Fishman assumed the additional role of chairman in September 2005. Prior to his current position, Mr. Fishman held several key executive posts at Primerica, Travelers and Citigroup.
Travelers, a Fortune 100 company based in New York City, offers a wide variety of property and casualty insurance and surety products and services to businesses, organizations and individuals in the United States and in selected international markets. Travelers provides support for charitable organizations through the Travelers Foundation as well as with corporate funding and in-kind services. The company's community giving is primarily focused on public education reform and improving academic and career success for underrepresented youth in Saint Paul, Minn., and Hartford, Conn., near principal offices. Travelers also supports targeted local needs in these regions in the areas of community development and the arts. The company's national giving program offers funding for education, community development, and arts and culture in other geographic regions where there is a significant business presence.
Klaus Kleinfeld is president and chief executive officer of Alcoa Inc. He joined the company in 2007 as president and chief operating officer, and seven months later he assumed CEO responsibilities. He has served on Alcoa's board of directors since 2003. Before Alcoa, Mr. Kleinfeld had a 20-year career with Siemens, where he served as chief executive officer of Siemens AG and was president and chief executive officer of the U.S. subsidiary, Siemens Corporation, which represents the company's largest region.
Alcoa is the world leader in the production and management of primary aluminum, fabricated aluminum and alumina combined. Serving the aerospace, automotive, packaging, building and construction, commercial transportation and industrial markets, Alcoa brings design, engineering, production and other capabilities to its customers. The company is dedicated to making a sustainable product, with more than 70% of the aluminum ever produced since 1886 is still in use today. Alcoa recognizes that the success of its business is directly connected to the strength of the communities in which it operates and together with Alcoa Foundation, works to address the needs of communities where it has a presence. In addition to addressing locally identified needs, Alcoa Foundation is focused on unlocking solutions to critical environmental sustainability challenges, including global climate change. The company combines funding with handson support from its employee volunteers, who gave 705,000 service hours in 2008 to strengthen their communities.

ABOUT CECP
The COMMITTEE ENCOURAGING CORPORATE PHILANTHROPY
[www.CorporatePhilanthropy.org] is the only international network of corporate leaders actively working to affect positive change through corporate philanthropy. Its mission is to lead the business community in raising the level and quality of corporate philanthropy. CECP's 175 members include CEOs and chairpersons of the world's largest and most well-regarded corporations from a diverse and broad range of industry sectors.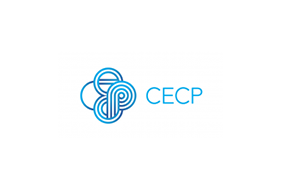 CECP
CECP
The Committee Encouraging Corporate Philanthropy (CECP) is the only international forum of business leaders focused on increasing the level and quality of corporate philanthropy. Membership includes more than 180 global CEOs and chairpersons of companies that collectively account for more than 40% of reported corporate giving in the United States. Membership is by invitation and is renewed annually.
CECP provides member companies with peer-to-peer executive convenings, premier networking events for corporate giving industry professionals, cutting-edge research publications, a proprietary, on-demand benchmarking system of corporate philanthropy data, and exclusive media opportunities.
Founded in 1999 by actor and philanthropist Paul Newman, together with John Whitehead, Peter Malkin, and other business leaders, CECP continues to inspire and challenge leaders in the private sector to find innovative ways to fulfill unmet social needs and to lead the way towards better alignment of business and social strategies.
Join CECP on Facebook, Twitter, Flickr and YouTube.
More from CECP