Published 06-08-09
Submitted by Tom's of Maine
KENNEBUNK, Maine, June 8 /PRNewswire/ -- Tom's of Maine introduces 50 States for Good, a new program directed at organizations that make a difference in their communities. The national program asks the public to help Tom's of Maine reward non-profit organizations focused on lasting, positive change.
Tom's of Maine is a longtime supporter of community involvement programs, such as clean waterways and greater access to quality, affordable dental care. Through the 50 States for Good program, the company is now asking its consumers to help decide what projects around the country should receive the company's financial support. With a $100,000 community action fund and a goal of inspiring participation across all 50 states, Tom's of Maine encourages people to share their opinions on the projects that matter most to them.
Tom's of Maine has created a virtual hub at www.50statesforgood.com, where applications for participation and program information are available to any qualifying 501 (c)(3) organization beginning today through August 30. After the submission phase, a community vote will determine five projects to receive $20,000 each.
"Tom's of Maine is founded on the belief that communities working together can solve problems and make a meaningful impact in the world," said Rob Robinson, director of common good partnerships at Tom's of Maine. "By widening our efforts, and encouraging individuals to tell us what matters most to them, we feel like our support can have an even greater impact. To us, there's no limit to what we can achieve together if we support the good work going on in communities all around the country."
Living Lands and Waters, a non-profit dedicated to river clean-up and disaster relief is an example of how one organization can truly create enduring goodness for all. For more than 11 years, founder Chad Pregracke and his loyal volunteers have cleaned up the nation's waterways, removing more than 4 million pounds of garbage along the way.
"This new program will make a significant impact on community involvement programs," said Chad Pregracke, founder and president of Living Lands and Waters. "Even though Tom's of Maine has been a longtime supporter of community involvement, this program encourages individuals to express what is important to them and allows the people a voice in deciding where the company's donations are going to go."
For the 50 States for Good program, a panel of judges will narrow the application pool to a group of finalists, which will be announced in mid-September. A public vote will determine which five organizations then receive awards from the community fund, and the winners will be announced in November.

About Tom's of Maine
Tom's of Maine is a leader in natural personal care with a longstanding commitment to putting good, socially responsible business practices first. For almost 40 years, the company has donated 10% of its profits back to the community and it encourages employees to volunteer by giving 5% paid time off. Each day, Tom's of Maine employees contribute to high sustainability standards and their ideas from wind power to recycled and recyclable packaging are critical to the company's sensitive way of doing business. Tom's of Maine enjoys partnering with its consumers, vendors and many community organizations to support lasting, positive change that is good for the earth and us all.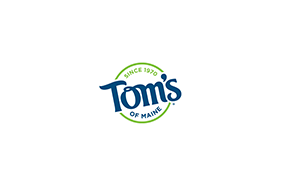 Tom's of Maine
Tom's of Maine
Tom's of Maine has been making safe, effective natural personal care products for 49 years. It all began when Tom and Kate Chappell moved to Maine in 1968 looking for a healthier, simpler life for their growing family. And when they couldn't find personal care products that were free from artificial flavors, fragrances, sweeteners, colors and preservatives, they decided to make their own. Tom's of Maine products - including toothpaste, deodorant, mouthwash, antiperspirant, bar soap, body wash, dental floss, and toothbrushes - are made from naturally sourced and naturally derived ingredients and never tested on animals. A Certified B Corporation, Tom's of Maine is committed to upholding a purpose-driven business and has a long-standing commitment to supporting nature and healthy families. Tom's of Maine has supported hundreds of nonprofits by giving back 10% of its profits, and employees are encouraged to use 5% of their paid time (12 days) volunteering for causes they are passionate about. Most Tom's of Maine products are vegan, kosher, halal-certified and gluten-free. All packaging is recyclable through a partnership with upcycling leader TerraCycle or participating municipalities.
Visit us online at http://www.tomsofmaine.com/ or at http://www.facebook.com/TomsofMaine.
More from Tom's of Maine