Published 06-02-09
Submitted by CECP
New York, New York. - June 2, 2009 "" Today, the Committee Encouraging Corporate Philanthropy (CECP) shares a first-look at results from its annual philanthropy survey of nearly 140 leading companies, revealing that 53% of companies increased their total philanthropic donations in 2008, and 27% increased their giving by more than 10% year-over-year. Amid a challenging economy, business leaders continue to support their companies' commitments to rebuilding their communities and advancing social and environmental programs around the world, further evidenced today as CECP presents the Excellence Awards in Corporate Philanthropy to two companies and one nonprofit.
CECP's corporate philanthropy data also indicate that while nearly 70% of respondents experienced a decline or loss in corporate profits from 2007 to 2008, the inflation-adjusted median giving per company remained high at $30.78 million, drifting down 7.8% from a peak of $33.19 million in 2007. The greatest surge was seen in non-cash giving "" which rose by nearly 35% among companies whose giving increased. Giving from corporate foundations remained flat. To access a detailed Executive Report of these findings, visit 'Benchmarking' at CorporatePhilanthropy.org.
This year's Excellence Awards recipients are: Western Union, Liquidnet Holdings Inc., and Boys & Girls Clubs of America, nominated by Charles Schwab Foundation. Winners were selected by an independent jury according to the following criteria - CEO leadership, innovation, measurement, and partnership.

Western Union receives CECP's Large Company Award, given annually to a company with revenues greater than $3 billion. Western Union is investing $50 million over five years in the Our World, Our Family(R) program, which facilitates education and economic opportunity for people at every rung of the financial ladder. The company's commitment goes beyond financial grants, advancing the cause through advocacy, employee volunteerism, and in-kind support, such as no-cost post-disaster money transfers, with a focus on migrants and their families, which represent a core customer base in many markets. Western Union is working closely with NGO partners such as Mercy Corps to create scalable, sustainable programs, which aim to address the root causes of poverty so migration can be a choice, rather than a necessity, for families worldwide.
Christina Gold, Western Union President and Chief Executive Officer, said, "Corporate citizenship is about shared values; it allows us to build the strength of our business while strengthening communities. As a leader in global money transfer services, Western Union stands for economic opportunity, and we build on that core commitment by promoting education and entrepreneurship across our 379,000 agent locations in 200 countries and territories. It is a model that CECP champions and we applaud them."

Liquidnet Holdings, Inc. receives the Small Company Award, presented annually to a company with revenues less than $3 billion. Liquidnet allocates one percent of revenues each year to address global challenges.  A global firm trading in 29 equity markets across five continents, Liquidnet focuses its philanthropic efforts on supporting unique solutions to global challenges. The company helped develop the Agahozo-Shalom Youth Village in Rwanda, which provides facilities to care for and educate more than 500 children left orphaned by the Rwandan genocide. Since the inception of the Village in 2006, Liquidnet has donated $6 million to the project. Employees have raised an additional $150,000 for the program, and more than 75% of Liquidnet's worldwide workforce has participated in or contributed to the project. Liquidnet's goal is to create a community that will thrive and become the blueprint for success for other projects in Rwanda, and across the developing world.
Seth Merrin, Founder and CEO, Liquidnet, says, "The Rwandan Genocide represents the failure to act. This Village represents what happens when people around the world come together to provide a future of promise and optimism for orphaned Rwandan youth. Liquidnet has built a new model that redefines the responsibilities of corporate America to include both creating value in the marketplace, and making a significant social impact in the broader community."

Boys & Girls Clubs of America receives the CECP Directors' Nonprofit Award for a successful collaboration with its nominating corporate partner Charles Schwab Foundation. Together, they created a financial literacy program just for teens, primarily from underserved communities, entitled Money Matters: Make It CountSM. This initiative combines Schwab's financial resources with BGCA's expertise in youth advancement, resulting in the collaborative development of a teen guide, a facilitator's guide, an interactive Web site, a scholarship and awards program, and an employee volunteer program. Money Matters teaches teens essential lessons about spending wisely, banking basics, credit, saving, investing, paying for college, and entrepreneurship, and has already reached well over 100,000 Club teens throughout the U.S. Charles Schwab Foundation has awarded $260,000 in college scholarships to 127 Boys & Girls Club teens who demonstrated exceptional abilities in their newly acquired knowledge of personal finance.
BGCA President and CEO Roxanne Spillett says, "Our goal is to help teens become fiscally fit adults through the power of financial literacy. It's truly rewarding to see how the lessons learned through Money Matters have such a positive impact on teens' financial attitudes and actions present and future."
"This country's economic crisis shows that there has never been a more important time to address the issue of financial literacy among consumers," said Carrie Schwab-Pomerantz, president of Charles Schwab Foundation. "We are very proud of the fact that the Money Matters program is helping many young people from economically challenging circumstances gain the knowledge necessary for lifelong financial well-being." 
 
About the Excellence Awards in Corporate Philanthropy
Since 2000, the Committee Encouraging Corporate Philanthropy has presented Excellence Awards in Corporate Philanthropy annually to companies such as Cisco Systems, GlaxoSmithKline, GE, Hasbro, IBM, Moody's Corporation, Novartis, Pfizer, The PNC Financial Services Group, salesforce.com, Target, Timberland, and Whole Foods Market. The Excellence Awards winners are selected by an independent selection committee, composed of experts from the corporate, government, media, nonprofit, consulting, and academic communities.

About CECP
Paul Newman and Ken Derr are the founding co-chairs of the Committee Encouraging Corporate Philanthropy (CECP), the only international forum of CEOs exclusively focused on corporate philanthropy. CECP's mission is to lead the business community in raising the level and quality of corporate philanthropy. Engaging with the public, private, and independent sectors, CECP's 175 members seek and create opportunities to help advance the case for philanthropy and to inspire other business leaders to make a lasting commitment to community giving. www.CorporatePhilanthropy.org.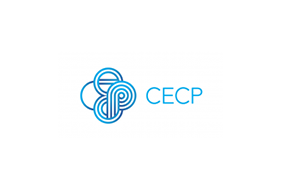 CECP
CECP
The Committee Encouraging Corporate Philanthropy (CECP) is the only international forum of business leaders focused on increasing the level and quality of corporate philanthropy. Membership includes more than 180 global CEOs and chairpersons of companies that collectively account for more than 40% of reported corporate giving in the United States. Membership is by invitation and is renewed annually.
CECP provides member companies with peer-to-peer executive convenings, premier networking events for corporate giving industry professionals, cutting-edge research publications, a proprietary, on-demand benchmarking system of corporate philanthropy data, and exclusive media opportunities.
Founded in 1999 by actor and philanthropist Paul Newman, together with John Whitehead, Peter Malkin, and other business leaders, CECP continues to inspire and challenge leaders in the private sector to find innovative ways to fulfill unmet social needs and to lead the way towards better alignment of business and social strategies.
Join CECP on Facebook, Twitter, Flickr and YouTube.
More from CECP