Published 05-28-09
Submitted by Engage for Good
CHICAGO, ILL. - May 28, 2009 - Fighting heart disease, providing kids with medical care and fighting climate change while enhancing corporate images and helping the bottom are among the many challenges tackled by the winners of the seventh annual Cause Marketing Halo Awards.
The most honored campaign with two awards was "Believe", a holiday promotion by Macy's that raised more than $1 million for the Make-A-Wish Foundation by donating $1 for each letter to Santa that customers mailed at a Macy's store.
"The Cause Marketing Halo Awards demonstrate the good that can be done when businesses and nonprofits team up ," said David Hessekiel, president of Cause Marketing Forum, Inc., the program's organizer. "It's a competition in which we all win." Cause marketing is the strategy of building mutually beneficial alliances between companies and causes.
"In 1990 cause marketing spending was a bit more than $100 million "" this year it is forecast to reach $1.57 billion," said Hessekiel. The Cause Marketing Forum produces an annual conference, workshops, teleclasses and causemarketingforum.com, a website offering free resources to businesses and nonprofits interested in developing such programs.
The Cause Marketing Forum also announced that Timberland and Share Our Strength each received Cause Marketing Golden Halo Awards for their leadership in this fast-growing field.
Eighteen category-specific awards were presented at the Cause Marketing Halo Awards luncheon at the Westin Chicago River North on Thursday, May 28 to campaigns that occurred in whole or in part in 2008. The winners include:

Best Use of Social Media (a new category)
Gold: "More Than Footprints", TripAdvisor and Conservation International, Doctors Without Borders, National Geographic Society, Save The Children and The Nature Conservancy

Best Environmental/Wildlife Campaign:
Gold: "Tour de Fat" New Belgium Brewing Company and multiple local cycling groups
Silver: "Jetting to Green", JetBlue Airways and the Carbon Fund

Best Health Campaign:
Gold: "Start! Partnership", Subway and the American Heart Association
Silver: "Jiffy Lube Maintenance Partners for Life", Jiffy Lube International and the American Heart Association

Best Social Service/Education Campaign:
Gold: "Protecting Futures", Procter & Gamble and UNA-USA Hero
Silver: "Toys"R"Us Guide for Differently-Abled Kids", Toys"R"Us and the National Lekotek Center

Best Message Campaign
Gold: "The Pedigree Adoption Drive", Pedigree and numerous animal shelters
Silver: "L'Oreal Paris Ovarian Cancer Awareness Campaign", L'Oreal Paris & The Ovarian Cancer Research Fund

Best Print Creative:
Gold: "Believe", Macy's and the Make-A-Wish Foundation of America
Silver: "Subaru Share The Love", Subaru of America and the ASPCA, Boys & Girls Clubs of America, Habitat for Humanity, Meals on Wheels Association of America and the National Wildlife Federation

Best Transactional Campaign:
Gold: "IHOP National Pancake Day," IHOP. and Children's Miracle Network
Silver: "Believe", Macy's and the Make-A-Wish Foundation of America

Best Cause Marketing Event:
Gold: "Read for the Record", Pearson Foundation and Jumpstart
Silver: "Miracle Treat Day", American Dairy Queen Corp. and Children's Miracle Network

Best National/Local Integration
Gold: "Reviving Baseball in Inner Cities", KPMG and Major League Baseball
Silver: "Trees for Troops", FEDEX and the Christmas Spirit Foundation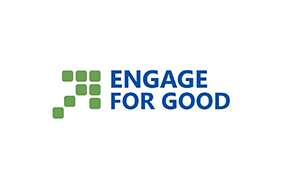 Engage for Good
Engage for Good
Engage for Good (formerly the Cause Marketing Forum) helps business and nonprofit executives succeed together by providing access to actionable information, valuable contacts and recognition for outstanding work through conferences, distance learning, online resources and customized services.
More from Engage for Good