Published 05-27-09
Submitted by 3BL CSRwire
SPRINGFIELD, MA. - May 27, 2009 - This week CSRwire welcomed 18 Rabbits, American InterContinental University, Boar's Head Provisions, FedEx Corp, NaturalPath Media, Living Cities, Dunstans Publishing/Ethical Performance, and Vinton Street Partners.
Named after the Mayan king (695-738 AD) who supported the arts during his reign in Central America, 18 rabbits digital media is a social entrepreneurial project that produces documentary, sustainability, CSR, public relations, green initiative, humanitarian, educational, and community outreach media projects for multinational companies and NGOs. We produce broadcast-quality organizational media, while engaging local youth in a mentoring/intern program during the production...giving them career skills and a role in content and visual development. 18 rabbits works to change global perceptions, and to cultivate a new technology-based artistic movement that reflects the cultural identities of the participating students. We chronicle the production event through blogs, social networking, and various media sites, providing a CSR opportunity for multinational organizations. See our website for samples of our media projects.
American InterContinental University (AIU)
About American InterContinental University
American InterContinental University (AIU), established in Europe in 1970, includes campuses in : Atlanta, GA; Los Angeles, CA; Houston, TX; Weston, FL; London, England; and an internet based online campus headquartered in suburban Chicago, IL. AIU is accredited by the Commission on Colleges of the Southern Association of Colleges and Schools to award Associate, Bachelor's, and Master's degrees. AIU is a member of Career Education Corporation's (NASDAQ:CECO) network of universities, colleges, and schools. For information about AIU, visit www.aiuniv.edu. For information about the university's online degree programs, visit www.aiuonline.edu.
By 1933, distribution of Boar's Head Brand products had grown. It was at that time that the founder, Frank Brunckhorst, dissatisfied with the quality of cooked hams which were available to him, decided that he would open a manufacturing plant of his own. The first plant was started in a small building in Brooklyn with only three employees.
Even back then there were thousands of delicatessens in New York City, and there were a great number of small manufacturers of delicatessen specialties. The competition among these manufacturers was keen; and as a result, very high standards were set for the quality of delicatessen products. Frank Brunckhorst set his own high standards, and he would not vary from them. Before long, Boar's Head Brand products could be found in all of the best delicatessens, gourmet stores and fine food establishments in the New York area.
At FedEx, we recognize that our impact is greater than the services we provide. We are committed to being a great place to work, a thoughtful steward of the environment and a caring citizen in the communities where we live and work. We are passionate about sustainably connecting people and places and improving the quality of life around the world.
With over 190 publishers and a combined reach of over 12.4 million monthly unique visitors (comScore), NaturalPath Media is the largest online media network for the sustainable, healthy and conscious living verticals. NaturalPath Media connects CSR-focused publishers, advertisers and audiences by selling customized brand advertising programs to companies that seek to engage highly influential green and healthy living consumers. NaturalPath Media's content network is segmented into 9 primary channels, including Sustainability, Eco-Tech, Health & Wellness, Travel & Outdoors, Moms & Family, Home & Garden, Lifestyle, Eating Well and Business, representing premium publishers such as TriplePundit.com, ScientificAmerican.com, DrGreene.com, LowImpactLiving.com, Matador Network, EdibleCommunities.com, Wellness.com and GreenLivingIdeas.com.
Who We Are
Founded in 1991, Living Cities is an innovative philanthropic collaborative of 21 of the world's largest foundations and financial institutions. Our members are not simply funders. They participate at the senior management level on the Living Cities Board of Directors and contribute the time of 80+ expert staff toward crafting and implementing our agenda, which is focused on improving the lives of low-income people and the urban areas in which they live.
What We Do
Historically, challenges faced by our nation's cities have been addressed using a "squeaky wheel" approach-moving from one critical issue to another but never addressing the whole. Today there is a general recognition that we need to treat our cities' problems comprehensively. We must take an integrative approach, simultaneously strengthening neighborhood institutions from the bottom up and reengineering, from the top down, the public systems that fail to create adequate opportunities. We must align local, state and federal policies to effectively address the issues surrounding jobs, housing, climate change, asset building and health care. We must leverage the collective power of the public, private and philanthropic sectors especially through new and innovative ways of aggregating capital. Over the past 18 years, Living Cities' members have collectively invested over $600 million which has, in turn, leveraged more than $16 billion in tangible community assets - a remarkable leverage ratio of 29:1. Our funding has helped build homes, stores, schools, child care, health care and job-training centers and other community assets.
Dunstans Publishing/Ethical Performance
Dunstans Publishing was formed in March 1999 to provide news and analysis on issues and trends in corporate social responsibility. Originally established in the UK market, it now provides information on CSR and SRI for companies, investors, professional service organizations and institutions worldwide. It is an independent company. Each year Dunstans Publishing donates one per cent of its profits to charity.
Vinton Street Partners ("VSP") is a Seattle, Washington based boutique investment banking firm that provides corporate financial advisory services and the placement of private debt and equity capital for our clients. Over the last six years we have raised over $150 million. Vinton Street Partners structures private placement "accredited only" offerings on an exclusive basis. We oversee the development of all offering materials including the private placement, LLC agreement, subscription documents, marketing materials, and all ongoing investor communications. Vinton Street Partners supports companies that make a positive difference in the community in which they work, and that implement management policies that support the personal and professional growth of their employees.
About CSRwire Members:
CSRwire Members are Companies and NGOs, Agencies and Organizations interested in communicating their corporate citizenship, sustainability, and socially responsible initiatives to a global audience through CSRwire's Syndication Network, News Alerts, Web Site, Blogs, RSS Feeds, News Aggregators, Send to Friend Feature and Search Engines.
To become a member of CSRwire, or for more information, please click here.
CSRwire can now be found on Linkedin, Facebook, and now Twitter.
About CSRwire
CSRwire is the leading source of corporate social responsibility and sustainability news, reports and information. CSRwire distributes news related to Diversity, Philanthropy, Socially Responsible Investing (SRI), Environment, Human Rights, Workplace Issues, Business Ethics, Community Development and Corporate Governance to Journalists, Analysts, Investors, Activists, Academics, Public Relations, Advertising and Investor Relations Professionals in over 200 Countries.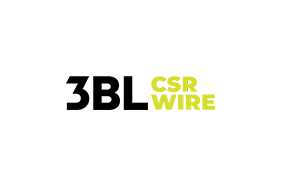 3BL CSRwire
3BL CSRwire
Respected and relied on by journalists, bloggers, business leaders and academics around the world, 3BL CSRwire is a dedicated, real-time source for major news and updates from within the worlds of ESG, corporate social responsibility and sustainability.
3BL CSRwire offers a-la-carte press release distribution to a global network of influential stakeholders and mainstream audiences—perfect for organizations just getting started in CSR or for those looking to get the most out of their corporate communications.
More from 3BL CSRwire