Published 05-19-09
Submitted by ASSET4
NEW YORK and ZUG, SWITZERLAND. - May 19, 2009 - NYSE Euronext (NYX) and ASSET4, a leading provider of environmental, social and corporate governance (ESG) information solutions, today announced that they will collaborate to provide tools to help NYSE-listed companies benchmark their extra-financial policies and practices.
NYSE Euronext will provide the ASSET4 assetmasterExecutive(TM) solution to a number of NYSE-listed companies, enabling them to manage risk, enhance corporate governance practices and increase accountability. This follows a pilot program during which NYSE Euronext-listed issuers successfully incorporated the ASSET4 solution into their corporate responsibility evaluation processes.
"Environmental, social and governance (ESG) issues have now become very important factors affecting a company's overall performance and risk profile," said Joseph Mecane, EVP and Chief Administrative Officer, U.S. Markets, NYSE Euronext. "ASSET4 can provide corporate leaders a sustainability matrix through which they manage their corporate social responsibility strategies with increased accuracy. We are pleased to work with ASSET4, and our collaboration underscores NYSE Euronext's commitment to providing world-class value-added services to our listed companies."
"Our partnership with NYSE Euronext is a major milestone in the recognition of the increasing impact that ESG issues have on corporate performance and risk," said Peter Ohnemus, CEO and President of ASSET4. "Investors and corporate CEOs understand the need for a new level of transparency in the way they do business and conduct their communications assetmasterExecutive(TM) gives corporate executives, board members, CSR managers, investor relations and corporate communication professionals the ability to monitor and benchmark their own extra-financial performance and risk factors, and in turn prepare them for the new business and regulatory reality that will be emerging in the months and years to come."
NYSE Euronext is the first major stock exchange in the world to offer this tool to its issuers, reinforcing its own commitment to corporate transparency. In 2008, NYSE Euronext was ranked among the "World's Most Ethical Companies" in a survey by Etisphere, the only exchange group in the world to make it into this annual ranking for sustainable, ethical business practices.

Background
The assetmasterExecutive(TM) solution, based on ASSET4's world's largest database of objective and transparent ESG information, enables users to analyse an expanded set of competitive parameters that include their level of carbon risk, board independence and employee satisfaction. With one click of the mouse users can evaluate extra-financial key performance indicator (KPI) configurations (e.g. one based on the Global Reporting Initiative) to monitor how their own company and their peers are performing. In addition, within each standard or customised benchmark the best-in-class company is identified for each KPI, enabling users to see in what areas they may be a leader and where a laggard. Benchmarks can include any of the over 2,600 companies covered by ASSET4.

About ASSET4
ASSET4 is the leading provider of objective, comparable and auditable extra-financial information. ASSET4 provides professional investors and corporate executives access to the world's largest database of ESG information and the analysis tools to integrate that information into their everyday decision making. ASSET4 has 220 employees and is headquartered in Zug, Switzerland with locations in London, New York, Mauritius and India. ASSET4 is a proud signatory of the UN's Principles for Responsible Investment and a contributing member to organisations and initiatives like: UNEP-FI, Eurosif, UKSIF, USSIF, Nachhaltiges Investment and the Ceres Coalition. For more information, please visit www.asset4.com.

About NYSE Euronext
NYSE Euronext (NYX) is the world's most diverse exchange group, offering a broad and growing array of financial products and services in Europe and the United States that include cash equities, futures, options, exchange-traded products, bonds, market data, and commercial technology solutions. With over 8,000 listed issues globally, NYSE Euronext's equities markets -- the New York Stock Exchange, Euronext, NYSE Arca, and NYSE Amex -- represent nearly 40% of the world's cash equities trading volume, the most liquidity of any global exchange group. NYSE Euronext also operates NYSE Liffe, the leading European derivatives business and the world's second largest derivatives business by value of trading. NYSE Euronext offers comprehensive global commercial technology, connectivity, and market data products and services through its innovative trading solutions unit, NYSE Technologies. NYSE Euronext is part of the S&P 500 index and the only exchange operator in the S&P 100 index. For more information, please visit: www.nyx.com.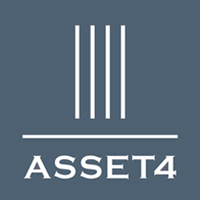 ASSET4
ASSET4
ASSET4 has the world's largest database of transparent, objective and auditable environmental, social and governance (ESG) information. Professional investors use our database and analysis tools for a variety of applications such as positive and negative screening, compliance monitoring and integration of ESG into their investment analysis. This enables them to systematically engage with companies, improve investment performance, reduce risk and lower research costs. Corporate executives, investor relations, CSR managers and corporate communication professionals have one-click access to ESG benchmarking and best-in-class tracking and evaluation capabilities. This enables companies to reduce enterprise risk, enhance corporate governance and increase accountability, transparency and trust, while at the same time improving communications with long-term investors and other stakeholders. ASSET4 has 240 employees and is headquartered in Zug, Switzerland with locations in London, New York, Paris, Frankfurt, Mauritius and India. It is a proud signatory of the UN's Principles for Responsible Investment. For more information, please visit www.asset4.com.
More from ASSET4