Published 06-29-05
Submitted by Aflac Incorporated
COLUMBUS, Ga. - Aflac Chairman and CEO, Dan Amos presented a check for $1 million dollars today to the Smithsonian Institute for the building of the new National Museum of African-American History and Culture, making the Columbus, Ga.-based insurer the first Fortune 500 company to donate funds toward the landmark's construction.
Amos made the check presentation during a donation ceremony in the Smithsonian's Castle Building.

"Aflac is proud to lead the way in contributing to this most worthy cause," Amos said. "The museum will serve as a great way to spotlight America's diverse history while honoring the African-American experience that has been instrumental in the development of our great nation. I look forward to the completion of this significant cultural landmark."
The museum will be the only national institution devoted exclusively to the documentation of African-American life, art, history and culture. The museum's exhibits will cover topics as varied as slavery, post-Civil War Reconstruction, the Harlem Renaissance and the civil rights movement.

The museum's director, Lonnie G. Bunch, and Smithsonian Secretary Lawrence M. Small accepted the $1 million donation during the ceremony. "We are extremely grateful that Aflac, a company with a proud history of community involvement and philanthropic giving, has stepped forward to galvanize the launch of our newest museum with such a magnanimous gift," said Small.

The National Museum of African-American History and Culture was established on Dec. 19, 2003, when President Bush signed into law legislation establishing the museum as part of the Smithsonian Institution. The Smithsonian Board of Regents announced the founding 19-member council of the museum -- which includes leaders from business, academia and the arts - in December 2004.

Dr. Robert L. Wright, chairman emeritus of Dimensions International and former chairman of the Presidential Commission for the National Museum of African-American History and Culture, expressed his sincere appreciation of Aflac's commitment. "I am proud to be involved with a company that recognizes the important contributions that African Americans have made to our great country. Aflac has a long-standing history of philanthropy and a profound understanding of the importance of diversity," said Wright, who is also a member of Aflac's board of directors and chairman of the Audit Committee.

Planning, design and construction of the museum are currently under way.
Also in attendance at the donation ceremony were Aflac board member Ben Johnson and U.S. Representative Sanford Bishop Jr. of Georgia.
Aflac made the pledge to support the museum nearly three years ago in November 2002. More recently, Aflac donated $1 million toward the construction of a national memorial commemorating the life and work of Martin Luther King Jr. during an MLK Unity Breakfast held in Columbus, Ga., on January 17, 2005.
For 50 years, Aflac (NYSE: AFL) products have given policyholders the opportunity to direct cash where it is needed most when a life-interrupting medical event causes financial challenges. Aflac is the number one provider of guaranteed-renewable insurance in the United States and the number one insurance company in terms of individual insurance policies in force in Japan.
Aflac's insurance products provide protection to more than 40 million people worldwide. In January 2005, Aflac was included in Fortune magazine's list of the 100 Best Companies to Work For in America for the seventh consecutive year. Aflac has also been included in both Forbes magazine's Platinum 400 List of America's Best Big Companies and in Fortune magazine's listing of America's Most Admired Companies for five consecutive years. Aflac Incorporated is a Fortune 500 company listed on the New York Stock Exchange under the symbol AFL. To find out more about Aflac, visit aflac.com.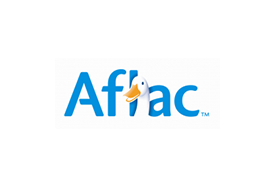 Aflac Incorporated
Aflac Incorporated
Aflac is a Fortune 500 company, providing financial protection to more than 50 million people worldwide. When a policyholder or insured gets sick or hurt, Aflac pays cash benefits fairly, promptly and directly to the insured. For more than six decades, Aflac voluntary insurance policies have given policyholders the opportunity to focus on recovery, not financial stress.
More from Aflac Incorporated