Published 08-29-00
Submitted by Aflac Incorporated
AFLAC's newest advertising campaign, featuring the famous AFLAC duck, has been an overwhelming success. The commercials have increased sales and name recognition for the supplemental insurer. But AFLAC's campaign has benefited more than the company's bottom line. When AFLAC started selling a stuffed version of the popular duck that quacks, "AFLAC," on its Web site, sales went through the roof, and the AFLAC Cancer Center at Children's Healthcare of Atlanta became the beneficiary.
"The commercials were so popular that people were calling in and asking if they could get a stuffed version of our duck," says AFLAC President and CEO Dan Amos. "It seemed like a great opportunity to raise money for the AFLAC Cancer Center and to help build the AFLAC brand. We're thrilled that the ducks have helped us raise more than $75,000 in less than two months for this great center that makes living with cancer more bearable for these young patients."
Appearances by Amos and the duck on CNBC's Power Lunch with Bill Griffeth are largely credited with the sales surge. Amos first appeared on CNBC in early July, and in the weeks following the interview, AFLAC's talking duck made several guest appearances during which Griffeth explained to viewers that they could purchase a talking duck and the proceeds would benefit the AFLAC Cancer Center.
In 1995 AFLAC made a commitment to finance the multimillion-dollar renovation and expansion of the children's cancer unit at Children's Healthcare of Atlanta, formerly Egleston and Scottish Rite. Completed in July 1998, the expansion of the AFLAC Cancer Center makes it the largest children's cancer center in the Southeast region and one of the largest pediatric cancer centers in the United States. At the AFLAC Cancer Center, patients are treated for cancer as well as hematologic diseases such as hemophilia and sickle cell anemia. One-third of the patients is being treated for leukemia, the most common childhood cancer.
AFLAC Incorporated (NYSE: AFL) is an international holding company. A Fortune 500 company, AFLAC insures more than 40 million people worldwide. It is the leading underwriter of supplemental insurance marketed at the worksite in the United States, offering policies to employees at more than 160,000 payroll accounts. AFLAC is ranked as the number one insurance company to work for, according to Fortune magazine's 1999 listing of "The 100 Best Companies to Work for in America," which appeared in its January 10, 2000, issue. Additionally, AFLAC is the largest foreign insurer in Japan and is a component of the Standard & Poor's 500 Index. AFLAC's Internet site address is aflac.com.
To visit AFLAC's Web site and order a talking duck, or to view the latest AFLAC duck commercials, click here http://www.aflac.com/.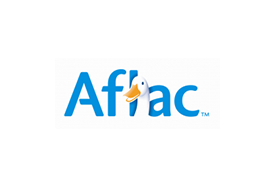 Aflac Incorporated
Aflac Incorporated
Aflac is a Fortune 500 company, providing financial protection to more than 50 million people worldwide. When a policyholder or insured gets sick or hurt, Aflac pays cash benefits fairly, promptly and directly to the insured. For more than six decades, Aflac voluntary insurance policies have given policyholders the opportunity to focus on recovery, not financial stress.
More from Aflac Incorporated