Published 05-15-00
Submitted by Aflac Incorporated
Children being treated for cancer will enjoy a night at the ballpark Tuesday with the Atlanta Braves as part of AFLAC Cancer Center Night at Turner Field.
More than 120 patients, family members and medical staff from the AFLAC Cancer Center at Children's Healthcare of Atlanta will enjoy a pre-game party and the Atlanta Braves vs. the San Francisco Giants baseball game, courtesy of AFLAC.
"Positive attitudes are important to our young patients and to their families," says Dr. Stephen Lauer, medical director of the AFLAC Cancer Center. "This night at Turner Field will be very fun, very therapeutic for all. Everyone will be cheering for the Braves."
The sixth annual AFLAC Cancer Center pre-game party will be held at Turner Field's Club Level Hospitality Suite and will begin at 6 p.m. The festivities will include a visit from several Braves players, as well as Braves mascots, Homer and Rally.
"This night means so much to these patients and it means so much to AFLAC," says Dan Amos, president and CEO of AFLAC. "Each year we look forward to this game, which brings pleasure to these courageous children and their families."
AFLAC helped make the AFLAC Cancer Center at Children's Healthcare one of the largest pediatric cancer centers in the United States when it made a multimillion-dollar commitment to finance the renovation and expansion of the hospital's pediatric oncology unit. To date, the company and its sales force have contributed more than $5 million to the facility. At the AFLAC Cancer Center, young patients are treated for cancer as well as hematological diseases such as hemophilia and sickle cell diseases.
In 1999 Egleston and Scottish Rite Children's Hospitals combined to form Children's Healthcare of Atlanta. Children's is dedicated to enhancing the lives of children through excellence in patient care, research and education. It addresses the unique needs of sick and injured children and their families with specially trained physicians and staff, equipment designed for young, growing bodies, and a child-friendly environment. Children's has been recognized for excellence in cardiology, cancer treatment, craniofacial surgery, emergency medicine, orthopaedics, rehabilitation and transplantation services among many other pediatric services. With 400 beds in two hospitals, Children's is one of the largest pediatric health care systems in the country.
AFLAC Incorporated (NYSE: AFL) is an international holding company. A Fortune 500 company (#205), AFLAC insures more than 40 million people worldwide. It is the leading underwriter of supplemental insurance marketed at the worksite in the United States, offering policies to employees at more than 150,000 payroll accounts. AFLAC is ranked as the number one insurance company to work for, according to Fortune magazine's 1999 listing of "The 100 Best Companies to Work for in America," which appeared in its January 10, 2000, issue. Additionally, AFLAC is the largest foreign insurer in Japan and is a component of the Standard & Poor's 500 Index. AFLAC's Internet site address is aflac.com .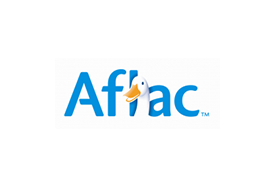 Aflac Incorporated
Aflac Incorporated
Aflac is a Fortune 500 company, providing financial protection to more than 50 million people worldwide. When a policyholder or insured gets sick or hurt, Aflac pays cash benefits fairly, promptly and directly to the insured. For more than six decades, Aflac voluntary insurance policies have given policyholders the opportunity to focus on recovery, not financial stress.
More from Aflac Incorporated