Published 06-08-00
Submitted by Aflac Incorporated
For the second year in a row, AFLAC has been named to Computerworld magazine's annual listing of the "100 Best Places to Work in IT."
The Computerworld listing is based on a survey sent to U.S.-based companies with revenue of $500 million or more and a minimum information technology staff of 15 employees. The 46-question online survey gathers information about organizations' benefits, training and development; average salary increases; percentage of staff promoted; turnover rates; and the percentage of women and minority employees in IT management positions. In addition, information is collected on each organization's projects, mentoring programs and a variety of benefits, ranging from child care to stock options.
In response to AFLAC's ranking, AFLAC President and CEO Dan Amos said: "It is an honor to be included in Computerworld's listing of '100 Best Places to Work in IT.' Investment in technology has been a driving force in our success. It has made AFLAC more efficient and allowed us to provide better service to our policyholders and sales associates, and resulted in increased value for our shareholders."
Computerworld is the leading provider of news and analysis on technology's bottom-line business impact. According to IntelliQuest, Computerworld is read by more senior-level Information Systems professionals than any other IT weekly. The magazine has received nearly 60 awards for editorial excellence since 1996.
AFLAC Incorporated (NYSE: AFL) is an international holding company. A Fortune 500 company (#205), AFLAC insures more than 40 million people worldwide. It is the leading underwriter of supplemental insurance marketed at the worksite in the United States, offering policies to employees at more than 150,000 payroll accounts. AFLAC is ranked as the number one insurance company to work for, according to Fortune magazine's 1999 listing of "The 100 Best Companies to Work for in America, " which appeared in its January 10, 2000, issue. Additionally, AFLAC is the largest foreign insurer in Japan and is a component of the Standard & Poor's 500 Index. AFLAC' s Internet site address is aflac.com.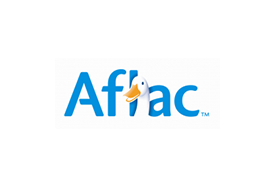 Aflac Incorporated
Aflac Incorporated
Aflac is a Fortune 500 company, providing financial protection to more than 50 million people worldwide. When a policyholder or insured gets sick or hurt, Aflac pays cash benefits fairly, promptly and directly to the insured. For more than six decades, Aflac voluntary insurance policies have given policyholders the opportunity to focus on recovery, not financial stress.
More from Aflac Incorporated