Published 04-16-09
Submitted by AB InBev
FAIRFIELD, Calif., April 16 /PRNewswire/ -- The Anheuser-Busch Fairfield brewery announced today that more than 6 acres of photovoltaic solar arrays, installed and operated by SunEdison, are now generating the equivalent of approx. 3 percent of the brewery's electricity needs.
"Operating with care and concern for the environment has been a hallmark of Anheuser-Busch for more than century," said Kevin Finger, general manager, Anheuser-Busch Fairfield brewery. "Our increased use of alternative energy sources is the latest example of how we strive to be the best beer company in a better world."
Last year, the brewery entered into an agreement with SunEdison to host the solar power plant on brewery property. The brewery also constructed a Bio-Energy Recovery System, or BERS, which provides more than 15 percent of the brewery's fuel needs by turning nutrients in brewing wastewater into renewable biogas used to decrease the use of natural gas.
These two projects are the latest in a series of conservation and efficiency improvements at the Fairfield brewery. Examples of recent efforts include a project to recover steam to heat water in the brewhouse, which reduced greenhouse gas emissions; installation of more efficient boiler burners and new energy-efficient air compressors; and replacing brewery lighting with energy-efficient fixtures on timers. Through resource conservation and alternative fuel usage, the brewery has decreased fuel use by 38 percent, water use by 32 percent and electricity use by 14 percent since 2004.
"Anheuser-Busch has been a good neighbor to Fairfield and the surrounding communities for more than 30 years," said State Senator Lois Wolk (D-5), who represents the region. "They have earned their reputation as not only a top employer in the area, but as a business doing the right thing for the environment, even before it was popular."
The brewery also currently recycles more than 99 percent of the solid waste it generates, continuing a tradition dating back to the late 1800s when Anheuser-Busch first recycled brewers' grain into cattle feed. Materials recycled at the Fairfield brewery include scrap aluminum and metal, glass, cardboard, wood, brewing grain, beechwood chips, stretch wrap and labels, electronic equipment and batteries. This amounted to nearly 200 million pounds of recycled materials in 2008 alone. For these efforts, the Fairfield brewery has been honored 15 times by the Waste Reduction Awards Program (WRAP) from the California Integrated Waste Management Board.
"Anheuser-Busch has taken a strong leadership role in protecting natural resources and using energy wisely and efficiently. By hosting a PV solar energy system, Anheuser-Busch is part of America's new energy future. SunEdison is proud to support them today and for decades to come," said Kirk Roller, vice president of SunEdison.
The ground mount solar system, sizeable at nearly 1.2 MW, is located on Anheuser-Busch property near California Highway 80. As part of the solar power services agreement, SunEdison financed, installed, and is operating and monitoring the photovoltaic solar energy system. The system will also generate Renewable Energy Certificates (RECs) for businesses or individuals to purchase to offset their use of fossil fuel energy and greenhouse gas emissions. The brewery is also evaluating the installation of a wind turbine and additional photovoltaic solar arrays on-site to generate more renewable energy.
Renewable fuel at Anheuser-Busch's U.S. breweries is anticipated to reach more than 15 percent by the end of 2009. This means more than five billion 12-oz. servings of beer "" or about one in seven beers brewed by the company in the United States "" are expected to be brewed using renewable fuel by the end of 2009*, thanks to efforts at Anheuser-Busch's 12 U.S. breweries.
As a member of the U.S. EPA Climate Leaders Program, Anheuser-Busch has committed to reduce total greenhouse gas emissions to 5 percent below 2005 levels by the year 2010 for all of its U.S. operations. The company has also committed to increasing the total use of renewable fuel from 8 percent to 15 percent in the same time period company-wide.
Based in St. Louis, Anheuser-Busch is the leading American brewer, holding a 49.2 percent share of U.S. beer sales. The company brews the world's largest-selling beers, Budweiser and Bud Light. Anheuser-Busch also owns a 50 percent share in Grupo Modelo, Mexico's leading brewer. Anheuser-Busch ranked No. 1 among beverage companies in FORTUNE Magazine's Most Admired Global Companies list in 2009. Anheuser-Busch is one of the largest theme park operators in the United States, is a major manufacturer of aluminum cans and one of the world's largest recyclers of aluminum cans. The company is a wholly-owned subsidiary of Anheuser-Busch InBev, the leading global brewer, and continues to operate under the Anheuser-Busch name and logo. For more information, visit www.anheuser-busch.com.
*"Five billion 12-ounce servings" and "one in seven beers brewed by Anheuser-Busch" are equivalent figures derived from taking the company's U.S. beer production in 2007, converting it to 12-ounce servings and multiplying the figure by the estimated percentage of renewable energy the company plans to use in 2009.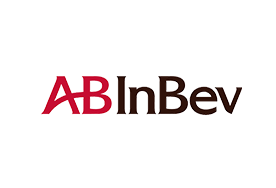 AB InBev
AB InBev
Anheuser-Busch InBev is a publicly traded company (Euronext: ABI) based in Leuven, Belgium, with an American Depository Receipt secondary listing on the New York Stock Exchange (NYSE: BUD). It is the leading global brewer and one of the world's top five consumer products companies.

Beer, the original social network, has been bringing people together for thousands of years and our portfolio of well over 200 beer brands continues to forge strong connections with consumers. We invest the majority of our brand-building resources on our Focus Brands - those with the greatest growth potential such as global brands Budweiser®, Stella Artois® and Beck's®, alongside Leffe®, Hoegaarden®, Bud Light®, Skol®, Brahma®, Antarctica®, Quilmes®, Michelob Ultra®, Harbin®, Sedrin®, Klinskoye®, Sibirskaya Korona®, Chernigivske®, Hasseré¶der® and Jupiler®. In addition, the company owns a 50 percent equity interest in the operating subsidiary of Grupo Modelo, Mexico's leading brewer and owner of the global Corona® brand. AB InBev's dedication to heritage and quality originates from the Den Hoorn brewery in Leuven, Belgium dating back to 1366 and the pioneering spirit of the Anheuser & Co brewery, with origins in St. Louis, USA since 1852. Geographically diversified with a balanced exposure to developed and developing markets, AB InBev leverages the collective strengths of its approximately 116,000 employees based in 23 countries worldwide. In 2011, AB InBev realized 39.0 billion USD revenue. The company strives to be the Best Beer Company in a Better World. For more information, please visit: www.ab-inbev.com.
More from AB InBev