Published 08-21-00
Submitted by Duke Energy
Rohby Word Mitchell of Duke Energy
(NYSE: DUK) was recognized by the Houston Human Resource Management
Association (HHRMA) for her efforts in promoting and sharing information with
the group's diversity committee.
Mitchell, manager of diversity and equal employment opportunity for Duke
Energy Gas Transmission, received the HHRMA's Volunteer of the Year award for
her work in diversity that included facilitating a presentation by Awanda
Whitworth on Houston-area high school students' views on race relations.
Whitworth is a diversity specialist and executive director of the Inter-Ethnic
Forum of Houston Inc.
It was Mitchell's second award from HHRMA this year. She and Fred Fowler,
president of Energy Transmission for Duke Energy, were among executives from
five companies recognized by the association for diversity efforts within
their respective corporations. Other recipients were CMS Energy, Continental
Airlines, HEB Pantry and Liberty Mutual.
HHRMA, a 60-year-old, professional non-profit organization for the
advancement of human resources, has 2,000 members in the Houston area.
Mitchell, a certified Professional in Human Resources (PHR), has been a
member of HHRMA since 1990. For the second year, she is hosting the group's
diversity meetings at Duke Energy's primary Houston facility and is working
with the diversity committee to develop materials and resources to assist
companies in establishing programs.
Duke Energy Gas Transmission, based in Houston, manages 12,000 miles of
natural gas pipelines known as Texas Eastern Transmission Co., Algonquin Gas
Transmission Corp., East Tennessee Natural Gas Co. and with other partners,
Maritimes & Northeast Pipeline. Together, these companies transport 8 percent
of the natural gas consumed in the United States.
Duke Energy, a diversified multinational energy company, creates value for
customers and shareholders through an integrated network of energy assets and
expertise. Duke Energy manages a dynamic portfolio of natural gas and
electric supply, delivery and trading businesses -- generating revenues of
nearly $22 billion in 1999. Duke Energy, headquartered in Charlotte, N.C., is
a Fortune 100 company traded on the New York Stock Exchange under the symbol
DUK. More information about the company is available on the Internet at:
http://www.duke-energy.com.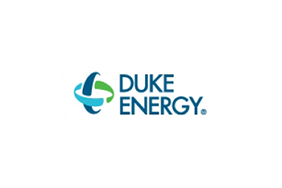 Duke Energy
Duke Energy
Duke Energy (NYSE: DUK), a Fortune 150 company headquartered in Charlotte, N.C., is one of the largest energy holding companies in the U.S. It employs 30,000 people and has an electric generating capacity of 51,000 megawatts through its regulated utilities and 3,000 megawatts through its nonregulated Duke Energy Renewables unit.
Duke Energy is transforming its customers' experience, modernizing the energy grid, generating cleaner energy and expanding natural gas infrastructure to create a smarter energy future for the people and communities it serves. The Electric Utilities and Infrastructure unit's regulated utilities serve approximately 7.7 million retail electric customers in six states – North Carolina, South Carolina, Florida, Indiana, Ohio and Kentucky. The Gas Utilities and Infrastructure unit distributes natural gas to more than 1.6 million customers in five states – North Carolina, South Carolina, Tennessee, Ohio and Kentucky. The Duke Energy Renewables unit operates wind and solar generation facilities across the U.S., as well as energy storage and microgrid projects.
Duke Energy was named to Fortune's 2019 "World's Most Admired Companies" list and Forbes' 2019 "America's Best Employers" list. More information about the company is available at duke-energy.com. The Duke Energy News Center contains news releases, fact sheets, photos, videos and other materials. Duke Energy's illumination features stories about people, innovations, community topics and environmental issues. 
More from Duke Energy