Published 03-26-07
Submitted by Eaton Corporation
CLEVELAND--(BUSINESS WIRE)--March 26, 2007--Diversified industrial manufacturer Eaton Corporation this month issued its first sustainability report. It is included as part of the company's 2006 annual report. The eight-page section coincides with the overall theme of Eaton's annual report: "The Power To Make A Difference."
"Companies that master sustainability - and leverage it as a competitive advantage - will emerge as leaders in the coming decade," said Alexander M. Cutler, Eaton chairman and chief executive officer, in his letter to shareholders. "Eaton's commitment to sustainability is longstanding. We will strive to achieve continuous improvement ... while maintaining our commitment to deliver superior financial results."
The sustainability section, entitled "The Power To Create A Cleaner, Safer Environment," says "Eaton aims to make a bigger impact on the marketplace, while leaving a smaller footprint on the world." Eaton's plant in Jining City, Shandong Province, China is profiled for its world-class industrial wastewater and sewage treatment facility. Local government officials say it is a model for environmentally conscious development.
Eaton launched a new Management System of Environment, Safety, Security and Health (MESH) in August 2005. It is being used to integrate its global EHS programs, set goals and measure its performance. This year's sustainability report details waste management and water conservation programs, as well as some of the ways Eaton is helping build stronger communities and creating a world-class workplace.
Green products from Eaton's electrical, fluid power, truck and automotive businesses are profiled. Eaton's hybrid power systems for trucks and buses "boost fuel economy and dramatically reduce particulate emissions," and its industry-leading Pow-R-Command® lighting control systems reduce energy usage up to 30 percent or, in some cases, even more.
Also highlighted were:

Eaton's high-pressure hydraulic aircraft systems that increase
fuel efficiency and reduce emissions;

superchargers that enable automakers to use smaller, cleaner
engines with increased fuel efficiency; and

electrification systems offered in concert with IdleAire
Technologies so truckers can turn off their engines overnight,
eliminating emissions.

Eaton also has formed a technology and business development program to enter the diesel exhaust after-treatment market.

Innovative technologies such as these are also highlighted in the opening section of Eaton's annual report. Cutler notes that 2006 was Eaton's sixth consecutive year of record results. A record 23 percent return on shareholders' equity placed Eaton at the top of the diversified industrial companies. Eaton completed or announced eight acquisitions in 2006. Most were in the electrical and fluid power businesses, which represent more than $8 billion, or two-thirds, of total revenues. Eaton plans to increase revenues to $18 billion in 2010.

Sections of the annual report identify Eaton's "power to respond to crucial world needs," and its ability to provide "production without interruption - electrical solutions for an 'always on' world." In "reaching for the sky," Eaton is helping advance "the next generation of air transportation." And a hybrid-powered delivery truck demonstrates how Eaton is providing "clean, green machines - eco-conscious vehicles for the business-minded."

Eaton's annual report and its first-ever sustainability report are available for viewing and printing, if desired, on the company's Website at www.eaton.com. For a hard copy of the report, go to "request materials" on the left side of the first page of the online annual report.

Eaton Corporation is a diversified industrial manufacturer with 2006 sales of $12.4 billion. Eaton is a global leader in electrical systems and components for power quality, distribution and control; fluid power systems and services for industrial, mobile and aircraft equipment; intelligent truck drivetrain systems for safety and fuel economy; and automotive engine air management systems, powertrain solutions and specialty controls for performance, fuel economy and safety. Eaton has 60,000 employees and sells products to customers in more than 125 countries. For more information, visit www.eaton.com.

Copyright Business Wire 2007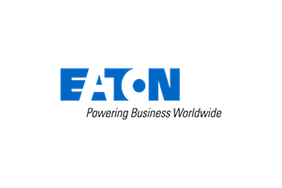 Eaton Corporation
Eaton Corporation
Eaton is an intelligent power management company dedicated to improving the quality of life and protecting the environment for people everywhere. We are guided by our commitment to do business right, to operate sustainably and to help our customers manage power ─ today and well into the future. By capitalizing on the global growth trends of electrification and digitalization, we're accelerating the planet's transition to renewable energy, helping to solve the world's most urgent power management challenges, and doing what's best for our stakeholders and all of society.
Founded in 1911, Eaton has been listed on the NYSE for nearly a century. We reported revenues of $19.6 billion in 2021 and serve customers in more than 170 countries. For more information, visit www.eaton.com. Follow us on Twitter and LinkedIn.
More from Eaton Corporation