Published 04-22-03
Submitted by Entergy Corporation
NEW ORLEANS, LA - What benefit is there in a utility company investing in environmental programs? The answer is quite simple ... business thrives on good investments. And what investment offers a better return than a healthy environment? Entergy (NYSE: ETR) understands that what's good for the environment is good for business.
In celebration of Earth Day 2003, the company is awarding nearly $250,000 in Environmental Stewardship grants. This year marks the fourth year the company has sponsored the Environmental Stewardship Grants Program, which provides grants to community-based projects designed to enhance or preserve the environment.
Grants have been awarded to environmental projects throughout Entergy's regulated and unregulated service territory, which includes Louisiana, Texas, Mississippi, Arkansas, Massachusetts, Vermont and New York. "These projects demonstrated a benefit to the environment, had a significant community impact and provided for continued environmental benefits," said Kay Arnold, vice president of public affairs for Entergy.
Some of the projects receiving grants this year include:
Program Name Description
Arkansas
Arkansas Conservation Education Center -- Arkansas Game and Fish Foundation at Crooked Creek
Louisiana
Jefferson Parish Department of Environmental Affairs -- Christmas Tree Marsh Restoration Project
Massachusetts
Jones River Watershed Association, Inc. -- Jones River Marine Ecology Center
Mississippi
Delta State University -- Environmental Partnership With Delta Volunteers -- Dahamey National Wildlife Refuge & Cypress Park Elementary
New York
Oswego County Soil & Water Conservation -- Tree Planting at Granby Elementary
Texas
Upper Texas Coast Water-Borne Education Center -- WBEC Outreach In Southeast Texas
Vermont
Kids Saving the Planet -- Environmental Education Program
Louisiana, Texas, Arkansas and Mississippi
Black Bear Conservation Committee -- Promoting Habitat Restoration
for Louisiana Black Bears
For a complete list of grant recipients, log onto Entergy's Web site at www.entergy.com .
Entergy is recognized as a leader within the utility industry with respect to environmental stewardship. In 2001, Entergy announced its own voluntary greenhouse gas emissions reduction program in coordination with Environmental Defense, a national advocacy group, to develop a program to reduce carbon dioxide emissions and stabilize greenhouse gas emissions at 2000 levels through 2005. The company has implemented a combination of internal actions and investments in emissions reduction projects as well as establishing a $25 million Environmental Initiatives Fund to help accomplish the goal of GHG reduction through 2005.
Entergy Corporation is an integrated energy company engaged primarily in electric power production, retail distribution operations, energy marketing and trading, and gas transportation. Entergy owns and operates power plants with about 30,000 megawatts of electric generating capacity, and it is the second-largest nuclear generator in the United States. Entergy delivers electricity to 2.6 million utility customers in Arkansas, Louisiana, Mississippi and Texas. Through Entergy-Koch, LP, it is also a leading provider of wholesale energy marketing and trading services, as well as an operator of natural gas pipeline and storage facilities. Entergy has annual revenues of over $8 billion and more than 15,000 employees.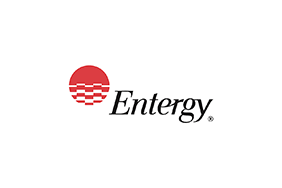 Entergy Corporation
Entergy Corporation
Entergy Corporation is an integrated energy company engaged primarily in electric power production and retail distribution operations. Entergy delivers electricity to 2.9 million utility customers in Arkansas, Louisiana, Mississippi and Texas.
More from Entergy Corporation