Published 01-29-03
Submitted by Entergy Corporation
NEW ORLEANS, LA - When you consider the massive impact of global warming on the environment, it seems almost impossible to think that one person can make a difference. But one person can, and Entergy wants to help by providing the fourth annual Environmental Stewardship Grant program.
The Environmental Stewardship Grant program supports community-based projects designed to enhance or preserve the environment.
Grants are available at two levels:
-Stewardship Level -- Grants up to $5,000 each. Past recipients must wait two years before submitting a new grant application.
-Leadership Level --Grants up to $25,000 each. Established organizations with projects demonstrating lasting and measurable effects on the environment.
Last year a total of $150,000 was awarded to projects throughout Entergy's service territory including Louisiana, Arkansas, Texas and Mississippi, as well as New York, Vermont, Massachusetts and Washington, D.C.
"The environmental problems faced by our country - our planet - seem almost insurmountable. But if you consider the benefits of something so simple as just planting a tree to remove carbon dioxide from the atmosphere, you can see that one person can make a difference," said Kay Arnold, vice president of Entergy's public affairs office, which oversees corporate contributions and employee volunteerism.
Projects should demonstrate a benefit to the environment, have a significant community impact and reap sustainable or continued benefits. Entergy employees are also encouraged to partner with 501c3 organizations applying for grants.
"Entergy's goal is to go beyond just compliance to become a leader in environmental stewardship by reducing greenhouse gas emissions, developing a portfolio of clean and zero-emission generation, and promoting energy efficiency and conservation programs among our customers. Individuals must also be aware of their personal responsibility to the environment and our communities," added Jim Mutch, vice president of environmental support. "These grants help individuals make a difference."
Applications are available on the Entergy Web site at http://www.entergy.com/content/corp/environment/EnvironmentalStewardshipApplic ation.pdf or by contacting Entergy Corporate Contributions at:
Entergy
Mail Unit L-ENT-8A
P.O. Box 61000
New Orleans, LA 70161
(504) 576-5785
(504) 576-7705
Applications should be received no later than March 20 and awards will be announced on April 22, Earth Day 2003.
Entergy is recognized as a leader within the utility industry with respect to environmental stewardship. In 2001, Entergy announced its own voluntary greenhouse gas emissions reduction program in coordination with Environmental Defense, a national advocacy group, to develop a program to reduce carbon dioxide emissions and stabilize greenhouse gas emissions at 2000 levels through 2005. The company has implemented a combination of internal actions and investments in emissions reduction projects, and it has established a $25 million Environmental Initiatives Fund to help accomplish the goal of GHG reduction through 2005.
Entergy Corporation, with annual revenues of nearly $10 billion, is a major integrated energy company engaged in power production, distribution operations, and related diversified services, with more than 15,000 employees. Entergy owns, manages, or invests in power plants generating more than 30,000 megawatts of electricity, is the second largest U.S. nuclear generator, and delivers electricity to about 2.6 million customers in portions of Arkansas, Louisiana, Mississippi, and Texas. Through Entergy-Koch, L.P., it is also a leading provider of wholesale energy marketing and trading services, as well as an operator of natural gas pipeline and storage facilities.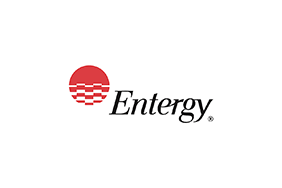 Entergy Corporation
Entergy Corporation
Entergy Corporation is an integrated energy company engaged primarily in electric power production and retail distribution operations. Entergy delivers electricity to 2.9 million utility customers in Arkansas, Louisiana, Mississippi and Texas.
More from Entergy Corporation