Published 11-06-02
Submitted by Entergy Corporation
BEAUMONT, Texas - Entergy today announced that through a $1.2 million contribution, it is launching the creation of local Individual Development Account programs with the Foundation for the Mid South over the next two years. The Mid South IDA Initiative will provide asset building opportunities for working poor individuals and families in the region.
"People living in poverty struggle to pay their bills and live from paycheck to paycheck. The IDA program gives them the ability to save money and accrue assets which are vital components to a complete program that helps people break the cycle of poverty," said Curt Hebert, Entergy's executive vice president of external affairs. "We want to see this program succeed in a region that desperately needs the promise that IDAs offer. Entergy and the Foundation for the Mid South hope to foster development of the IDA program to give the region another vehicle for positive change, economic growth and an improved quality of life for all who live here."
Entergy's donation will reward the monthly savings of working-poor families who are trying to buy their first home, weatherize their home, pay for post-secondary education, or start a small business. National studies show that communities with IDA programs experience a $5 return for every $1 invested into the program.
Similar to IRAs, IDAs make it easier for low-income families to build the financial assets that they need to achieve the "American Dream." Currently IDA programs operate in 500 communities, helping more than 20,000 Americans build wealth by acquiring assets. Through the partnership with the Foundation for the Mid South, Entergy will recruit other foundations, corporations and government partners for the IDA program.
The Foundation for the Mid South will be working directly with local nonprofit organizations and financial institutions throughout the region to strengthen existing IDA programs and help get new programs started. According to Foundation for the Mid South president, George Penick, "The partnership between Entergy and the Foundation for the Mid South is an ideal combination of the experience, resources and commitment necessary to carry out a regional effort like the Mid South IDA Initiative. Together, we expect to make a lasting positive impact on this region by helping low income working individuals and families build brighter futures for themselves and their communities."
The Foundation for the Mid South is a regional development foundation serving Arkansas, Louisiana, and Mississippi that brings people together, strengthens communities, and multiplies resources. The Foundation works to nurture families and children, improve schools, and strengthen the economy for all people. The total impact of the Foundation's programs and initiatives over the last ten years is estimated at over $150 million in new resources for the region. The Foundation has awarded almost 500 grants to over 300 organizations throughout the urban and rural communities of the Mid South region.
Entergy Corporation, with annual revenues of nearly $10 billion, is a major integrated energy company engaged in power production, distribution operations, and related diversified services, with more than 15,000 employees. Entergy owns, manages, or invests in power plants generating more than 30,000 megawatts of electricity domestically and internationally, is the second largest U.S. nuclear generator, and delivers electricity to about 2.6 million customers in portions of Arkansas, Louisiana, Mississippi, and Texas. Through Entergy-Koch, L.P., it is also a leading provider of wholesale energy marketing and trading services, as well as an operator of natural gas pipeline and storage facilities.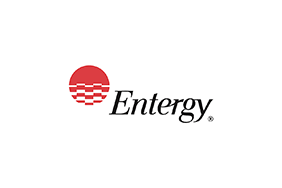 Entergy Corporation
Entergy Corporation
Entergy Corporation is an integrated energy company engaged primarily in electric power production and retail distribution operations. Entergy delivers electricity to 2.9 million utility customers in Arkansas, Louisiana, Mississippi and Texas.
More from Entergy Corporation