Published 07-19-02
Submitted by McDonald's Corporation
NEW YORK, New York - UNICEF and McDonald's today announced plans to team up to raise money on behalf of the world's children as part of a new McDonald's fundraising initiative called "World Children's Day," which will benefit Ronald McDonald House Charities® (RMHC) worldwide and UNICEF programs in about a dozen countries. The initiative was announced by Jack Greenberg, McDonald's Chairman and CEO, and Carol Bellamy, Executive Director of UNICEF.
McDonald's World Children's Day is a major fundraising initiative that will be inaugurated on November 20, 2002. On that day, McDonald's restaurants in 121 countries will raise money for local children's organizations through a variety of activities and promotions developed by each restaurant. UNICEF will be a beneficiary of the World Children's Day effort in select countries, including the United States, where McDonald's will support UNICEF's renowned "Trick-or-Treat for UNICEF" program.
The November 20th date coincides with the anniversary of the United Nations adoption of the Convention on the Rights of the Child, which took place on November 20, 1989.
"The value of this program for UNICEF and Ronald McDonald House Charities goes far beyond the millions of dollars that will be raised for children," said Mr. Greenberg, who met today with United Nations Secretary-General Kofi Annan to discuss the McDonald's fundraising initiative. "It brings the world's attention to the ever increasing needs of children, and the role we must all play in affecting positive change to improve the lives of children everywhere."
"We are very pleased that McDonald's is expanding its support for children around the world," Ms. Bellamy said. "The opportunity to distribute the orange Trick-or-Treat boxes through McDonald's restaurants in the U.S. will help us reach a whole new generation of children whose parents supported UNICEF when they were kids," she said. Bellamy also noted that last year RMHC awarded a $5 million grant to UNICEF to combat Maternal and Neonatal Tetanus in 57 priority countries. "We appreciate the continued support of McDonald's and RMHC," she said.
At the United Nations Special Session on Children in May 2002, the Secretary-General called on the private sector to become more involved in United Nations efforts to promote and sustain child survival and child rights. The McDonald's World Children's Day initiative represents a response to this call.
"Whatever our role in life, there is nothing that unites us and motivates us more than the welfare of children," Mr. Annan said. "Children are our future. It is only by investing in them and their well-being that we can hope to build the healthy, prosperous and peaceful world we all strive for... Public-private partnerships have the power to help children in many ways."
UNICEF offices will work directly with McDonald's restaurants in participating countries to raise funds and awareness for children's causes. Examples:
This October participating McDonald's restaurants in the United States will distribute 20 million of the traditional orange "Trick-or-Treat for UNICEF" collection boxes - more than doubling the reach of the program.
In New Zealand, UNICEF and RMHC are teaming up on a new ad campaign in support of World Children's Day. Young people selected through a program in McDonald's restaurants will speak out on what they see as the most important children's issues today.
McDonald's China is implementing a four-week program with UNICEF culminating in the country's first-ever on-line concert available exclusively to those participating in the World Children's Day fundraising effort in China. With the purchase of a Big Mac on November 20, customers will receive access to the Internet concert, and a portion of sales will be donated to UNICEF.
UNICEF and McDonald's restaurants in Hong Kong are initiating "Love for Our Future with UNICEF," a program designed to symbolize caring for the next generation. Specially designed postcards which children can personalize with their own messages will be available for sale at McDonald's restaurants, with proceeds going to the charities.
McDonald's is the world's leading foodservice retailer, with more than 30,000 restaurants serving over 46 million people each day in 121 countries. Approximately 80 percent of McDonald's U.S. restaurants are owned and operated by independent local businessmen and women.
Ronald McDonald House Charities, a non-profit, 501(c)3, creates, finds and supports programs that directly improve the health and well being of children through its network of 171 local Chapters currently serving in 44 countries. To date, RMHC has awarded more than $320 million in grants to aid critical children's causes in such areas as immunization, education, life-changing surgeries, child abuse prevention and aid for the mentally and physically challenged. RMHC also supports Ronald McDonald Houses, Ronald McDonald Care Mobiles and other community efforts for children.
UNICEF works to save children's lives and build children's futures by immunizing children against deadly diseases; fighting HIV/AIDS and its impact on young people; promoting quality basic education for girls and boys everywhere; protecting all children from violence, abuse, and exploitation; and supporting early childhood programs that bring better health, good nutrition, and clean water to children in the crucial first years of life. Founded in 1946, UNICEF now works in 161 countries and territories.
For further information, visit the McDonald's media Web site at www.media.mcdonalds.com, or the UNICEF global homepage at www.unicef.org.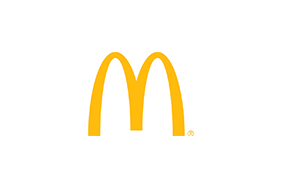 McDonald's Corporation
McDonald's Corporation
McDonald's is the world's leading global foodservice retailer with nearly 40,000 locations in over 100 countries. Approximately 95% of McDonald's restaurants worldwide are owned and operated by independent local business owners.
More from McDonald's Corporation