Published 12-15-04
Submitted by Office Depot, Inc.
DELRAY BEACH, FL - Office Depot (NYSE:ODP), working with paper producer NorskeCanada and professional services firm PricewaterhouseCoopers LLP, has pioneered the industry's first independent chain-of-custody system for the sourcing of paper in North America. The system enables Office Depot, the 2004 winner of the United States Chamber of Commerce's Corporate Stewardship Award, to ensure that paper used in its printed marketing materials is "environmentally preferable" and establishes a new level of transparency in the process of paper procurement.
For Office Depot to consider paper as environmentally preferable, it must contain postconsumer waste (PCW) recycled content or certified content. Certified content refers to fiber sourced from forests that are independently verified as being responsibly managed in accordance with a recognized forest certification standard, along with an audited chain of custody tracking system that verifies the use of the certified fiber in the paper product.
"After more than a year of collaborating with our stakeholders, Office Depot can now track, measure and report the amount and type of environmentally preferable fiber used in our North American catalog and insert paper," said Tyler Elm, Office Depot's Director of Environmental Affairs. "By early 2005, Office Depot will be able to claim that its catalog and insert paper from NorskeCanada is sourced from responsibly-managed forests, certified in accordance with a recognized forest certification standard, and that no fiber from illegal logging entered the supply chain."
Office Depot will identify, track and report environmentally preferable fiber with the following three separate characteristics:
1. Responsibly-Managed: Virgin wood fiber sourced from forests that are certified by an independent third party as being responsibly managed in accordance with a recognized forest certification standard;
2. Responsibly-Procured: Virgin wood fiber sourced using procurement systems that require uncertified landowners to meet or exceed government requirements on their forestlands, including Best Management Practices where they exist; and
3. PCW-Recycled: Reclaimed wood fiber recovered from the solid waste stream of the end user of the original forest or paper product.
In support of the Company's environmental policies and commitment to greater transparency in paper sourcing, Office Depot tracks the frequency and amount of environmentally preferable paper and publicly reports this information annually in the industry's only independently audited Environmental Stewardship Report. (The Report is available for downloading at www.officedepot.com/environment.)
The development of an independent chain of custody tracking system for its North American marketing papers enables Office Depot to address one of the Company's "opportunities for improvement," as identified in the Report (p.29).
"Our certification audit confirms that rigorous controls, management and reporting systems are in place," noted Bruce McIntyre, leader of PricewaterhouseCoopers' Sustainable Business Solutions practice for the resources sector. "The independent chain of custody is comparable to other leading certification systems in terms of its mechanics and transparency."
Office Depot sources paper for a portion of its U.S. catalog and advertising inserts from two NorskeCanada mills, and is currently in discussions with other paper suppliers to implement the system. Independent chain of custody verifies that NorskeCanada paper contains 100% certified wood fiber.
"Certification offers a means to understand and promote forest stewardship," said Stu Clugston, Vice President, Corporate Affairs for NorskeCanada. "With our independent chain of custody, we are offering customers who share the same belief in responsible forest management a valuable tool to verify the fibre source and certification standards in the paper they purchase."
In addition to tracking the amount of PCW recycled content in its marketing papers, the independently audited chain-of-custody system will better address the needs of paper buyers such as Office Depot.
"The demands upon supply chain tracking systems have evolved tremendously since the early days of chain of custody," Elm noted. "Traditional systems are linked to specific forest management standards in an effort to promote product labeling, and simply do not reflect the customer's desire for full transparency and the need to monitor, verify and report on the overall environmental performance of paper, regardless of certification systems being employed.
"With full disclosure of the environmental attributes of our paper being the primary objective, we quickly discovered that traditional chain of custody systems were poorly suited to the diversity of certification systems in use across the landscape, the complexity of the forest and paper industry supply chain, and the resulting composition of the final paper product, which often contains certified content from a number of different certification standards," Elm added. "We want transparency, not a label."
"This announcement is a great example of how leadership companies working in collaboration can make values-based business decisions that work for them and provide a roadmap for others," said David Ford, president and CEO of Metafore, a non-profit organization that works with business and other civil society leaders who recognize the connection between business prosperity and forest integrity. "Office Depot and NorskeCanada have established a foundation for tracking fiber that is transparent and inclusive. This creates opportunities for other environmental attributes of responsibly produced paper to be tracked in the future."
Editor's Note: Consumers or businesses may contact Office Depot regarding more information or to pass along comments via email at environment@officedepot.com. The news media contact for NorskeCanada is Lyn Brown, Director of Corporate Affairs, 604-654-4212, lyn.brown@norskecanada.com. For PwC, please contact Jim Nelson, Director
Marketing & Communication, 604-806-7047, jim.nelson@ca.pwc.com. For Metafor, please contact Mark Evertz, Communications Manager, 503.224.2205, mevertz@metafore.org.
About Office Depot
Office Depot's environmental initiatives center on three guiding principles: Recycling and Pollution Reduction; Sustainable Forest Management; and Issue Awareness and Market Development for environmentally preferable products. Office Depot was honored with the United States Chamber of Commerce's Corporate Stewardship Award for Large Companies in 2004, which recognizes businesses and chambers that have demonstrated ethical leadership and corporate stewardship. No other company in the office products industry has made as strong a commitment to conserve our forests. Office Depot is already the largest reseller of recycled paper and recycled content products. In addition to the company's industry-leading 35% post consumer waste content paper, Office Depot offers thousands of different products containing recycled content and added new products including 100% post consumer waste content papers during 2003.
With annual sales of more than $12 billion, no one sells more office supplies to more customers in more countries than Office Depot. Founded in 1986 and headquartered in Delray Beach, Fla., the company conducts business in 23 countries and employs nearly 50,000 people worldwide.
Office Depot is a leader in every distribution channel - from retail stores and contract delivery to catalogs and e-commerce. The company is the world's number three online retailer - on track to generate $3B in sales for FY'04. In North America, Office Depot has 923 retail stores in addition to a national business-to-business delivery network supported by 22 delivery centers, more than 60 local sales offices and 13 regional call centers.
The company's common stock is traded on the New York Stock Exchange under the symbol ODP and is included in the S&P 500 Index. Additional press information can be found at: mediarelations.officedepot.com.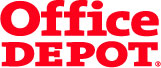 Office Depot, Inc.
Office Depot, Inc.
Office Depot provides more office products and services to more customers in more countries than any other company. Incorporated in 1986 and headquartered in Delray Beach, Fla., Office Depot has annual sales of nearly $15 billion, and employs approximately 50,000 associates around the world. Currently, the Company sells to customers directly or through affiliates in 42 countries. Office Depot is a leader in every distribution channel -- from retail stores and contract delivery to catalogs and e-commerce. Office Depot serves a wide range of customers through a dedicated sales force, telephone account managers, direct mail offerings, and multiple web sites.
More from Office Depot, Inc.