Published 12-01-04
Submitted by Office Depot, Inc.
DELRAY BEACH, FL -- When Office Depot (NYSE:ODP), one of the world's leading resellers of products containing recycled content, announced its new Environmental Paper Procurement Policy & Vision Statement on Earth Day 2003, the company set out to create a new level of responsibility, transparency and accountability related to the environment. A detailed look at the company's environmental initiatives and accomplishments is being released today in a landmark report providing an audited account of its environmental achievements.
Available in its entirety at www.officedepot.com/environment, the 2004 Environmental Stewardship Report focuses on the key policy and infrastructure initiatives undertaken by Office Depot during the past year, and details the resulting environmental benefits.
The publication of the industry's first-ever audited environmental report marks the latest in a series of firsts for Office Depot in its mission to be a leader in environmental performance while raising the bar for other retailers.
"Our environmental strategy is values-based and market-driven," said Neil Austrian, Chairman and CEO of Office Depot. "It is clearly the 'right thing to do' and resonates with our employees and business partners as well as our customers and the investment community - who share this philosophy and want to do business with a company that derives economic value from improved environmental outcomes. The independent audit of our environmental performance by PricewaterhouseCoopers supports this strategy by contributing to our stakeholders' confidence in Office Depot and our commitment to environmental stewardship."
Report Highlights
The Report presents both corporate environmental performance, such as the performance from activities over which Office Depot has direct control or management responsibility, as well as customer environmental performance resulting from purchasing activity.
Overall, Office Depot's corporate environmental performance related to the use of environmentally preferable paper was three times that of its customers, demonstrating that the retailer leads the market in the use of environmentally preferable office papers.
However, it's important to note that the overall performance of Office Depot's customers increased at a healthy rate in 2003 - roughly 50% in a year-over-year comparison - demonstrating the positive effects of the Company's environmental policies and programs and their ability to raise customer awareness of environmental issues and develop markets for environmentally preferable office products.
The following figures from the Report are related to the Company's Paper Procurement and Forest and Biodiversity Conservation policies:
Environmentally-Preferable Paper:

Approximately 52% of the office paper used by Office Depot's corporate offices contained recycled content, achieving an average annual total post-consumer waste (PCW) recycled content of 17.5%

Approximately 14% of the office paper purchased by Office Depot customers contained recycled content, achieving an average annual total PCW recycled content of 4.5%

The combined, aggregate PCW recycled content of all office, marketing and shipping paper products used and sold during 2003 was 5.74%.

Conservation:

Nearly 700,000 trees were conserved as a result of the use or sale of environmentally preferable paper and recycling initiatives (pp. 18-31). Examples:
⎯ Office Depot's Green Book catalog -- the industry's first catalog dedicated to environmentally preferable products and printed on 100% Post Consumer Waste recycled paper (p. 20).
⎯ The company's EnviroCopy paper, which requires 35% less trees to produce and results in 13% fewer greenhouse gas emissions (p. 17).

Ink, Toner and Laser Cartridge Recycling:
• More than 3.5 million ink and toner cartridges were recycled -- a 168% increase over 2002 - and more than 1 million laser cartridges were recycled -- a 68% increase over 2002 (p. 21).

- Business customers are provided with free, postage-paid envelopes to return used cartridges for recycling.
- Retail customers are offered a free ream of EnviroCopy paper when they return eligible ink or toner cartridges.
Greenhouse Gases:
Eliminated more than 30,000 tons (or approximately 60,000,000 pounds) of hazardous gases (pp. 18-31) in 2003, as it relates to environmentally conscious procurement and recycling practices.

The Report also outlines Office Depot's "roadmap to success," setting forth specific, measurable environmental goals for the coming year, another first for the office supply industry. Future initiatives will continue to focus on project partnerships with the company's stakeholders, addressing responsible forest management, the conservation of forests and the biodiversity they contain.

Specifically, the company plans to:
Expand the application of its environmental policies to its European operations.

Enhance the environmental performance of Office Depot's branded lineup of office papers.

Work with suppliers to implement an independent chain-of-custody system to track the use of environmentally certified paper.

Additionally, Office Depot plans on expanding its use of environmentally preferable paper in its Canadian advertising insert program (p. 19), and has established the goal of achieving an annual total average of 50% PCW recycled content for this program by the end of 2004.

Office Depot will also continue to incorporate conservation science into its procurement processes, specifically as it relates to knowledge of at-risk species and ecological communities, while also expanding its strategic relationships with the world's leading conservation science organizations, known as its Forest & Biodiversity Conservation Alliance (p. 34).

"From day one, Office Depot set out to distinguish itself by using conservation science as the foundation of its environmental policies and programs," said Tyler Elm, Office Depot's Director of Environmental Affairs. "This approach enabled the Company to establish a responsible environmental strategy, transparent policies and a reporting process that ensures accountability to environmental commitments."

"Office Depot's Environmental Stewardship Report tells an impressive story of industry leadership in working with the environmental community on global biodiversity conservation and other critical issues of our time," noted Justin Ward, Senior Director of Forestry at Conservation International. "This type of transparent reporting enables companies, shareholders, customers and other stakeholders to take stock of what has been accomplished, and what still needs to be done, to fulfill corporate environmental commitments."

Scope of the Report
Office Depot's Environmental Stewardship Repor highlights the company's 2003 environmental initiatives and performance relating to the Environmental Paper Procurement Policy & Vision Statement, including the use and sale of environmentally preferable paper, off-site recycling, participation in environmental conferences and work groups, implementation of environmental policies, and other programs to promote and advance environmental stewardship.

To verify Office Depot's performance in the above areas, the Company underwent an independent audit by a multi-disciplinary team of sustainability specialists from PricewaterhouseCoopers' Global Forest & Paper and Environmental Management Systems practices. PricewaterhouseCoopers verified that the information in Office Depot's Report was supported appropriately with underlying evidence and "is fairly stated in all material respects."

"Our audit confirms Office Depot's commitment to third-party assurance of their progress toward their stated environmental goals," said Bruce McIntyre, a Partner in PricewaterhouseCoopers' Global Forest & Paper Practice. "Independent assurance of corporate responsibility reports is part of a trend towards increasing transparency in the environmental, social and economic elements of business."

Editor's Note: The entire downloadable 2004 Office Depot Environmental Stewardship Report (PDF format) can be found at http://www.officedepot.com/environment. Consumers or businesses may contact Office Depot regarding more information or to pass along suggestions via email at environment@officedepot.com. For more information on the Forest & Biodiversity Conservation Alliance, visit http://www.community.officedepot.com/environment.asp.

Audit Methodology
PricewaterhouseCoopers' audit approach (p. 3) was completed in accordance with the International Standard on Assurance Engagements (ISAE) 3000, developed by the International Federation of Accountants. PricewaterhouseCoopers has marked the report with green check marks, which indicate where the report is supported by underlying evidence and verified by the auditors. The reported results reflect Office Depot's performance against the Company's Environmental Paper Procurement Policy & Vision Statement in Canada and the U.S. With North American business operations contributing 78% of gross revenue during 2003, this geographic scope coincides with the Company's largest business unit and captures the majority of Office Depot's environmental efforts during 2003.

About Office Depot
Office Depot's environmental initiatives center on three guiding principles: Recycling and Pollution Reduction; Sustainable Forest Management; and Issue Awareness and Market Development for environmentally preferable products. No other company in the office products industry has made as strong a commitment to conserve our forests. Office Depot is already one of the largest resellers of recycled paper and recycled content products. In addition to the Company's industry-leading 35% post consumer waste content paper, Office Depot offers thousands of different products containing recycled content and added new products including 100% post consumer waste content papers during 2003.

With annual sales of more than $12 billion, no one sells more office supplies to more customers in more countries than Office Depot. Founded in 1986 and headquartered in Delray Beach, Fla., the Company conducts business in 23 countries and employs nearly 50,000 people worldwide.

Office Depot is a leader in every distribution channel - from retail stores and contract delivery to catalogs and e-commerce. The company is the world's number three online retailer - on track to generate $3B in sales for FY'04. In North America, Office Depot has 923 retail stores in addition to a national business-to-business delivery network supported by 22 delivery centers, more than 60 local sales offices and 13 regional call centers.

The company's common stock is traded on the New York Stock Exchange under the symbol ODP and is included in the S&P 500 Index. Additional press information can be found at: http://www.mediarelations.officedepot.com.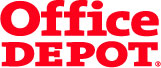 Office Depot, Inc.
Office Depot, Inc.
Office Depot provides more office products and services to more customers in more countries than any other company. Incorporated in 1986 and headquartered in Delray Beach, Fla., Office Depot has annual sales of nearly $15 billion, and employs approximately 50,000 associates around the world. Currently, the Company sells to customers directly or through affiliates in 42 countries. Office Depot is a leader in every distribution channel -- from retail stores and contract delivery to catalogs and e-commerce. Office Depot serves a wide range of customers through a dedicated sales force, telephone account managers, direct mail offerings, and multiple web sites.
More from Office Depot, Inc.