Published 11-18-08
Submitted by Owens Corning
BOSTON, Nov. 18 /PRNewswire-FirstCall/ -- Owens Corning (NYSE: OC), a global leader in building materials and composite solutions, today announced that Foard Panel will use Owens Corning Foamular(R) extruded polystyrene (XPS) foam for its XPS-core structural insulated panels (SIPs). One of the largest SIP manufacturers in the U.S., Foard Panel is the only national producer of SIPs with XPS cores, an alternative to urethane.
Compared to urethane, Foard's SIPs panels with XPS foam offer:
a comparably high R-value per inch (R-5 vs. R-6 per inch)

double the system strength with twice the lengthways (transverse) load strength(1)

no disruptive odor

thirty times greater resistance to moisture absorption and reduced potential for mold growth

a twenty year thermal performance warranty
In addition, SIPS panels made with Foamular XPS foam are made with up to 15 percent certified pre-consumer recycled polystyrene.

"Foard Panel's expertise in SIPs and Owens Corning's brand leadership are a powerful combination," said Steve Horton, president of Foard Panel. "With XPS foam from Owens Corning, our customers can leverage the strength of one of the most preferred brands in building materials to help build their businesses. Our customers are excited about the enhanced performance of XPS-core SIPs and their ability to offer a structurally sound enclosure with impressive R-values."

"This relationship is an acknowledgement of the value our customers place in the power of the Owens Corning brand," said Joe Ochoa, general manager, Foam Insulation, Owens Corning. "We're excited to be playing an important role in the SIPs market with Foard Panel for customers choosing to build with this energy efficient, alternative wall system."

About Owens Corning
Owens Corning (NYSE: OC) is a leading global producer of residential and commercial building materials, glass fiber reinforcements and engineered materials for composite systems. A Fortune 500 company for 54 consecutive years, Owens Corning is committed to driving sustainability through delivering solutions, transforming markets and enhancing lives. Founded in 1938, Owens Corning is a market-leading innovator of glass fiber technology with sales of $5 billion in 2007 and 18,000 employees in 26 countries on five continents. Additional information is available at http://www.owenscorning.com.

About Foard Panel
Foard Panel Inc. of West Chesterfield, NH, has been manufacturing and installing structural insulated panels (SIPs) for over 15 years. Foard's XPS core is the first of its kind in America. Foard Panel works directly with Owens Corning to provide this top quality building product for ENERGY STAR(R) and LEED(R) certified residential and commercial projects. They are recommended by certified energy auditors and exceed state regulated energy codes. http://www.foardpanel.com.

(1)Test per ASTM E72-98 on 4 1/2" structural panels, 4'wide, 8'span comparing ultimate load at failure.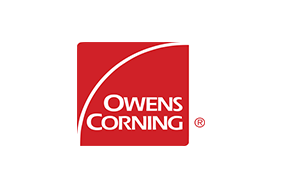 Owens Corning
Owens Corning
About Owens Corning
Owens Corning is a global building and construction materials leader committed to building a sustainable future through material innovation. Our three integrated businesses – Composites, Insulation, and Roofing – provide durable, sustainable, energy-efficient solutions that leverage our unique material science, manufacturing, and market knowledge to help our customers win and grow. We are global in scope, human in scale with approximately 20,000 employees in 33 countries dedicated to generating value for our customers and shareholders, and making a difference in the communities where we work and live. Founded in 1938 and based in Toledo, Ohio, USA, Owens Corning posted 2021 sales of $8.5 billion. For more information, visit www.owenscorning.com.
More from Owens Corning