Published 10-14-08
Submitted by Owens Corning
TOLEDO, Ohio, Oct. 14 /PRNewswire-FirstCall/ -- Owens Corning (NYSE: OC), a world leader in glass fiber reinforcements and building materials systems, announced today that it will reduce its total U.S. greenhouse gas emissions by 25 percent per unit of production from 2006 to 2012. The company has committed to this new goal as part of the U.S. Environmental Protection Agency's (USEPA) Climate Leaders voluntary program.
"Reducing our greenhouse gas emissions, in line with the Climate Leaders goal, is one demonstration of our commitment to environmental stewardship," said Frank O'Brien-Bernini, chief sustainability officer. "We are proud to partner with Climate Leaders in pursuing this aggressive goal."
Owens Corning will achieve the goal through a host of energy efficiency measures ranging from basic electrical equipment improvements to advanced glass melting technology and heat recovery. It will also reduce greenhouse emissions by implementing new blowing agent technology in its foam insulation manufacturing operations.
"EPA applauds our corporate partners who are reducing their climate footprints in cost-effective ways," said EPA Administrator Stephen L. Johnson. "Not only is Owens Corning contributing to this country's energy independence, but the company is proving that businesses can save green by going green."
This U.S. goal complements Owens Corning's other sustainability objectives. For more information about these goals, please visit www.owenscorning.com/sustainability.
About Owens Corning
Owens Corning (NYSE: OC) is a leading global producer of residential and commercial building materials, glass fiber reinforcements and engineered materials for composite systems. A Fortune 500 company for 54 consecutive years, Owens Corning is committed to driving sustainability through delivering solutions, transforming markets and enhancing lives. Founded in 1938, Owens Corning is a market-leading innovator of glass fiber technology with sales of $5 billion in 2007 and 18,000 employees in 26 countries on five continents. Additional information is available at www.owenscorning.com.
About Climate Leaders
Climate Leaders is an industry-government partnership that works with companies to develop comprehensive climate change strategies. Owens Corning adopted the Climate Leaders emissions inventory protocol, submitted an Inventory Management Plan, and proposed a reduction goal to the USEPA which it approved earlier this year. A goal is approved once it is determined to be aggressive and moves well beyond business as usual. The USEPA also requires the annual submission of results which it reviews. Through program participation, companies create a credible record of accomplishments and receive USEPA recognition as corporate environmental leaders. For more information about the USEPA Climate Leaders Program visit their website at www.epa.gov/climateleaders.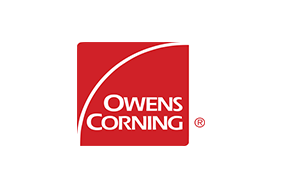 Owens Corning
Owens Corning
About Owens Corning
Owens Corning is a global building and construction materials leader committed to building a sustainable future through material innovation. Our three integrated businesses – Composites, Insulation, and Roofing – provide durable, sustainable, energy-efficient solutions that leverage our unique material science, manufacturing, and market knowledge to help our customers win and grow. We are global in scope, human in scale with approximately 20,000 employees in 33 countries dedicated to generating value for our customers and shareholders, and making a difference in the communities where we work and live. Founded in 1938 and based in Toledo, Ohio, USA, Owens Corning posted 2021 sales of $8.5 billion. For more information, visit www.owenscorning.com.
More from Owens Corning