Published 09-11-08
Submitted by Owens Corning
TOLEDO, Ohio, Sept. 11 /PRNewswire-FirstCall/ -- Owens Corning (NYSE: OC), a world leader in building materials and glass fiber reinforcements, today launched a full set of business solutions to help its building materials customers easily, efficiently and profitably enter an emerging and growing market category -- re-insulation.

(Photo: http://www.newscom.com/cgi-bin/prnh/20080911/AQTH019-a)
(Photo: http://www.newscom.com/cgi-bin/prnh/20080911/AQTH019-b)

"Despite major strides in energy efficiency, the No. 1 user of energy continues to be buildings -- more than industry and more than transportation," said Roy Dean, president of the Owens Corning Insulating Systems Business. "Nearly 80 million U.S. homes are estimated to be under insulated according to Department of Energy standards, and the launch of these re-insulation solutions focus on changing this reality for consumers, our customers, our company and our country. This is a tremendous opportunity for all stakeholders, given that less than one percent of the re-insulation opportunity is currently estimated to be captured each year."

After extensive research and nearly two years of development, Owens Corning's solutions are designed to enable channel partners to leverage their current customer base for non-insulation home improvements to expand into re-insulation and/or accelerate their current re-insulation businesses. The solutions incorporate a range of everything partners need including: products, marketing and sales tools, the Owens Corning AttiCat(R) Expanding Blown-In PINK Fiberglas(TM) Insulation product and portable AttiCat(TM) Expanding Blown-In PINK Fiberglas(TM) Insulation Machine. This offering creates a market of buyers, sellers and services to make insulation retrofit easy, approachable and affordable.

As insulation is sold both through Do-It-Yourself (DIY) and Do-It-For-Me (DIFM) distribution channels, Owens Corning has been market testing specific solutions for each channel and gaining insights to ensure that the marketing and technology tools for each customer group are best tailored to meet their needs. Following are highlights for each channel partner:
Insulation Contractors -- Already engaged in re-insulation as a core or adjacent business, Owens Corning is providing a host of marketing solutions from direct selling materials to access to customer targeting data, to help them better and more surgically leverage what they do best... insulate homes.

Roofing Contractors -- The new Top of the House(TM) Certified Preferred Contractor Program allows roofing contractors to bring more value to their customers by adding insulation in the attic at the same time the homeowner is already upgrading the exterior appearance and performance of their roof system.

HVAC -- Like roofing contractors, HVAC contractors are already in the home selling duct solutions and HVAC systems. The new Owens Corning AttiCat insulation system allows them to extend their services to include attic insulation at the same time they're upgrading customer's energy performance -- ultimately maximizing the performance of the HVAC improvements.

Big-Box/Retail -- DIYers have long shopped at retailers for energy efficient solutions. With the addition of the AttiCat insulation system, retailers now have an offering that makes the job even easier for DIYers -- which is key in helping generate additional sales.

Pro-Dealers -- While the new construction builder has been core to the pro-dealer, now pro-dealers can create a profitable business extension with the re-insulation opportunity for remodeling contractors. By supplying the AttiCat insulation system, pro-dealers can help enable remodeling contractors to expand their business and profits in an otherwise difficult home remodeling market.
Already, customers who have been in controlled market tests throughout the course of 2008 are reporting significant progress and opportunity in re-insulation.

"There is a huge opportunity in the retrofit market to create sales in an environment where new construction is at its slowest since the 1970s," said Dave LeHotan, president of All Construction Services, a branch of Installed Building Products, out of Brunswick, Ohio, and an Owens Corning customer, who has been a long-time proponent of upgrading insulation to today's standards. "We have positioned our company to take full advantage of the re-insulation opportunity, and with this launch, Owens Corning will be providing a solution to fully tap the market.

"Insulation is the answer," continued LeHotan. "Saving money and energy is on everyone's mind, and insulation offers the best bang for your buck. Working with Owens Corning is helping us make the most of the re-insulation opportunity."

Doug Derrick, owner of Advance Incorporated, has extended his roofing contractor business to include re-insulation with the Owens Corning Top of the House(TM) program and agrees. "It's a no-brainer," said Derrick. "I tried to purchase the demo AttiCat Expanding Blown-in Insulation System right off the show floor and ordered it from my distributor that day. We are poised for an incredibly successful upcoming season. Owens Corning is making the re-insulation market opportunity efficient and affordable."

To learn more about the re-insulation market opportunity and how your company can work with Owens Corning to enter the market, visit http://www.owenscorning.com/reinsulation or call 1-877-658-6362.

About Owens Corning
Owens Corning (NYSE: OC) is a leading global producer of residential and commercial building materials, glass fiber reinforcements and engineered materials for composite systems. A Fortune 500 company for 54 consecutive years, Owens Corning is committed to driving sustainability through delivering solutions, transforming markets and enhancing lives. Founded in 1938, Owens Corning is a market-leading innovator of glass fiber technology with sales of $5 billion in 2007 and 18,000 employees in 26 countries on five continents. Additional information is available at http://www.owenscorning.com.

Copyright (C)2008 Owens Corning
The color PINK is a registered trademark of Owens Corning.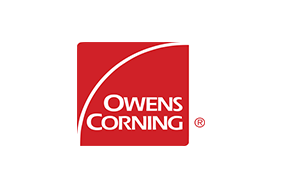 Owens Corning
Owens Corning
About Owens Corning
Owens Corning is a global building and construction materials leader committed to building a sustainable future through material innovation. Our three integrated businesses – Composites, Insulation, and Roofing – provide durable, sustainable, energy-efficient solutions that leverage our unique material science, manufacturing, and market knowledge to help our customers win and grow. We are global in scope, human in scale with approximately 20,000 employees in 33 countries dedicated to generating value for our customers and shareholders, and making a difference in the communities where we work and live. Founded in 1938 and based in Toledo, Ohio, USA, Owens Corning posted 2021 sales of $8.5 billion. For more information, visit www.owenscorning.com.
More from Owens Corning