Published 06-19-08
Submitted by Owens Corning
TOLEDO, Ohio, June 19 /PRNewswire-FirstCall/ -- With warm weather here, it's time to make sure your home is ready for the summer sun's blazing rays. Insulation is like sunscreen for your home, and you need about 19 inches in the attic to protect your home well against summer heat. If you live in one of the 60 million American homes estimated to have under-insulated attics(1), you may want to consider adding some. Taking this step is one of the best ways to reduce your home's energy use for cooling.
(Photo:http://www.newscom.com/cgi-bin/prnh/20080619/AQTH526)

"A significant amount of a home's struggle to remain cool is through under-insulated attics, but it's simple to determine if you have enough, and it's easy to add more if you don't," says Gale Tedhams, director of sustainability for Owens Corning. "Go up to your attic. If you can see the wood beams of your attic floor, you don't have enough."
With energy prices skyrocketing, under-insulated homes not only face increased energy costs, they're also emitting one-half ton more greenhouse gas-causing CO2 EVERY year than their properly-insulated neighbors(2).
That's why Owens Corning (NYSE: OC), the makers of PINK insulation, are focused on letting homeowners know about ways to run more energy-efficient homes and do their part to make the planet a little greener. To meet the Department of Energy recommendation for an R-value of up to 60 for attics, Owens Corning advises attics have about 19 inches of fiberglass batt insulation or 22 inches of blown insulation.

"According to a recent global McKinsey study, one of the most cost effective measures to reduce greenhouse gases is building insulation,"(3) says Tedhams. "If we all insulated to the Department of Energy recommendation of R-60, imagine the difference we could make across the nation -- attic by attic, year after year -- in saving money and reducing greenhouse gas emissions."
Owens Corning encourages homeowners to go to http://www.insulateyouratticnow.com, a site where visitors can learn how to save up to 20 percent on their energy bills(4), measure their attic insulation level and find out where to buy insulation.
Homeowners who want to reduce their home's energy footprint should also consider other energy-efficient upgrades such as:
Installing a Programmable Thermostat
Why heat or cool the house when nobody's home? A programmable thermostat can automatically lower or raise a home's air temperature during the day. By regulating the temperature, homeowners can save up to 10 percent on annual heating and cooling costs.
Plugging the Drafts
Sealing the envelope of the home is the first line of defense against drafts, so it's important to caulk and weather-strip around all seams, cracks and openings. Pay special attention to windows and electrical outlets. Unwanted air leakage alone can raise energy bills by up to 10 percent.
Taking a Home Energy Audit
Understanding how much energy a home uses helps homeowners determine what changes will save them the most energy and money. For an easy home energy audit, check out the Home Report Card(R). The quiz provides tailored recommendations for improving home energy efficiency and can be found at www.owenscorning.com/homereportcard.
About Owens Corning
Owens Corning (NYSE: OC) is a leading global producer of residential and commercial building materials, glass fiber reinforcements and engineered materials for composite systems. A Fortune 500 company for 54 consecutive years, Owens Corning is committed to driving sustainability through delivering solutions, transforming markets and enhancing lives. Founded in 1938, Owens Corning is a market-leading innovator of glass fiber technology with sales of $5 billion in 2007 and 19,000 employees in 26 countries on five continents. Additional information is available at www.owenscorning.com.
(1) Estimated 60 million under-insulated homes in 2006 based upon a 2003 Harvard School of Public Health study, The Public Health Benefits of Insulation Retrofits in Existing Housing in the United States.
(2) CO2 emissions calculation based on an average attic size of 1700 sq. ft. with existing R-19 insulation, averaged over seven cities in diverse climate regions.
(3) The McKinsey Global Institute (www.mckinseyquarterly.com/article_abstract.aspx?ar=1911&L2=3).
(4) Savings will vary depending on your location and weather conditions. Calculations of energy savings based on a 1700 square foot, single story home, with base case insulation and air leakage levels equivalent to the average home built in 1965. Reference data sources include the U.S. Dept. of Commerce and the Lawrence Berkeley National Laboratory (LBL) "Energy Savers Program." A summary of the calculation details is available upon request. The color PINK is a registered trademark of Owens Corning.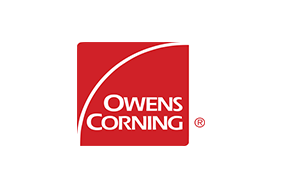 Owens Corning
Owens Corning
About Owens Corning
Owens Corning is a global building and construction materials leader committed to building a sustainable future through material innovation. Our three integrated businesses – Composites, Insulation, and Roofing – provide durable, sustainable, energy-efficient solutions that leverage our unique material science, manufacturing, and market knowledge to help our customers win and grow. We are global in scope, human in scale with approximately 20,000 employees in 33 countries dedicated to generating value for our customers and shareholders, and making a difference in the communities where we work and live. Founded in 1938 and based in Toledo, Ohio, USA, Owens Corning posted 2021 sales of $8.5 billion. For more information, visit www.owenscorning.com.
More from Owens Corning