Published 05-13-08
Submitted by Owens Corning
NEW ORLEANS, May 13 /PRNewswire-FirstCall/ -- Owens Corning (NYSE: OC), a leader in building science for nearly 70 years, announced it has become a sponsor of LBM Journal's Certified Green Dealer(TM) program and renewed its sponsorship with Masco Home Services' Environments For Living(R) Certified Green program. Owens Corning's partnership with these robust green building programs is intended to drive value for customers at all levels of the supply chain by providing the training they need to become fluent in green building practices and products. Meeting growing consumer demand for energy efficient products will help the environment by reducing CO2 emissions associated with greenhouse gas and also provide an advantage in today's difficult market. The announcements were made at this year's NAHB National Green Building Conference.
"As a sustainable company, Owens Corning not only focuses on the greening of our operations and products, but we are committed to helping our customers understand how together we all can accelerate energy efficiency in the built environment," said Gale Tedhams, director of sustainable communities and green products, Owens Corning. "Today's fast-growing green market -- one that is seeing annual growth of as much as 30 percent despite the slump in the overall housing market -- has created opportunities for builders and contractors to set themselves apart."
Owens Corning's support of the Certified Green Dealer program (www.certifiedgreendealer.com) helps provide the opportunity for dealers to understand and take advantage of today's hottest market driver. The Certified Green Dealer program provides:
-- An easy and informative training process for dealer sales teams;
-- Online educational and instructional videos on green building practices
and product choices;
-- Study guides, resource materials and an online certification exam; and
-- For certified dealers, the Certified Green Dealer logo for use in
marketing materials to showcase program certification.
Building sustainable, energy efficient and comfortable homes is a tall order. The Environments For Living Certified Green program (www.eflbuilder.com) helps builders meet this challenge by providing:
-- Education and customized training in green building practices and
building science;
-- Testing protocols for duct tightness, air tightness and pressure
balancing;
-- Builder sales training and program implementation assistance; and
-- Marketing materials and homeowner package, including three-year limited guarantees* on comfort and energy used for heating and cooling.

About Owens Corning
Owens Corning (NYSE: OC) is a leading global producer of residential and commercial building materials, glass fiber reinforcements and engineered materials for composite systems. A Fortune 500 company for 54 consecutive years, Owens Corning is committed to driving sustainability through delivering solutions, transforming markets and enhancing lives. Founded in 1938, Owens Corning is a market-leading innovator of glass fiber technology with sales of $5 billion in 2007 and 19,000 employees in 26 countries on five continents. Additional information is available at www.owenscorning.com/.

*Ask to see actual guarantee for full details and limitations.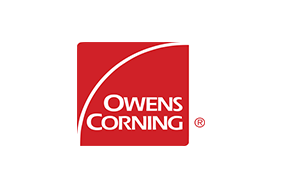 Owens Corning
Owens Corning
About Owens Corning
Owens Corning is a global building and construction materials leader committed to building a sustainable future through material innovation. Our three integrated businesses – Composites, Insulation, and Roofing – provide durable, sustainable, energy-efficient solutions that leverage our unique material science, manufacturing, and market knowledge to help our customers win and grow. We are global in scope, human in scale with approximately 20,000 employees in 33 countries dedicated to generating value for our customers and shareholders, and making a difference in the communities where we work and live. Founded in 1938 and based in Toledo, Ohio, USA, Owens Corning posted 2021 sales of $8.5 billion. For more information, visit www.owenscorning.com.
More from Owens Corning