Published 04-12-07
Submitted by Albertsons Companies
PLEASANTON, Calif.--(BUSINESS WIRE)--April 10, 2007--Safeway Inc. (NYSE:SWY) today announced the publication of its Giving Report, a 45-page, magazine-style report that recaps Safeway and The Safeway Foundation's charitable giving and community involvement activities across the U.S. and Canada. During 2006 the company raised or donated more than $154 million to a broad spectrum of charitable causes, a record for the company.
"The report illustrates Safeway's reach into the community through a series of stories about how the company's operating divisions get involved with broad range of charitable and community-based programs," said Larree Renda, Safeway's executive vice president and chair of The Safeway Foundation. "The publication is an inspiring testament to the energy and generosity of our employees and customers and their eagerness to support charities in the communities in which they live and work."
Specifically, the Giving Report details how Safeway's outreach and financial contributions have helped feed low-income families, provide medical treatment to those who could not afford it, serve hot meals to the sick and homebound, and make life a bit more normal for children with disabilities or life-threatening diseases. The report, which is now available online at http://shop.safeway.com/corporate/safeway/community_caring.asp and will soon be available in print, includes giving and fundraising totals for 2000 to 2006.
Like the funds raised and donated in previous years, most of the record $154 million total for 2006 will stay in the communities where it was raised and aid local organizations and outreach efforts. "We take pride in making sure that the vast majority of what we raise and donate stays in the local communities and reflects what is important to our customers and employees," said Ms. Renda.
The following 2006 giving summary represents the combined efforts of the company's 200,000 employees at Safeway, Vons, Pavilions, Dominick's, Carrs, Randalls, Tom Thumb, Genuardi's and Pak 'n Save stores:
$110 Million to Hunger Relief: The company donates a wide range of products to regional food banks, community pantries, and other meal-delivery services across its operating areas. Safeway is one of the largest supporters of America's Second Harvest, the nation's largest network of food banks. The company also sponsors seasonal fundraising and other retail food collection programs that encourage customers to donate cash and food to local hunger relief programs.
$22 Million to Education: Since 2000 Safeway has donated more than $130 million to support schools and education through the eScrip rewards program and other education enrichment programs. The company also sponsors a broad range of after-school and physical education initiatives.
$13.4 Million to Cancer Research: Safeway is one of the largest corporate supporters of breast cancer and prostate cancer research and awareness programs, raising a combined $42 million for prostate and breast cancer research and treatment since 2000. In October the company raised a record $8.3 million for breast cancer programs at some of the top research institutions in the U.S. Since 2001 Safeway has raised $24.2 million for breast cancer awareness, research and treatment. In June the company raised a record $5.1 million for prostate cancer research, bringing its overall total for prostate cancer programs to nearly $18 million in the last six years. Through a long-standing partnership with the Prostate Cancer Foundation, the world's largest philanthropic supporter of prostate cancer research, Safeway and its customers have helped finance numerous vital cancer research projects worldwide.
$9 Million to People with Disabilities: One of the company's longest philanthropic relationships is with Easter Seals, which provides vital services to children and adults with disabilities. In 2006, Safeway raised nearly $4.3 million for Easter Seals, bringing its total support to more than $75 million since 1985. Similarly, the company and its employees held an annual fundraiser for the Muscular Dystrophy Association in August, collecting more than $4.7 million to help people suffering from Muscular Dystrophy. Safeway has helped raise $11.3 million for the MDA since 2003.
Last year Safeway also made donations to hundreds of regional and community-based non-profits, including:
Big Brothers Big Sisters
American Heart Association
March of Dimes
Susan G. Komen Breast Cancer Foundation
Junior Achievement
Urban League of Greater Portland
Special Olympics of Northern California
Juvenile Diabetes Research Foundation
Canadian Cancer Society
End Hunger Network
The Bay Institute
Leukemia and Lymphoma Society
Oregon Food Bank
Arizona Children's Foundation
City of Hope
Chicago Children's Memorial Hospital
Los Angeles Regional Foodbank
Hawaii Foodbank
Project Open Hand
Meals on Wheels
For more information on The Safeway Foundation or on how you can help community efforts in your area, visit www.safewayfoundation.com.
ABOUT SAFEWAY
Safeway is a Fortune 50 company and one the largest food and drug retailers in North America, based on sales. The company operates 1,761 stores in the United States and Canada and had annual sales of $40.2 billion in 2006. The company's common stock is traded on the New York Stock Exchange under the symbol SWY.

Copyright Business Wire 2007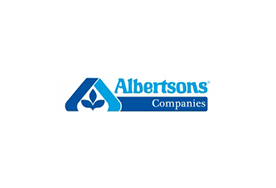 Albertsons Companies
Albertsons Companies
Safeway Inc. is a Fortune 100 company and one of the largest food and drug retailers in North America, based on sales. The company operates 1,740 stores in the United States and western Canada and had annual sales of $40.2 billion in 2006. Safeway supports a broad range of charitable and community programs and last year donated more than $154 million to important causes, such as cancer research, education, food banks and programs focused on assisting people with disabilities. The company's common stock is traded on the New York Stock Exchange under the symbol SWY.
More from Albertsons Companies