Published 12-28-04
Submitted by UPS
ATLANTA - Long recognized for its commitment to supplier diversity, UPS (NYSE:UPS) has received three additional honors in 2004 including a prestigious award from DaimlerChrysler.
The award from the auto maker, the "Chrysler Group Diversity Supplier of the Year," recognizes a company's overall commitment to supplier diversity development. More than 10,000 DaimlerChrysler suppliers were considered and UPS won the top honor by sourcing 12.99 percent of its subcontract dollars to minority-owned firms, far exceeding DaimlerChrysler's 6.5 percent target.
In addition to the DaimlerChrysler award, UPS received accolades from the New York/New Jersey Minority Purchasing Council and the National Association of Minority Contractors.
"Every year we work hard to grow what is now more than $400 million in contracts awarded by UPS to small, minority- and women-owned businesses," said Bill Moon, vice president of UPS Procurement Services. "We are grateful for customers like DaimlerChrysler who fully appreciate - and benefit from - these important efforts."
"It is unprecedented for one supplier to be recognized with the distinction of three prestigious awards from DaimlerChrysler in one calendar year," said Dave Hodgson, DaimlerChrysler vice president of Materials and Supply, noting UPS also had received two other awards for vendor performance. "UPS sets a high bar for other DaimlerChrysler suppliers and we look forward to another decade of successful partnership with UPS."
The National Association of Minority Contractors (NAMC) awarded UPS its "Prestige Award" in 2004 for demonstrating a commitment to minority business development. The NAMC is a non-profit trade association that addresses the needs and concerns of minority contractors. The organization focuses on construction industry concerns common to African Americans, Asian Americans, Hispanic Americans and Native Americans.
The New York/New Jersey Minority Purchasing Council awarded UPS its "Corporation of the Year" award. The council is one of 39 affiliates of the National Minority Supplier Development Council (NMSDC), which provides major corporations and certified minority suppliers with various opportunities to build mutual and productive working relationships.
The NMSDC, meantime, awarded UPS's Moon its 2004 award for "Outstanding Volunteer Leadership" in recognition of his exceptional contributions as a board member.
UPS's Supplier Diversity Program provides business opportunities to small, minority- and women-owned enterprises. Formalized in 1992, the program provides current and potential suppliers with information on company purchasing needs and requirements. Companies in the UPS Supplier Diversity Program provide a wide range of products and services, ranging from legal, advertising, consulting and marketing services, to vehicles, computers, office supplies and uniforms. To learn more about UPS's Supplier Diversity Program, visit community.ups.com/diversity/supplier/main.html.
UPS is the world's largest package delivery company and a global leader in supply chain services, offering an extensive range of options for synchronizing the movement of goods, information and funds. Headquartered in Atlanta, Ga., UPS serves more than 200 countries and territories worldwide. UPS's stock trades on the New York Stock Exchange (UPS), and the company can be found on the Web at www.UPS.com.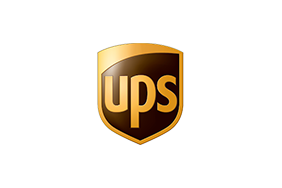 UPS
UPS
UPS is a global leader in logistics, offering a broad range of solutions including transporting packages and freight; facilitating international trade, and deploying advanced technology to more efficiently manage the world of business. Headquartered in Atlanta, UPS serves 10.6 million customers daily in more than 220 countries and territories worldwide.
For more information, please visit UPS.com or the company's Sustainability website, ups.com/sustainability. View and subscribe to UPS Horizons, our sustainability newsletter, by visiting ups.com/sustainabilitynewsletter.
More from UPS