Published 12-06-00
Submitted by STMicroelectronics
STMicroelectronics (NYSE:STM) has announced that its President & CEO, Mr. Pasquale Pistorio, today received the Akira Inoue Award for Outstanding Achievement in Environmental Health and Safety (EHS) in the Semiconductor Industry. The award was presented at the President's Reception at SEMICON Japan in Tokyo, by Semiconductor Equipment and Materials International (SEMI), the global trade organization representing the semiconductor, flat panel display equipment and materials industries.
The new AKIRA Inoue Award, which is to be presented annually by SEMI to the person who has made the most outstanding contribution to EHS activity in the global semiconductor industry, has been created in honor of Akira Inoue, a
former president of Tokyo Electron Ltd and a former member of the SEMI board of directors and a champion of environmental protection and employee health and safety issues in IC manufacturing.
Explaining why Mr. Pistorio was nominated for the award, SEMI President, Mr. Stanley T. Myers said, "Like the late Inoue-san, Pistorio is passionate about the need for environmental responsibility in our industry. His dedicated leadership in this area has been an inspiration for everyone seeking to elevate EHS principles and practices, not just in Europe, but also throughout the world. A popular speaker at industry events, he typically uses these opportunities to focus attention on EHS subjects."
Accepting the award from SEMI, Mr. Pistorio commented, "This prestigious award is a particularly important one and will draw public attention to the growing need for companies to be more environmentally aware. This means not only complying with international regulations for environmental protection but, more importantly, acting in a proactive manner, continually searching out new ways and means to protect our planet's environment."
ST firmly believes for that shareholders' value is not threatened by corporate social and environmental responsibility. In addition to ethical and social reasons, together with ST's need to attract the most talented and
responsible elements in the younger generation, the Company also believes that there are solid financial reasons for making this choice, as not only is ecology free, but it also provides ST with an extra competitive advantage.
In addition, ST has been widely recognized for its leadership in total quality and environmental management (TQEM). In October this year, ST was
ranked first among 14 semiconductor companies, by receiving the only AAA ranking in eco-efficiency from Innovest Strategic Value Advisors. The AAA
award acknowledges the broad range of environmental initiatives to which ST has committed itself.
About STMicroelectronics
STMicroelectronics (formerly SGS-THOMSON Microelectronics) is a global independent semiconductor company, whose shares are traded on the New York Stock Exchange, on the Paris Bourse and on the Milan Stock Exchange. The Company designs, develops, manufactures and markets a broad range of semiconductor integrated circuits (ICs) and discrete devices used in a wide
variety of microelectronic applications, including telecommunications systems, computer systems, consumer products, automotive products and industrial automation and control systems. In 1999, the Company's net revenues were $5,056 million and net earnings were $547 million. ST's net revenues for the first nine months of 2000 were $5,621.5 million and net income amounted to $990.2 million. Further information on ST can be found at www.st.com.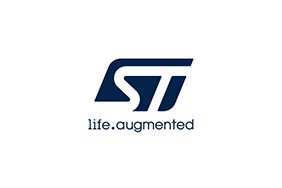 STMicroelectronics