Published 10-31-00
Submitted by STMicroelectronics
Ranking first among 14 semiconductor companies, STMicroelectronics (NYSE: STM), a world leader in semiconductor solutions, received the only AAA ranking in eco-efficiency from Innovest Strategic Value Advisors. The award acknowledges the broad range of environmental initiatives to which ST has committed itself.
In a recent, in-depth report on the global semiconductor industry, Innovest Strategic Value Advisors recognized ST with the only AAA rating it awarded. Texas Instruments, Intel, and Advanced Micro Devices, the next three highest-ranked companies, received AA ratings.
Based in New York, Innovest Strategic Value Advisors, a specialized investment research firm, screened 14 U.S. and international semiconductor companies against 60 different aspects of environmental risk, opportunity, and management. The derived ratings from AAA to CCC are intended to assess the relative environmental performance (eco-efficiency) and sustainability of the companies.
"This is an important survey, not just for the semiconductor industry but for every industrial activity in the world, because it provides independent support for what ST has been saying for some years i.e. that "green is black" and enterprises that take a pro-active stand on environmental responsibility benefit in both the medium and the long term," said Pasquale Pistorio, President and CEO of STMicroelectronics. "None of ST's environmental initiatives have taken more than three years to pay back, while our reputation as the semiconductor industry's 'green leader' helps us to attract the young, talented engineers that are essential to sustain our growth and keep us at the leading edge of the industry that is transforming the world," Pistorio added.
"I am therefore delighted by this acknowledgement of ST's commitment to environmental management," concluded Pistorio. "Innovest's rigorous analysis provides support to our conviction that in the end environmentally friendly companies are simply more profitable than ones which are not."
A company's commitment to environmental sustainability has strong predictive value in determining its ultimate financial fortunes, according to the Innovest study. Results show that semiconductor companies that can better navigate the risks and opportunities of environmental sustainability consistently outperformed those companies that do not as measured by total stock market return. Companies receiving above average ratings in eco-efficiency outperformed below average companies by 90%, as measured by stock market returns.
Innovest weighed the relative eco-efficiency of 14 semiconductor companies against each other through the use of its EcoValue 21™ environmental rating model, an algorithm that translates companies' environmental performance and management into financial terms for investors. Industrial companies also use Innovest research for benchmarking and strategic planning purposes.
"Everything in our report on the global semiconductor industry is consistent with the results of analyses of other industrial sectors we have surveyed, including chemicals, utilities, pharmaceuticals, and telecommunications," said Matthew Kiernan, founder and executive managing director at Innovest. "We are on the brink of an 'Eco-Industrial Revolution' — a worldwide industrial restructuring in which companies' eco-efficiency and environmental performance are becoming far more critical to their competitiveness, profitability, and even survival."
"Innovest's study confirms what we have been saying for some years – that a company's financial prospects are also influenced by its commitment to environmental issues," said Georges Auguste, Corporate VP of Total Quality and Environmental Management at ST. "While we are of course delighted that Innovest Strategic Value Advisors has recognized ST's leadership in this issue with the only AAA rating in eco-efficiency, in a larger sense it speaks to the emerging acknowledgement throughout the global semiconductor industry and, by extension, through any of the industries that depend on microelectronics that the environment can no longer be an after-thought."
ST has been widely recognized for its leadership in total quality and environmental management (TQEM). In 1999, the U.S. Environmental Protection Agency (EPA) awarded ST with its Climate Protection Award for its achievements in reducing greenhouse gas emissions. In addition, ST was ranked as the world's leading semiconductor company for integration of sustainability into a comprehensive Total Quality Management System by the Dow Jones Sustainability Group Indexes (DJSGI).
ST has also received a number of quality awards. In addition to ST's previous honors for quality over the last few years, which include the Malaysian Prime Minister Quality Award, the Malta Quality Award and the European Quality Award, in 1999, its U.S. subsidiary, STMicroelectronics, Inc. received the 1999 Malcolm Baldrige National Quality Award, the most prestigious recognition for quality that a U.S. company can receive. And STMicroelectronics Asia Pacific received the 1999 Singapore Quality Award for Business Excellence. Most recently, in February 2000, ST's Moroccan operations received the Morocco National Quality Award.
About Innovest Strategic Value Advisors
Innovest Strategic Value Advisors is an internationally recognized investment research firm specializing in analyzing non-traditional value drivers and their impact on corporate competitiveness, profitability, and share price performance.
Founded in 1995 with the mission of delivering superior investment appreciation by unlocking hidden shareholder value, the firm currently has approximately US $100-million under direct sub-advisement with partners including Mellon Capital and ABN-AMRO. Innovest also provides custom portfolio analysis and research to leading fund managers and institutional investors throughout the world, including Schroders, State Street Global Advisors, and CalPERS. In addition, the firm provides research and strategic advice to senior executives of Global Fortune 500 industrial companies.

Innovest's directors and principals include former senior executives from several of the world's leading financial companies, as well as a former G7 finance minister. The firm's chairman was chief investment officer for North America's largest pension fund for over fifteen years. Innovest's flagship product is the EcoValue '21 investment analytics platform, which was developed in conjunction with strategic partners including Pricewaterhouse Coopers, Morgan Stanley Asset Management and Barclays Global Investors. Innovest is headquartered in New York with offices in Toronto and London.
For more information, contact Innovest Strategic Value Advisors, Inc. in New York at 4 Times Square, 3rd floor, New York, NY 10036. Telephone: (212) 421-2000, fax (212) 421-9663. Or visit Innovest's Web site: www.innovestgroup.com
About STMicroelectronics
STMicroelectronics (formerly SGS-THOMSON Microelectronics) is a global independent semiconductor company, whose shares are traded on the New York Stock Exchange, on the Paris Bourse and on the Milan Stock Exchange. The Company designs, develops, manufactures and markets a broad range of semiconductor integrated circuits (ICs) and discrete devices used in a wide variety of microelectronic applications, including telecommunications systems, computer systems, consumer products, automotive products and industrial automation and control systems. In 1999, the Company's net revenues were $5,056 million and net earnings were $547 million. ST's net revenues for the first nine months of 2000 were $5,621.5 million, a 57.1% increase over the 1999 nine month period; net income amounted to $990.2 million, that is a 172.8% increase over the same period of 1999. Further information on ST can be found at www.st.com.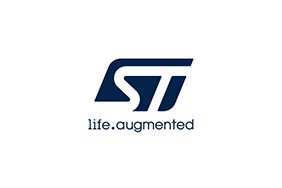 STMicroelectronics