Published 01-05-06
Submitted by Bayer
PITTSBURGH--(BUSINESS WIRE)--Jan. 5, 2006--(NYSE:BAY) At a White House ceremony today, Bayer Corporation received the Ron Brown Award for Corporate Leadership for its Making Science Make Sense(R) program, a company-wide initiative that advances science literacy across the United States through hands-on, inquiry-based learning, employee volunteerism and public education. Secretary of Commerce Carlos M. Gutierrez presided over the award ceremony.

Bayer was one of three companies honored this year and is the first chemistry company to receive the award.

The Ron Brown Award for Corporate Leadership recognizes the country's outstanding corporate citizens. It is the only presidential award to honor companies for the exemplary quality of their relationships with employees and communities. The award is given annually to companies that have demonstrated a deep commitment to initiatives that not only empower employees and communities, but also advance strategic business interests.

"We are extremely honored to receive the Ron Brown Award," said Dr. Attila Molnar, Bayer Corporation president and CEO. "This recognition highlights our commitment to communities nationwide. I am especially proud of our employee volunteers who have taken a leadership role in advancing science literacy by sharing their insights and experience with scores of teachers and students around the country. By doing this, they embody our company motto, 'Science For A Better Life.'"

Celebrating its 10th anniversary, Making Science Make Sense has helped more than one million American students and teachers improve their science literacy and learning through a National Science Education Standards-based hands-on science approach. This includes systemic science education reform and the expertise of Bayer's 1,200-plus science volunteers who share their time and talent in classrooms nationwide. The program reaches millions more American citizens through its unique national advocacy program led by former astronaut and Bayer spokesperson, Dr. Mae C. Jemison.

"It is with great pride that I stand here today with my friends from Bayer to congratulate them and salute a decade's commitment to improving science education and fostering science literacy," said Dr. Jemison. "The cornerstone of the program and the basis for our longstanding partnership is a shared philosophy that science is best learned through a hands-on, minds-on, hearts-on approach that ignites and engages young minds and prepares them to be lifelong learners."

"Our commitment to strengthening science education and science literacy stems from the fact that new technologies and concepts and increasing global market competition will continue to demand a U.S. workforce that is flexible, scientifically literate and equipped with the critical thinking, problem solving and team working skills fostered by a quality science education," explained Dr. Molnar.

Ten years ago, Bayer declared this commitment when it established Making Science Make Sense as a company-wide program. In so doing, it formally launched a nationwide, grassroots science education outreach program built on a 35-year-old foundation created by Bayer science volunteers in their local communities. The swell of enthusiasm and activity across the company inspired Bayer to create a more organized effort to support the employee activity and build a national education component to draw attention to the needs of students and educators in the area of science.

Making Science Make Sense is one of more than 300 corporate social responsibility programs Bayer has developed globally to help people around the world improve their lives through education outreach, awareness and advocacy.

For more information about Making Science Make Sense, please visit www.BayerUS.com/MSMS.

Bayer Corporation, headquartered in Pittsburgh, is part of the worldwide Bayer Group, an international health care, nutrition and innovative materials group based in Leverkusen, Germany. In North America, as of April 2005, Bayer employed about 16,000 and had net sales in 2004 of 8.3 billion euros. Bayer's three operating companies -- Bayer HealthCare LLC, Bayer CropScience LP and Bayer MaterialScience LLC -- improve people's lives through a broad range of essential products that help diagnose and treat diseases, protect crops and advance automobile safety and durability. The Bayer Group stock is a component of the DAX and is listed on the New York Stock Exchange (ticker symbol: BAY).
Forward-Looking Statements
This news release contains forward-looking statements based on current assumptions and forecasts made by Bayer Group management. Various known and unknown risks, uncertainties and other factors could lead to material differences between the actual future results, financial situation, development or performance of the company and the estimates given here. These factors include those discussed in our public reports filed with the Frankfurt Stock Exchange and with the U.S. Securities and Exchange Commission (including our Form 20-F). The company assumes no liability whatsoever to update these forward-looking statements or to conform them to future events or developments.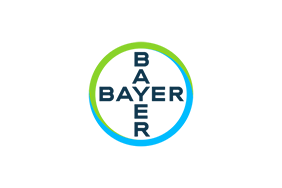 Bayer
Bayer
Bayer: Science For A Better Life
Bayer is a global enterprise with core competencies in the Life Science fields of health care and agriculture. Its products and services are designed to benefit people and improve their quality of life. At the same time, the Group aims to create value through innovation, growth and high earning power. Bayer is committed to the principles of sustainable development and to its social and ethical responsibilities as a corporate citizen. In fiscal 2015, the Group employed around 117,000 people and had sales of EUR 46.3 billion. Capital expenditures amounted to EUR 2.6 billion, R&D expenses to EUR 4.3billion. These figures include those for the high-tech polymers business, which was floated on the stock market as an independent company named Covestro on October 6, 2015. For more information, go to www.bayer.com.
More from Bayer