Published 09-06-05
Submitted by Bayer
PITTSBURGH - In response to urgent requests for diabetes testing equipment for Hurricane Katrina victims, Bayer is providing more than 45,000 Ascensia® BRIO® blood glucose monitors and enough Ascensia® EASYFILL® test strips for 45,000 people with diabetes to test for approximately one month at the recommended American Diabetes Association guideline level.
The first 1,000 blood glucose monitors and test strips were shipped, at the request of a local American Red Cross Chapter, to help in the treatment of hurricane victims with diabetes who have sought refuge in the Houston region, including Baytown, Texas. Bayer management and employees are part of the around-the-clock local effort in Baytown, including cooking meals at the Bayer MaterialScience facility there and delivering them to the local shelters.
According to the Centers for Disease Control, residents of the areas most affected by Hurricane Katrina have diabetes rates higher than the U.S. national average. If left untreated, high blood sugar levels can lead to kidney failure, heart disease and stroke.
The pledge by Bayer nearly doubled the company's initial commitment of $2 million in cash and product donations. Bayer officials are working closely with American Red Cross representatives to identify products of need from its health care, crop science and material sciences businesses.

Additionally, last Wednesday, Bayer Corporation announced that, together with the Bayer Foundation, it will match Bayer employee donations dollar for dollar, which will also be donated to the American Red Cross.

"The images and reports of the suffering and distress in the United States have touched us deeply," said Bayer AG Management Board Chairman Werner Wenning. "As a global company, we feel for everyone who has been hit so hard by this disaster, and it was natural for us to offer prompt assistance. Our sympathy goes to all residents of the Gulf region who have lost family members or been made homeless and need help."
Bayer HealthCare Diabetes Care Division
Bayer HealthCare Diabetes Care Division is one of the largest self test diagnostic businesses in the world, supporting customers in 100 countries. Since the introduction of Clinitest® reagent tablets in 1941 - Bayer has led the way in diabetes care product innovation. The company changed the face of diabetes care in 1969 when it introduced the first portable blood glucose meter and strips. Bayer HealthCare further innovated diabetes self management by being the first company to introduce a suite of blood glucose monitors that do not require coding. The Ascensia® BREEZE®, Ascensia® CONTOUR®, and Ascensia® DEX®2 systems offer people with diabetes unparalleled choice in blood glucose monitoring meters.
Bayer HealthCare Diabetes Care Division sponsors the annual Ascensia Dream Fund® contest (www.AscensiaDreamFund.com) - a national contest for people with diabetes 18 and older to win up to $100,000 to achieve their dream - whatever it may be.
Bayer HealthCare Diabetes Care Division's global headquarters in the United States operates as part of Bayer HealthCare LLC, a member of the worldwide Bayer HealthCare group.
Bayer Corporation, headquartered in Pittsburgh, is a subsidiary of Bayer AG, an international health care, nutrition and innovative materials company based in Leverkusen, Germany. In North America, Bayer employs about 16,000 and had net sales in 2004 of 8.3 billion euros. Bayer's three operating companies -- Bayer HealthCare LLC, Bayer CropScience LP and Bayer MaterialScience LLC -- improve people's lives through a broad range of essential products that help diagnose and treat diseases, protect crops and advance automobile safety and durability.
# # #
This news release contains forward-looking statements based on current assumptions and forecasts made by Bayer Group management. Various known and unknown risks, uncertainties and other factors could lead to material differences between the actual future results, financial situation, development or performance of the company and the estimates given here. These factors include those discussed in our public reports filed with the Frankfurt Stock Exchange and with the U.S. Securities and Exchange Commission (including our Form 20-F). The company assumes no liability whatsoever to update these forward-looking statements or to conform them to future events or developments.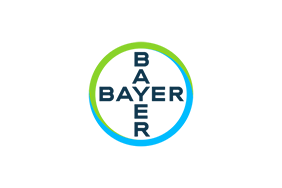 Bayer
Bayer
Bayer: Science For A Better Life
Bayer is a global enterprise with core competencies in the Life Science fields of health care and agriculture. Its products and services are designed to benefit people and improve their quality of life. At the same time, the Group aims to create value through innovation, growth and high earning power. Bayer is committed to the principles of sustainable development and to its social and ethical responsibilities as a corporate citizen. In fiscal 2015, the Group employed around 117,000 people and had sales of EUR 46.3 billion. Capital expenditures amounted to EUR 2.6 billion, R&D expenses to EUR 4.3billion. These figures include those for the high-tech polymers business, which was floated on the stock market as an independent company named Covestro on October 6, 2015. For more information, go to www.bayer.com.
More from Bayer