Published 08-31-05
Submitted by Bayer
PITTSBURGH - Bayer Corporation today announced that, together with the Bayer Foundation, it has committed $2 million in cash and product donations to the Hurricane Katrina relief effort.

The Bayer Foundation will match Bayer employee donations dollar for dollar, which will then be donated to the American Red Cross.

"We at Bayer are deeply moved by the news reports following the devastation caused by Hurricane Katrina. To help in the relief efforts, Bayer is actively coordinating employee donations, and collecting and shipping key products and other critical material to where it is needed," said Dr. Attila Molnar, Bayer Corporation president and CEO.

Bayer has received no reports to date of any impact on its employees or facilities. The company does not have major facilities in the region directly affected by the hurricane.
Bayer Corporation, headquartered in Pittsburgh, is part of the worldwide Bayer Group, an international health care, nutrition and innovative materials group based in Leverkusen, Germany. In North America, as of April 2005, Bayer employed about 16,000 and had net sales in 2004 of 8.3 billion euros. Bayer's three operating companies - Bayer HealthCare LLC, Bayer CropScience LP and Bayer MaterialScience LLC -- improve people's lives through a broad range of essential products that help diagnose and treat diseases, protect crops and advance automobile safety and durability.
Forward-Looking Statements
This news release contains forward-looking statements based on current assumptions and forecasts made by Bayer Group management. Various known and unknown risks, uncertainties and other factors could lead to material differences between the actual future results, financial situation, development or performance of the company and the estimates given here. These factors include those discussed in our public reports filed with the Frankfurt Stock Exchange and with the U.S. Securities and Exchange Commission (including our Form 20-F). The company assumes no liability whatsoever to update these forward-looking statements or to conform them to future events or developments.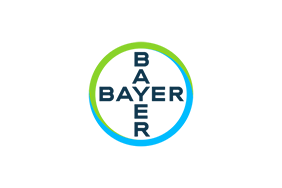 Bayer
Bayer
Bayer: Science For A Better Life
Bayer is a global enterprise with core competencies in the Life Science fields of health care and agriculture. Its products and services are designed to benefit people and improve their quality of life. At the same time, the Group aims to create value through innovation, growth and high earning power. Bayer is committed to the principles of sustainable development and to its social and ethical responsibilities as a corporate citizen. In fiscal 2015, the Group employed around 117,000 people and had sales of EUR 46.3 billion. Capital expenditures amounted to EUR 2.6 billion, R&D expenses to EUR 4.3billion. These figures include those for the high-tech polymers business, which was floated on the stock market as an independent company named Covestro on October 6, 2015. For more information, go to www.bayer.com.
More from Bayer