Published 01-10-05
Submitted by Bayer
PITTSBURGH--(BUSINESS WIRE)--Jan. 7, 2005--Bayer Corporation announced today it has established a tsunami relief effort and will match employee donations across the U.S. and Canada dollar for dollar.
Bayer companies worldwide are assisting the victims of the Asian tsunamis with both monetary and product donations totaling more than $13 million.
"Bayer employees across the world have acted with great generosity in response to this disaster," said Attila Molnar, Bayer Corporation's president and CEO. "Bayer is committed to our global community, and we hope that our donations will help restore health and wellness to this devastated region."
As soon as news was received of the widespread destruction wrought by the tsunamis, Bayer mounted relief efforts by donating products to treat disease and prevent epidemics in response to the specific requirements of international relief organizations.
For example, Bayer HealthCare is sending antibiotics, pain relievers and cardiovascular drugs to treat people in the stricken areas, and Bayer CropScience is supplying products to combat the insects that spread diarrheal infections, malaria and other hemorrhagic fevers.
Bayer also will join in the efforts of providing long-term assistance with reconstruction work in the affected regions. Specific projects will be discussed and coordinated with its companies in the region in the coming months.
Bayer companies employ some 5,700 people in India, Indonesia and Thailand, which are among the most severely affected countries. They, too, are helping by donating money, technical assistance and clothing, and by assisting directly with relief operations in the devastated areas. Bayer's global relief plans will continue to evolve as the needs of the affected areas are determined.
Bayer Corporation, headquartered in Pittsburgh, is part of the worldwide Bayer Group, an international health care, nutrition and innovative materials group based in Leverkusen, Germany. Bayer employs 23,300 in North America with net North American sales of 8.8 billion euros in 2003. Bayer's three operating business areas -- HealthCare, CropScience and MaterialScience, improve people's lives through a broad range of essential products that help diagnose and treat diseases, protect crops and advance automobile safety and durability.
Forward-Looking Statements
This news release contains forward-looking statements based on current assumptions and forecasts made by Bayer Group management. Various known and unknown risks, uncertainties and other factors could lead to material differences between the actual future results, financial situation, development or performance of the company and the estimates given here. These factors include those discussed in our public reports filed with the Frankfurt Stock Exchange and with the U.S. Securities and Exchange Commission (including our Form 20-F). The company assumes no liability whatsoever to update these forward-looking statements or to conform them to future events or developments.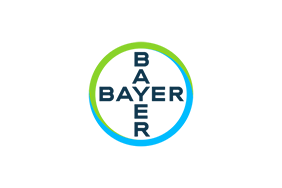 Bayer
Bayer
Bayer: Science For A Better Life
Bayer is a global enterprise with core competencies in the Life Science fields of health care and agriculture. Its products and services are designed to benefit people and improve their quality of life. At the same time, the Group aims to create value through innovation, growth and high earning power. Bayer is committed to the principles of sustainable development and to its social and ethical responsibilities as a corporate citizen. In fiscal 2015, the Group employed around 117,000 people and had sales of EUR 46.3 billion. Capital expenditures amounted to EUR 2.6 billion, R&D expenses to EUR 4.3billion. These figures include those for the high-tech polymers business, which was floated on the stock market as an independent company named Covestro on October 6, 2015. For more information, go to www.bayer.com.
More from Bayer