Published 02-11-08
Submitted by Ceres
NEW YORK, NY - Ceres and the United Nations Foundation will host hundreds of Wall Street leaders and institutional investors at the Investor Summit on Climate Risk at the United Nations on Thursday, February 14, 2008. Participants from around the world will discuss the far-reaching economic impacts of climate change, the responses of a growing number of U.S. and overseas investors, and the vast financial opportunities that energy efficiency and other technologies offer for reducing greenhouse gas emissions and creating economic growth.
Summit speakers will include:
John Holdren, climate change expert and professor at Harvard University
Diana Farrell, Director of McKinsey Global Institute
Vinod Khosla, Founder of Khosla Ventures
Peter Darbee, Chairman and CEO of PG&E Corp.
Abby Joseph Cohen, Chief Investment Strategist at Goldman Sachs
Russell Read, Chief Investment Officer at California Public Employees' Retirement System (CalPERS)
Nobuo Tanaka, Executive director of the International Energy Agency
John Sweeney, President of AFL-CIO

The meeting will run from 9 a.m. to 5 p.m. and a full agenda can be found at Investor Summit on Climate Risk. The summit is a result of growing participation in the Investor Network on Climate Risk (INCR), an initiative organized by Ceres, which now includes 60 institutional investors with assets totaling more than $4 trillion.

INCR members will hold a press conference at 1:30 p.m. the same day in the UN press briefing room. The event, including the INCR press briefing, is only open to media who have RSVP'd to the Summit. Reporters can also call in to listen to the press conference by dialing the following numbers:

National: 1-888-577-8991, passcode: 9672237
International: 1-210 234 0011, passcode: 9672237

INCR members participating in the Summit include California State Treasurer Bill Lockyer, California State Controller John Chiang, Connecticut State Treasurer Denise Nappier, Florida Chief Financial Officer Alex Sink, Maryland State Treasurer Nancy Kopp, New York Controller Thomas DiNapoli, Oregon State Treasurer Randall Edwards, Pennsylvania State Treasurer Robin Wiessmann and Vermont State Treasurer Jeb Spaulding.

Please contact Peyton Fleming 617-247-0700 x20 or fleming@ceres.org or Patricia Charles 202-536-5798 or patricia@unfoundation.org for more information.

About Ceres and INCR:

Ceres is a leading coalition of investors, environmental groups and other public interest organizations working with companies to address sustainability challenges such as climate change. Ceres direct the Investor Network on Climate Risk (INCR), a network of 60 institutional investors with collective assets totaling more than $4 trillion. For more information, visit http://www.ceres.org and http://www.incr.com.

About the United Nations Foundation

The UN Foundation was created in 1998 with entrepreneur and philanthropist Ted Turner's historic $1 billion gift to support UN causes and activities. The UN Foundation builds and implements public-private partnerships to address the world's most pressing problems and also works to broaden support for the UN through advocacy and public outreach. The UN Foundation is a public charity. For more information, visit www.unfoundation.org.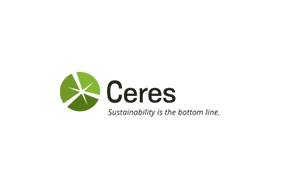 Ceres
Ceres
Our Mission: Ceres is transforming the economy to build a just and sustainable future for people and the planet. 
Ceres is a nonprofit organization working with the most influential capital market leaders to solve the world's greatest sustainability challenges. Through our powerful networks and global collaborations of investors, companies, and nonprofits, we drive action and inspire equitable market-based and policy solutions throughout the economy to build a just and sustainable future. For more information, visit ceres.org and follow @CeresNews. 
More from Ceres