Published 05-13-04
Submitted by Ceres
BOSTON and HOUSTON - Faced with shareholder resolutions requesting reports on their preparedness for world constraints on carbon dioxide emissions, U.S. oil and gas companies have taken two distinct directions in response, with two companies making commitments to develop policies on carbon dioxide emissions and one company pledging to reduce emissions, while three more refused the requests and were hit with large percentages of shareholders voting against management on the resolutions last week.
Working with shareholders, San Antonio-based Valero (NYSE: VLO), the largest independent refiner in the US, committed to reducing its 2008 emissions levels by 5% (1.8 million tons/year), and greatly expanded the climate change disclosure on its website. Oklahoma City-based Devon (AMEX: DVN) had its resolution withdrawn when the company committed to expanded disclosure on climate change. And ChevronTexaco (NYSE: CVX), in the wake of a resolution requesting further investment in renewables last year, has become a quiet industry leader on climate change. The company has become the first (and only) oil company to disclose its entire greenhouse gas footprint, including the emissions associated with the use of its end product (e.g. emissions from cars that consume its gasoline). The company has taken the fundamental step of assuming a cost for carbon (of $5-$20/ton) whenever it considers a new capital investment, and is considering a major investment in renewable energy. All of these measures, say the investors, are key to protecting the value of investments in the industry.
Other companies refused to address shareholders' concerns and found record numbers of investors voting against management on the proposal. A record 37% of Houston-based Apache (NYSE: APA) shareholders, 28% of Anadarko (NYSE: APC) shareholders, and 27% of Marathon (NYSE: MRO) shareholders voted in favor of the resolution, which requested:
"...the Board to prepare a report (at reasonable cost and omitting proprietary information) by September 1, 2004, explaining how the company is responding to rising regulatory, competitive and public pressure to significantly reduce GHG emissions."
The shareholder filers, collectively representing over $250 billion in assets, include the New York State pension funds, a foundation, socially responsible investment firms, and a number of major religious pension funds associated with the Interfaith Center on Corporate Responsibility (ICCR), a coalition of 275 religious institutional investors that helped coordinate the filings. The resolution filings also were coordinated in part by CERES, a coalition of investors and environmental groups that has been active in promoting investor awareness of global warming risks.
Proxy measures were filed with the above companies, as well as with ExxonMobil and Unocal, both of which have annual meetings later in May, by: American Baptist Churches, Boston Common Asset Management, Christian Brothers Investment Services, Inc., Domini Social Investments, Ethical Funds, General Board of Pension and Health Benefits of the United Methodist Church, Nathan Cummings Foundation, the New York State Common Retirement Fund, Province of St. Joseph of the Capuchin Order, Sisters of St. Dominic of Caldwell, NJ, State of Connecticut Retirement Plans and Trust, State of Maine Trust Funds, Trillium Asset Management, and Walden Asset Management.
Caroline Williams, Chief Financial and Investment Officer, Nathan Cummings Foundation, and filer at Valero, said: "We commend Valero on its forward-looking response to manage a very serious risk facing the oil and gas industry. We also look forward to working together to make sure that the company is positioned to benefit from, not be blindsided by, the growing public ­ and investor ­ awareness and concern about climate change, GHG emissions, and long-term shareholder value."
Steven Heim, Director of Research, Boston Common Asset Management, and a filer with Apache, contrasted the companies' approaches: "While others in the industry have felt it prudent to address climate change at the highest levels of their organizations, Apache¹s only public statement on climate change and the risks of emissions constraints has been on the 2004 proxy, in arguing against our proposal. But lack of examination does not make for lack of risk. We hope that the enormous number of investors ­ a record 37%­ requesting this disclosure will spur Apache into action to safeguard long-term value."
Leslie Lowe, Director of Energy and Environment Programs at the Interfaith Center on Corporate Responsibility said: "Religious pension funds are concerned about stewardship of the planet as well as stewardship of their substantial holdings, and so have been requesting this type of information for a long time. We are heartened to see this industry starting to wake up to the reality that not only should it respond, but that it has the capital and the technical know-how to lead into the new energy realities of the 21st century. We hope all companies will head in this direction."
This was the first year when shareholders broadened their concern to smaller, independent exploration and production companies, such as Devon and Apache. These companies, the shareholders say -- which only drill for and produce oil and gas and are not diversified with distribution or retail operations -- are even more vulnerable to regulatory- or market-based limits on carbon dioxide emissions worldwide.
Andrew Logan, Oil Industry Analyst, CERES, said: "All oil companies essentially operate in the same global markets and are susceptible to the same emerging regulatory structures around the world ­ so the disparity of response among the companies is disturbing. We are heartened to see some major U.S. companies pushing past the insularity caused by lack of policy at the Federal level, and responding to shareholders' requests that they manage the risks, and seize the opportunities presented by the worldwide desire to limit carbon dioxide emissions."
Unocal (NYSE:UCL) faces a similar resolution later this month. ExxonMobil (NYSE:XOM) successfully challenged the resolution at the Securities and Exchange Commission after putting out a report it claimed, ­and investors disputed, documented the companies' plans on the issue. ConocoPhilips (NYSE:COP), responding to resolution last year, is expected to put out a comprehensive climate change policy later this year.
###
Streaming audio of the news event will be available after 3 p.m. EST at www.ceres.org/newsroom.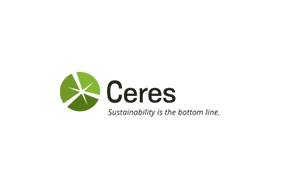 Ceres
Ceres
Our Mission: Ceres is transforming the economy to build a just and sustainable future for people and the planet. 
Ceres is a nonprofit organization working with the most influential capital market leaders to solve the world's greatest sustainability challenges. Through our powerful networks and global collaborations of investors, companies, and nonprofits, we drive action and inspire equitable market-based and policy solutions throughout the economy to build a just and sustainable future. For more information, visit ceres.org and follow @CeresNews. 
More from Ceres