Published 05-22-01
Submitted by Ceres
McDonough + Partners, an award-winning architecture and community design firm based in Charlottesville, Virginia, today announced its endorsement of the CERES Principles, a code of environmental conduct established by CERES, the Coalition for Environmentally Responsible Economies. Internationally recognized as one of the leading practitioners of sustainable design, WM+P is the first design firm to join the more than 50 corporate supporters of the CERES Principles, thereby signalling its intention to encourage the design industry¹s adoption of ecologically intelligent methods and practices.
By endorsing the CERES Principles, William McDonough + Partners publicly affirms its long-standing belief that commerce must lead the way to environmental restoration. The ten-point code of principles includes using safe products and services, optimizing energy consumption, and creating healthy and safe workplaces and communities. William McDonough + Partners joins endorsing corporations such as Bank of America, Coca-Cola, Ford Motor Company, Timberland, The Body Shop International and Sunoco.
"As a pioneer of sustainable design for two decades, William McDonough + Partners adds an important new dimension to the CERES network," says Robert Massie, CERES executive director. "We applaud McDonough and his colleagues for demonstrating that all companies‹not just the huge multinationals need to take concrete actions to limit their environmental impacts and disclose that information publicly."
"If design is the first signal of human intention, then the design community has a key role to play in the definition of corporate environmental strategies," says Russell Perry, Managing Partner of William McDonough + Partners. "We hope that our public endorsement of the CERES Principles will encourage other design firms to join in this effort."
The firm's founding partner, William McDonough, former dean of the School of Architecture at the University of Virginia, received the Presidential Award for Sustainable Development in 1996 and was named one of the "Heroes for the Planet" by Time Magazine and "Designer of the Year" by Interiors Magazine in 1999. With a staff of more than 40 architects, designers, planners, and researchers, William McDonough + Partners continues to work with Ford Motor Company to create a model of sustainable manufacturing for the 21st century in its renovation of the historic Rouge River complex. William McDonough + Partners¹ award-winning buildings include 901 Cherry, Offices for Gap Inc.; the Adam Joseph Lewis Center for Environmental Studies at Oberlin College; and the Herman Miller "GreenHouse" factory and offices. Other clients include Nike, IBM, and Palm, Inc.
CERES (Coalition for Environmentally Responsible Economies) is the leading coalition of environmental, investor and advocacy groups working together for a sustainable future. Its network includes a community of forward-looking companies and multi-national corporations that endorse the CERES Principles, a ten-point code of environmental conduct. www.ceres.org for more information.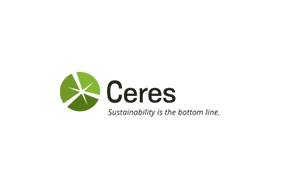 Ceres
Ceres
Ceres is a sustainability nonprofit organization working with the most influential investors and companies to build leadership and drive solutions throughout the economy. Through powerful networks and advocacy, Ceres tackles the world's biggest sustainability challenges, including climate change, water scarcity and pollution, and human rights abuses.
More from Ceres