Published 01-23-08
Submitted by Hormel Foods Corporation
AUSTIN, MN - January 23, 2008 "" Hormel Foods Corporation (NYSE:HRL) announced the release of its 2007 Corporate Responsibility Report today. The report highlights the company's efforts in corporate citizenship, including employee training, food safety and quality, animal husbandry, environmental stewardship and community investment.
"We are proud to tell our story of how we are living our principles in our day-to-day operations," said Jeffrey M. Ettinger, chairman of the board, president and chief executive officer, Hormel Foods. "The process of compiling information for this report has taught us a great deal, and we will continue to find ways to strengthen our commitment to our employees, customers, investors, the environment and animal welfare."
In the report, Hormel Foods defines corporate responsibility goals for reducing its environmental impact and establishing benchmarks for each of its 41 facilities. For example, Hormel Foods pledges to increase recycling of the total waste produced at facilities currently measured from 33 percent in fiscal year (FY) 2006 to 40 percent by November 2008. Once benchmarks are established for all facilities, the company aims to increase recycling to 50 percent by November 2011.
The report includes data from FY 2006 and anecdotal data from FY 2006-October 2007 for the parent company and many of its subsidiaries. It also features Hormel Foods' increased commitment to fighting hunger in the United States. In FY 2006 and the first half of FY 2007, Hormel Foods donated 1.18 million pounds of product to food banks. In addition, Hormel Foods provided thought leadership in 2006 and 2007 by sponsoring a survey to study Americans' perceptions of hunger as well as two state-based hunger summits where leaders from the for-profit, non-profit and legislative communities gathered to discuss how they could better collaborate to eliminate hunger.
The report can be downloaded at Hormel Foods' corporate Web site-http://www.hormelfoods.com/responsibility/default.aspx.
About Hormel Foods
Hormel Foods Corporation, based in Austin, Minn., is a multinational manufacturer and marketer of consumer-branded food and meat products, many of which are among the best known and trusted in the food industry. The company leverages its extensive expertise, innovation and high competencies in pork and turkey processing and marketing
to bring quality, value-added brands to the global marketplace. In each of the past nine years, Hormel Foods was named one of "The 400 Best Big companies in America" by Forbes magazine. The company enjoys a strong reputation among consumers, retail grocers, foodservice and industrial customers for products highly regarded for quality, taste, nutrition, convenience and value. For more information, visit www.hormelfoods.com.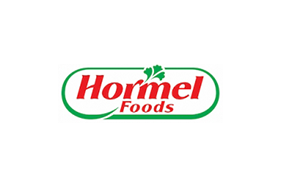 Hormel Foods Corporation
Hormel Foods Corporation
About Hormel Foods – Inspired People. Inspired Food.™
Hormel Foods Corporation, based in Austin, Minn., is a global branded food company with over $9 billion in annual revenue across 75 countries worldwide. Its brands include SKIPPY®, SPAM®, Hormel® Natural Choice®, Applegate®, Justin's®, Wholly Guacamole®, Hormel® Black Label® and more than 30 other beloved brands. The company is a member of the S&P 500 Index and the S&P 500 Dividend Aristocrats, was named one of "The 100 Best Corporate Citizens" by Corporate Responsibility Magazine for the ninth year in a row, and has received numerous other awards and accolades for its corporate responsibility and community service efforts. In 2016, the company celebrated its 125th anniversary and announced its new vision for the future - Inspired People. Inspired Food.™ - focusing on its legacy of innovation. For more information, visit www.hormelfoods.com and https://csr.hormelfoods.com/.
More from Hormel Foods Corporation