Published 10-18-01
Submitted by Hormel Foods Corporation
Hormel Foods, (NYSE:HRL), announced today that the company's operation in Shanghai has been named one of the 10 best employers in China, and one of the 20 best employers in Asia.

Shanghai Hormel Foods Co., Ltd., of Hormel Foods' International division, was honored with these awards in the "Best Employers in Asia 2001" study. The study was conducted by the global management consulting firm Hewitt Associates, in conjunction with two Dow Jones & Company publications - The Asian Wall Street Journal and Far Eastern Economic Review.
The study was conducted in 10 countries/regions across Asia, and participating companies represented 26 different industries. The study interviewed and surveyed over 92,000 employees and was open to organizations established for more than two years with over 100 employees in China, Hong Kong, Indonesia, Japan, Korea, Malaysia, the Philippines, Singapore, Taiwan and Thailand.
Shanghai Hormel Foods Co. was number eight of 10 on the "Best Employers in China" list, and number 18 of 20 on the "Best Employers in Asia" list.
"Our research has shown that Asia's 'Best Employers' are those companies which take a longer-term perspective in building their companies and contribution to Asia's competitiveness and growth," said Philip Revzin, publisher of The Asian Wall Street Journal and Far Eastern Economic Review. "Employment statistics show that the 'Best Employers' have grown their businesses considerably more than the national figures, due to their consistently high investment in staff."
Shanghai Hormel Foods Co. began operating in 1997 and has 240 full- and part-time employees, all of whom are from China except the general manager. To meet Chinese consumers' needs and lifestyles, the company produces a full line of retail and foodservice meat products that include Western-style items such as bacon, cooked and smoked hams, hotdogs, and breakfast sausage; Western-style foods that have been modified for the Chinese palate such as select smoked ham with a Chinese flavor; and genuine Chinese food items such as Taiwan-style sausages made with rice wine, and smoked turkey wings and drumsticks, among others. Hormel products are sold to consumers through a variety of retail outlets such as Carrefour, Wal-Mart, and Sam's Club hypermarkets; Lian Hua and Hua Lian supermarkets; Parkson and Yaohan department stores; and Lawson and Kedi convenience stores. In addition, Hormel serves a variety of foodservice clients such as Subway, Rainforest Cafe, Tony Roma's TGI Friday's, Hard Rock Cafe, and most four- and five-star hotels in the Shanghai metropolitan area.
"We are honored to be included on these 'Best Employer' lists, as our employees are our most important and valuable asset and we strive every day to make the company a rewarding place to work," said Rick Bross, president of Hormel Foods International. "We believe these awards are a reflection of the high value we place on our employees as being the key building blocks to our success and growth. We are proud to be a company that provides a great working environment and offers opportunities for development and advancement."
About Hormel Foods Corporation
Hormel Foods Corporation is located in Austin, Minn., and is one of the nation's largest manufacturers and marketers of consumer-branded meat and food products, many of which are among the best known and trusted in the food industry. The company leverages its extensive expertise, innovation and high competencies in pork and turkey processing and marketing to bring quality, value-added brands to the global marketplace. In January 2001, Hormel Foods was named one of "The 400 Best Companies in America" by Forbes magazine. The company enjoys a strong reputation among consumers, retail grocers, foodservice and industrial consumers for products regarded for quality, taste, nutrition, convenience and value.
It reported sales of $3.7 billion for the fiscal year ended Oct. 28, 2000. Products include hams, bacon, sausages, franks, canned luncheon meats, stews, chilies, hash, meat spreads, shelf-stable microwaveable entrees, frozen processed foods and a variety of ethnic cuisine foods such as Mexican salsas, Asian vegetable oils, marinades and sauces, Mediterranean-based couscous, processed olives and peppers, Indian lentils, chutneys and curry pastes and Italian olive oils.
These products are sold to retail, foodservice and deli operations under a number of well-known and valuable trademarks, including Hormel, American Classics, Always Tender, Black Label, Bread Ready, Carapelli, Chi-Chi's, Cure 81, Curemaster, Di Lusso, Dinty Moore, Dubuque, El Torito, Fast 'N Easy, Herdez, Herb-Ox, Homeland, House of Tsang, Jennie-O Turkey Store, Kid's Kitchen, Layout Pack, Light & Lean, Little Sizzlers, Marrakesh Express, Mary Kitchen, Old Smokehouse, Patak's, Peloponnese, Range Brand, Rosa Grande, SPAM, Stagg and Wranglers.
For additional information, visit the company's Web site at www.hormel.com.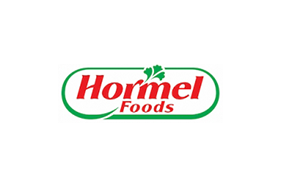 Hormel Foods Corporation
Hormel Foods Corporation
About Hormel Foods – Inspired People. Inspired Food.™
Hormel Foods Corporation, based in Austin, Minn., is a global branded food company with over $9 billion in annual revenue across 75 countries worldwide. Its brands include SKIPPY®, SPAM®, Hormel® Natural Choice®, Applegate®, Justin's®, Wholly Guacamole®, Hormel® Black Label® and more than 30 other beloved brands. The company is a member of the S&P 500 Index and the S&P 500 Dividend Aristocrats, was named one of "The 100 Best Corporate Citizens" by Corporate Responsibility Magazine for the ninth year in a row, and has received numerous other awards and accolades for its corporate responsibility and community service efforts. In 2016, the company celebrated its 125th anniversary and announced its new vision for the future - Inspired People. Inspired Food.™ - focusing on its legacy of innovation. For more information, visit www.hormelfoods.com and https://csr.hormelfoods.com/.
More from Hormel Foods Corporation