Published 04-13-05
Submitted by US SIF: The Forum for Sustainable and Responsible Investment
WASHINGTON, D.C. - Socially responsible mutual funds are considerably stronger proponents of corporate governance shareholder resolutions - such as focusing on poison pills, expensing stock options, golden parachutes, declassifying boards, and "vote no" director campaigns - than are "conventional" mutual funds, according to the surprising conclusion of an extensive new study by the nonprofit Social Investment Forum Foundation (SIFF). The SIFF report analyzed the U.S. mutual fund voting patterns that are now discernible as a result of the first 12 months of mandatory proxy disclosure, a requirement that was strenuously opposed by most of the mutual fund industry.
The new study entitled "Mutual Funds, Proxy Voting, and Fiduciary Responsibility: How Do Funds Rate on Voting Their Proxies and Disclosure Practices?" concludes: "Socially responsible investing (SRI) funds as a category support more shareholder-proposed corporate governance resolutions and 'vote no' campaigns than their conventional peers by a 2-to-1 margin. They also tend to support more controversial governance resolutions, like separating the CEO and chair positions, or limiting nonaudit services by auditors. SRI funds are also more consistent in their support of popular 'plain vanilla' governance issues we examined (poison pills, expensing stock options, golden parachutes, and declassifying the board)--totaling 90 percent support for these four issues, opposed to 72 percent support by 'conventional' funds."
Tim Smith, president of the Social Investment Forum and senior vice-president at Walden Asset Management, said: "We now have the facts that allow us to ask the question: Which funds are the true guardians and friends of investor interests? When it comes to mutual funds, there is a clear answer: Socially responsible mutual funds do a much better job of voting independently on a range of issues that make a real difference. No one will be surprised to learn that SRI funds are way ahead of 'conventional' mutual funds when it comes to voting on environmental and social issues. But many will be interested to learn that SRI funds have a more effective record than conventional funds in voting on corporate governance issues as well."
KLD Research & Analytics, Inc. President Peter Kinder, noted: "At a minimum, the Securities and Exchange Commission (SEC) has said mutual funds must 'monitor corporate events.' Those events include social and environmental issues. By requiring the funds to report their policies and votes, the Commission has given the funds' beneficiaries the means to judge whether the funds are meeting their duties to them. The funds will have to take these issues very seriously."
As of August 31, 2004, mutual funds and investment advisors were obligated by the SEC to begin disclosing how they vote on proxy issues. Using the new data covering the first 12 months of such disclosure, the SIFF report looks at how 10 socially responsible mutual fund families and 10 large "conventional" mutual fund families voted on 12 proxy issues and major "vote no" campaigns targeting directors for the one-year period from July 1, 2003 - June 30, 2004. The new study is the most comprehensive look so far at mutual fund voting practices in the United States, and whether there is evidence that they are living up to their obligations as fiduciaries to look out for the best interests of their shareholders.
OTHER KEY STUDY FINDINGS
Major gap on corporate governance proxy support. SRI funds averaged a 95.2 percent withhold voting record from directors at the four most targeted companies of the 2004 proxy season. Conventional funds withheld votes only 51.8 percent of the time. SRI funds are far more likely to support the governance issues of separation of CEO and chairman (83.3 percent support versus 12.7 percent for conventional funds), and limiting consulting by auditors (66.7 percent support versus 0 percent by conventional funds). They also supported poison pill, golden parachute and expensing options proposals by an average 25 percent lead over conventional funds.
SRI v. conventional fund support for social proxy issues. The overall support level of SRI funds for social/environmental shareholder resolutions was 84.6 percent compared to conventional funds support of 15.1 percent (and 18 percent abstaining). Half of the conventional fund families -- and 20 individual funds in that category-- revealed no votes against management on social proposals. However, one conventional fund family, Schwab, stood out by supporting half of all social resolutions studied, voting in favor of these proposals 56.3 percent of the time. For conventional funds supporting social or environmental issues, PIMCO, Schwab and Vanguard stand out. PIMCO and Schwab had much higher levels of voting against management on these resolutions -- meaning they supported the proposals put forward by investors, while Vanguard tended to abstain on almost all social votes for all funds in that family studied. Social and environmental proposals comprise about one-third of all resolutions filed by shareholders each year. Merrill Lynch, Citigroup Asset Management, and Dreyfus Corp. were the only other complexes that supported any social proposals.
Common ground: declassifying boards/annual elections. Only one issue in the study--declassifying the board (holding annual elections)--resulted in an equal number of conventional and SRI funds voting against management. Both groups of funds displayed significant support for these resolutions--with SRI funds averaging 85.7 percent and conventional funds averaging 86.3 percent against management.
Conventional fund corporate governance leaders. Conventional funds with the strongest records of supporting governance proposals (each averaging more than 56 percent support) include Citigroup Asset Management, Dreyfus Corp., Franklin Templeton, Merrill Lynch, and Schwab.
Transparency/proxy guidelines disclosure issues. SRI funds as a group tend to have more in-depth proxy guidelines. Many SRI funds use their guidelines to educate their fund owners on critical issues up for a vote. Conventional funds do a consistently poor job of providing detailed discussions of their social or environmental voting stances in their guidelines. There were a few exceptions, with some funds' guidelines detailing the circumstances that might trigger support for a social proposal.

Tracey Rembert, study author and coordinator of the Social Investment Forum's Advocacy and Public Policy Program, said: "Clearly, our results show that this disclosure rule is very important in prodding fund companies to uphold their fiduciary allegiance to fund investors. Already, we've seen improvements in policies and voting guidelines that benefit individual fund owners looking for this information. With a new spotlight on fund voting, we should see improvements in the years to come of funds standing up to management more often when it's in the interest of their fundholders."

The full Social Investment Forum Foundation study is available online at www.socialinvest.org/areas/research/votingpractices/default.htm.

STUDY METHODOLOGY

The Social Investment Forum Foundation study looked at six corporate governance issues (expensing of stock options, separation of CEO and chair positions, limiting consulting by auditors, shareholder approval of poison pills, shareholder approval of golden parachutes, and declassifying the board/holding annual elections), six social or environmental issues (reporting on climate change/climate risk, addressing the HIV/AIDS/Malaria/TB pandemics, supporting labor/vendor standards, sexual orientation nondiscrimination policies, human rights, and sustainability reporting), and four major "vote no" campaigns targeting specific directors where proxies were withheld in substantial numbers (Walt Disney, Federated Department Stores, Kohl's, and MBNA). The report examined domestic large cap equity and hybrid funds at the top 10 mutual fund companies (in terms of total equity and non-equity net assets) for both conventional and SRI funds.

Mutual funds also were examined in terms of: accessibility of fund voting records and guidelines; quality of proxy voting guidelines; transparency on proxy issues from fund staff and web and written materials; conflict of interest policies; disregard for social resolutions as an entire class; ability to cast votes against directors (withholds); and customer service and support related to proxy information requests.

ABOUT THE FORUM FOUNDATION

The Social Investment Forum Foundation is a national nonprofit organization providing research and education on socially responsible investing. The Forum Foundation provides cutting-edge research on the trends, practice, performance, and impact of social investing.

EDITOR'S NOTE: The full study, a related news release and streaming audio from the news event will be available on the Web today (April 12, 2005) at www.socialinvest.org. The study and release will be available by 10:30 a.m. ET on April 12th and the streaming audio by 4 p.m. ET.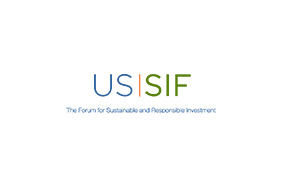 US SIF: The Forum for Sustainable and Responsible Investment
US SIF: The Forum for Sustainable and Responsible Investment
The Social Investment Forum (SIF) is the only national membership association dedicated to advancing the concept, practice, and growth of socially and environmentally responsible investing (SRI). Our members integrate economic, environmental, social and governance factors into their investment decisions and SIF provides programs and resources to advance this work. SIF's membership includes more than 500 social investment practitioners and institutions, including financial professionals, analysts, portfolio managers, banks, mutual funds, researchers, foundations, community development organizations, and public educators.
More from US SIF: The Forum for Sustainable and Responsible Investment