Published 10-21-03
Submitted by US SIF: The Forum for Sustainable and Responsible Investment
Washington, D.C. - What is Proxy Access?
On Oct. 15, the Securities and Exchange Commission (SEC) published proposed rules allowing shareholders a new, but severely limited ability to propose nominees for corporate boards. Earlier this year, the SEC had asked for comments regarding investors' rights to propose candidates for the boards of U.S.-based corporations. Those comments led to a report issued July 15th by the SEC regarding "proxy access," or the ability of shareholders to use the corporate proxy statement to put shareholder-proposed nominees on the corporate ballot.
Currently, investors have the right to put forth a "short slate," or limited number of candidates for a board election, but they must do so at their own expense, and with considerable difficulty under existing law. As a result, many investors feel disenfranchised by the elections process, and seek the right to propose board candidates to strengthen the independence and responsiveness of corporate boards. The new SEC proposal is controversial because it imposes additional barriers, or "triggers," for shareholders to earn the right to nominate a director for the board. The proposed rule places a stringent cap on how many candidates can be nominated, who can nominate, and under what conditions of corporate malfeasance investors gain the right to propose a nominee.
What Does Proxy Access Have to Do with SRI and Corporate Responsibility Issues?
Social shareholder advocates tend to agree that the more diverse and independent a board is, the more likely it is to care about stakeholder concerns and the reputation of the company. Proxy access addresses the issue of shareholder democracy, investor rights, and the accountability of boards--all of which were largely ignored by regulators before the current spate of accounting scandals. Allowing shareholders to nominate board candidates will begin to address these concerns and increase the likelihood that boards will pay more attention to the responsibilities a company has to its many constituents, including communities, workers, and the environment.
Where Can I Find the Proposed Rule?
The entire rule can be found at the SEC's web site: http://www.sec.gov/rules/proposed/34-48626.htm.
What are the Triggers the SEC is Referring to?
According to the newly proposed rule, security holders gain the right to nominate a candidate only after one of two triggering events has occurred: (1) 35% or more of shareholders vote to withhold support for at least one director; or (2) a stockholder (or group of stockholders) holding at least 1% of the company's stock puts a proposal on the proxy statement seeking the right to nominate, AND that proposal is approved by a majority vote. The triggers were proposed to target those companies where there is evidence of an extremely ineffective proxy process. The SEC previously considered, but did not include in the new proposal, a third trigger--the failure by a company to act on a majority vote.
What's Wrong with the Proposed Triggers?
The triggers highlighted by the SEC severely limit shareholders' ability to put forth even a single name for a board election. Also, the process takes two years, which is too long for companies that suffer from intractable boards or those that have significant problems like national scandal, significant restatements of earnings, severe conflicts of interests, etc. Being able to propose a nominee for the board is still a modest right. A nominee proposed by shareholders has no guarantee of making it on the board--that is an issue for the majority of investors to decide.
How Long Would Shareholders Have Access, Once A Trigger Has Been Established?
After a triggering event, a company would be subject to the direct nomination rule for two years.
What About Special Interests? Could They Compromise the Process?
The Business Roundtable, corporate counsels, and two Republican SEC Commissioners have expressed concern about the potential of "special interests groups" like SRI funds, labor unions, and public pension funds to take over the process, if access was allowed. However, the proposed rule requires that nominees be independent of the investors placing their name on the ballot. It is extremely likely that a special interest candidate would be flagged during this process. With rules that ensure adequate disclosure concerning the qualifications of the shareholder-proposed nominee, and the nominee's independence from the nominators, it seems highly improbable that a special interest candidate would be elected by a majority of investors.
Who Can Nominate a Candidate for the Board?
Once a trigger has been set in motion, any investor or group of investors holding at least 5% of a company's shares for two years or more can propose a nominee for the next election. If more than one stockholder or group of stockholders proposes a nominee, the candidate proposed by the largest number of shares will go forward.
Who Could Be Nominated?
The proposed rule would require any nominee to meet the independence standards of the exchanges, and to be free of any financial or contractual relationship with the nominating investor or group of investors.
How Many Nominees Could Investors Propose?
According to the proposed rule, shareholders can nominate one director for boards of eight or less; two directors for boards of nine to 19 members; and for the minimal number of boards with 20 or more directors, shareholders can nominate three people. The SEC estimates that half of U.S. companies have boards of eight or less, and half have boards of nine to 19. Staggered boards were not addressed in the rule, regarding the number of nominees that could be put forth.
How Do I Comment?
Investors have a 60-day period to comment on the proposed rule. The SEC expects to adopt a final rule shortly thereafter, which could take effect on January 1, 2004. The deadline is 60 days after being published in the Federal Register--now set for December 22, 2003. Comments can be mailed or emailed. We suggest email, so that your response can be read by all investors on the SEC's web site. Email or mail comments to:
Jonathan G. Katz, Secretary, U.S. Securities and Exchange Commission, 450 Fifth Street, NW, Washington, DC 20549-0609.
Comments should be submitted electronically to: rule-comments@sec.gov. All comment letters should refer to File No. S7-19-03 in the subject line of the email.
Where Do I Go For Additional Information or Questions? Lillian C. Brown or Grace K. Lee, at the SEC Division of Corporation Finance, at (202) 824-5250, or for investment companies, John M. Faust, SEC Division of Investment Management, at (202) 942-0721. You can also contact Tracey Rembert at the Social Investment Forum for general inquiries, strategies for involving your clients, or additional resources and contacts: tracey@socialinvest.org or (202)872-5313.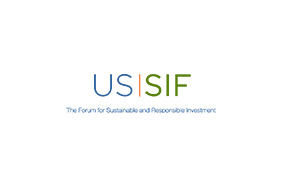 US SIF: The Forum for Sustainable and Responsible Investment
US SIF: The Forum for Sustainable and Responsible Investment
The Social Investment Forum (SIF) is the only national membership association dedicated to advancing the concept, practice, and growth of socially and environmentally responsible investing (SRI). Our members integrate economic, environmental, social and governance factors into their investment decisions and SIF provides programs and resources to advance this work. SIF's membership includes more than 500 social investment practitioners and institutions, including financial professionals, analysts, portfolio managers, banks, mutual funds, researchers, foundations, community development organizations, and public educators.
More from US SIF: The Forum for Sustainable and Responsible Investment