Published 01-09-04
Submitted by CSREurope
Brussels - CSR Europe is pleased to announce that Bernard Giraud, a fomer board member of the corporate social responsibility network, has been appointed as new executive director. Mr. Giraud has managed the CSR and sustainable development department at French food company Danone for the past six years, and will take up his new position at CSR Europe this month.
CSR Europe members also elected a new board of directors in December 2003 to shape the strategy and vision of the organisation for the next two years. The new board, which will meet 4-6 times each year, is made up of the following 15 senior executives:


Martina Bianchini (Director EU Government Affairs & Public Policy, Dow Europe)


Andreas Büchner (Manager Trade and CSR, Volkswagen AG)


Elena Bonfiglioli (Director Community Affairs and CSR, Microsoft EMEA)


Bea Buyle (Manager, Corporate Sustainable Development, Procter & Gamble)


Alan Christie (Vice President Corporate Affairs, Levi Strauss Europe)


Stefan Crets (Manager CSR, Toyota Motor Europe)


Jan-Olov Ericksson (Chairman, Swedish Jobs & Society)


Hannah Jones (Director of European Governmental and Community Affairs, Nike EMEA)


Christian Kornevall (Head of Group Function Sustainability Affairs, ABB Ltd)


Gérard Kuster (Corporate Senior Ethics Officer, Suez)


Bruno de Montalivet (Corporate Human Resources Director, Accor)


Celia Moore (Manager, Corporate Social Responsibility, IBM EMEA)


Chris Tuppen (Head of Sustainable Development and Corporate Accountability, BT)


Christoph Vanderstricht (Director, PricewaterhouseCoopers)


Frank Welvaert (Director Corporate Social Responsibility, Johnson & Johnson)


For more information or interview requests please contact Nicki Bennett, tel +32 2 541 1623, nb@csreurope.org.
About CSR Europe
CSR Europe is a non-profit organisation that promotes corporate social responsibility (CSR). Founded in 1995 by former European Commission president Jacques Delors, CSR Europe works with 65 company members and 18 national partner organisations to integrate CSR into mainstream business practice. For more information please visit www.csreurope.org.
Press & Information Coordinator
CSR Europe
78-80 Rue Defacqz
Brussels 1060
Belgium
Tel: +32 2 541 1610
Dir: +32 2 541 1623
Fax: +32 2 502 8458
Web: www.csreurope.org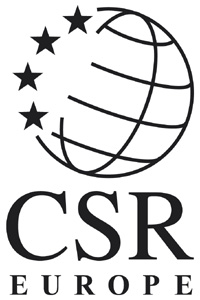 CSREurope
CSREurope
CSR Europe is the leading European business network for corporate social responsibility with around 70 multinational corporations and 36 national partner organisations as members. The organisation was founded in 1995 by senior European business leaders in response to an appeal by the European Commission President Jacques Delors. It has since grown to become an inspiring network of business people working at the very forefront of CSR across Europe and globally.
The Largest CSR Network in Europe
CSR Europe's network of national partner organisations brings together 36 membership-based, business-led CSR organisations from around 30 European countries. In total, the network reaches out to over 5000 companies throughout Europe.
Our Enterprise 2020 strategy
In October 2010, CSR Europe launched a joint Enterprise 2020 initiative to address societal challenges through collaborative action and shape the business contribution to the European Union's Europe 2020 strategy for smart, sustainable and inclusive growth.
Since its launch, Enterprise 2020 has become the reference initiative for the ideal company of the future and forms the umbrella for all CSR Europe activities.
To find out more about Enterprise 2020, click here.
For more information about our activities and services, please download the CSR Europe overview and service offer or contact us.
To find out more about how to become a member of CSR Europe, click here.
More from CSREurope