Published 02-19-02
Submitted by Evergreen Solar, Inc.
Evergreen Solar, Inc. (Nasdaq: ESLR), a developer, marketer, and manufacturer of photovoltaic (PV, solar power) products for the worldwide market, announced today that its Japanese marketing partner, Kawasaki Heavy Industries, Ltd., has delivered a 70kW PV system to Yachiyo Shoin High School in Yachiyo City, Chiba Prefecture, Japan. This system is one of the largest PV systems installed at a school in the Prefecture of Chiba.

The PV array of approximately 770 square meters covers part of the roof of the high school's Yamaguchi Gymnastic Hall using Evergreen's Cedar Line(TM) PV panels. The electricity generated will be used, in part, for lighting and air conditioning at the school. Kawasaki installed the system as a turnkey solution - from the conceptual design to system commissioning including test operation. The school has built this system jointly funded with NEDO (New Energy and Industrial Technology Development Organization) as part of their Industrial Use PV Field Test Program. The Ministry of Education and Science has been proceeding with the "Eco-School Program" jointly with the Ministry of Economy, Trade and Industry since 1997 to foster environmentally-oriented school facilities. As part of this initiative, Yachiyo Shoin High School plans to provide environmental education for students to study the positive impacts of renewable energy.
Kawasaki estimates the annual output of this system to be about 67,200 kWh, which is estimated to eliminate the use of 16,353 liters of crude oil for oil-fired power generation and is projected to offset 11,140kg of CO2 emissions per year. This amount of CO2 mitigation is equivalent to a forest of over 28 acres.
About Evergreen Solar, Inc.
Evergreen Solar, Inc. (www.evergreensolar.com) develops, manufactures, and markets solar power products utilizing Evergreen's proprietary and patented solar power technologies. The products provide reliable and environmentally clean electric power in global markets. Solar power applications include wireless power for remote homes, water pumping, lighting, and rural electrification, as well as complete power systems for electric utility customers choosing to generate their own environmentally benign green power. Evergreen Solar(R) is a registered trademark and Cedar Line(TM) is a trademark of Evergreen Solar, Inc.
About Kawasaki Heavy Industries, Ltd.
Kawasaki Heavy Industries, Ltd. (www.khi.co.jp) is a leading manufacturer of transportation and industrial equipment for global markets. With a broad technological base that encompasses land, sea, and air, the company manufactures ships, rolling stock, aircraft and jet engines, refuse incinerators, industrial and energy plants, steel structures, and various manufacturing equipment and systems. Kawasaki also produces such consumer products as Kawasaki brand motorcycles.
This press release contains forward-looking statements made pursuant to the safe harbor provisions of Section 21E of the Securities Exchange Act of 1934. The Company cautions you that any statements contained in this press release which are not strictly historical statements constitute forward-looking statements. Such statements include, but are not limited to, statements reflecting management's expectations regarding the Company's products, manufacturing technology, the success of the Company's strategic relationships, and the Company's market opportunities. These statements are neither promises nor guarantees, and involve risks and uncertainties that could cause actual results to differ materially from such forward-looking statements. Such risks and uncertainties include, among other things, the following factors: the Company's business and results of operations could be materially impaired as a result of poor manufacturing or product performance or higher costs attributable to the expansion or operation of manufacturing facilities; the Company is at an early stage of development and has only a limited operating history; the market for solar power products is emerging and rapidly developing, and market demand for solar power products such as the Company's products is uncertain; the Company expects to derive a substantial portion of its revenues in the future from sales of new solar power products and technologies that are currently under development and not yet commercially available, and the Company's business and results of operations will suffer materially if it fails to successfully develop these new solar power products and technologies or if these new products are not accepted in the marketplace; the Company has limited experience manufacturing large volumes of solar power products on a commercial basis at acceptable costs, which it will need to do in order to be successful; the Company's relationships with current or prospective marketing or strategic partners may be affected by adverse developments in the Company's business, the partner's business, competitive factors, solar power market conditions, or financial market conditions; the Company's management team has only limited experience managing a rapidly growing company; the Company faces intense competition from other companies producing solar power and other distributed energy generation products; the Company may have difficulties or incur higher than expected costs in serving numerous and global market segments; and the Company's patents may be challenged or expire, or otherwise not provide adequate intellectual property protection in the future.
In addition to the foregoing factors, the other economic, competitive, governmental, technological, and other factors identified in the Company's filings with the Securities and Exchange Commission - including the Company's Annual Report on Form 10-K for the fiscal year ended December 31, 2000, filed on April 2, 2001, and Quarterly Report on Form 10-Q for the quarter ended September 30, 2001, filed on November 13, 2001 (copies of which may be obtained at the SEC's web site at: http://www.sec.gov) - could impact the forward-looking statements contained in this press release. Readers should not place undue reliance on any such forward-looking statements, which speak only as of the date they are made. The Company disclaims any obligation to publicly update or revise any such statements to reflect any change in Company expectations, or in events, conditions, or circumstances on which any such statements may be based, or that may affect the likelihood that actual results will differ from those set forth in the forward-looking statements.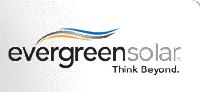 Evergreen Solar, Inc.
Evergreen Solar, Inc.
We have rapidly become a global technology leader and innovator in the solar industry. And although technology is what we thrive on, bringing it to practical, commercial scale solutions is what drives each and every one of us. We have been in business for more than 13 years which makes us well established experts in the industry. We are a public company that's experiencing rapid growth, and can be found under ESLR on the NASDAQ stock exchange. If you'd like investor information please visit our investor relations area.
More from Evergreen Solar, Inc.