Published 04-22-09
Submitted by KPMG
NEW YORK, NY. - April 22 - KPMG LLP, the U.S. audit, tax, and advisory firm, describes how it is pursuing green practices and eco-friendly initiatives as a business strategy in its first Living Green Annual Report.
Leading companies today are adapting to climate change and investing in sustainable, eco-friendly business initiatives. Such is the case with KPMG, which embarked on an environmental program called Living Green in 2008. The firm's environmental program aims to reduce the amount of waste generated and the natural resources consumed based on the following three-year measurable goals:
Reduce paper consumption by 15%

Aim for Leadership in Energy and Environmental Design (LEED) certification for 80% of new construction

Reduce carbon footprint by 25%

Increase alternative transportation by 5%

Reduce waste by 10%
"The remarkable support from partners and employees has set the tone for success of our Living Green initiative and our overall corporate social responsibility efforts," says Steve Clemente, KPMG principal in charge of operations and leader of the Living Green program. "With Living Green, KPMG in the United States is examining its environmental practices and ramping up efforts to improve them."

As the firm's report details, green initiatives KPMG has undertaken include:
Formation of Green Teams to harness the power and the passion of KPMG's employees and partners in local offices nationwide. The Green Teams implement the program at a grassroots level, driving innovation and making a difference by Living Green

Completion of a new KPMG technology center, which uses multiple sources of electrical power but features as its centerpiece gas micro-turbines. The natural gas-powered units provide exceptional energy efficiency and produce ultra-low carbon dioxide and particulate emissions

Recycling of every laptop, monitor, and printer, both for reuse and disposal of toxic materials. Last year KPMG recycled 45 tons of technology equipment

Reducing the firm's electrical consumption by using one computer server to do the work of many. This technique, called server virtualization, has prevented the emission of 1,000 tons of carbon dioxide. In addition, KPMG purchases for employees and partners all Energy Star-certified laptops, desktops, monitors, and printers
To read the full report, which also includes testimonials from KPMG employees who are living green, visit http://www.us.kpmg.com/news/index.asp?cid=3062.

About KPMG LLP
KPMG LLP, the audit, tax and advisory firm (www.us.kpmg.com), is the U.S. member firm of KPMG International. KPMG International's member firms have 137,000 professionals, including more than 7,600 partners, in 144 countries.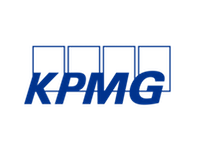 KPMG
KPMG
KPMG LLP, the audit, tax and advisory firm, is the U.S. member firm of KPMG International. KPMG International's member firms have 113,000 professionals, including 6,800 partners, in 148 countries.
More from KPMG