Published 01-12-09
Submitted by 3BL CSRwire
SPRINGFIELD, MA. - January 12, 2009 - This week CSRwire welcomed Darden Restaurants, LBG Associates, Green Mountain Roasters Coffee Inc., and Points of Light Institute.
CSRwire membership of more than 1000 organizations includes public and privately held companies, socially responsible investment funds, non governmental and non profit organizations, universities, trade associations and think tanks. The following organizations will be using CSRwire to communicate their corporate citizenship, sustainability, and socially responsible activities and initiatives to a passionate and enthusiastic audience in over 200 countries.







Darden Restaurants - Darden Restaurants, Inc., (NYSE: DRI) headquartered in Orlando, Fla., is the world's largest company-owned and operated full-service restaurant company with $6.7 billion in annual sales and approximately 180,000 employees. The Company owns and operates more than 1,700 restaurants including Red Lobster, Olive Garden, LongHorn Steakhouse, The Capital Grille, Bahama Breeze and Seasons 52. For more information, please visit www.darden.com.









Points of Light Institute - Points of Light Institute is a powerful, integrated national nonprofit organization with a global focus to redefine volunteerism and civic engagement for the 21st century - by putting people at the center of community problem solving. Points of Light Institute operates three dynamic business units that share a mission to equip, mobilize and inspire people to take action that changes the world: HandsOn Network, MissionFish and the Civic Incubator.









LBG Associates - LBG Associates is a woman-owned consulting firm focused on designing, implementing, and managing corporate citizenship and community outreach programs and initiatives. Founded in 1993 by Dr. Linda Gornitsky, LBG Associates drives social change through expert advice; cutting-edge research; implementation of strategies, programs, policies, and procedures; and training that equips practitioners with the knowledge and skills to grow and advance in the field of corporate community involvement. Find more information at: www.lbg-associates.com.






Green Mountain Roasters Coffee Inc. - Green Mountain Coffee Roasters, Inc. (NASDAQ: GMCR) is a leader in the specialty coffee industry known for award-winning coffees, innovative brewing technology and socially and environmentally responsible business practices. We manage our operations through two wholly owned business segments: Green Mountain Coffee and Keurig. Our Green Mountain Coffee division sells more than 100 high-quality coffee selections, including Fair Trade Certifiedâ"¢ organic coffees, under the Green Mountain Coffee(R) and Newman's Own(R) Organics brands through wholesale, direct mail and e-commerce operations. Green Mountain Coffee also produces coffee as well as hot cocoa and tea in K-Cup(R) portion packs for Keurig(R) Single-Cup Brewers. We have been honored repeatedly by CRO Magazine, Forbes and SustainableBusiness.com as a good corporate citizen and an innovative, high-growth company.

Through our conscientiously profitable business model we hope to inspire others to view business as a partner, and positive change agent, in the global effort to create long-term solutions and sustainability for people and ecosystems worldwide. We aspire to behave in a way that everyone we interact with is better off for having known us. That is, every stakeholder will have the "ultimate coffee experience" not only in the quality of our coffee and services but in the quality of our relationships and the way we do business. We work to achieve this goal by integrating our values with our business operations and allocating 5% of our pre-tax earnings to social and environmental causes, focusing on our Company Purpose and Principles in business operations. We are motivated to achieve success because the more profitable we are, the more good we can do in the world. Since 1981, we have been roasting the finest Arabica beans from coffee-growing communities around the world, creating award-winning blends that inspire and delight the senses.



About CSRwire Members:
CSRwire Members are Companies and NGOs, Agencies and Organizations interested in communicating their corporate citizenship, sustainability, and socially responsible initiatives to a global audience through CSRwire's Syndication Network, News Alerts, Web Site, Blogs, RSS Feeds, News Aggregators, Send to Friend Feature and Search Engines.
To become a member of CSRwire, or for more information, please click here.
About CSRwire
CSRwire is the leading source of corporate social responsibility and"¨sustainability news, reports and information. CSRwire distributes news related to Diversity, Philanthropy, Socially Responsible Investing (SRI), Environment, Human Rights, Workplace Issues, Business Ethics, Community Development and Corporate Governance to Journalists, Analysts, Investors, Activists, Academics, Public Relations, Advertising and Investor Relations Professionals in over 200 Countries.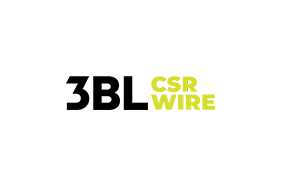 3BL CSRwire
3BL CSRwire
Respected and relied on by journalists, bloggers, business leaders and academics around the world, 3BL CSRwire is a dedicated, real-time source for major news and updates from within the worlds of ESG, corporate social responsibility and sustainability.
3BL CSRwire offers a-la-carte press release distribution to a global network of influential stakeholders and mainstream audiences—perfect for organizations just getting started in CSR or for those looking to get the most out of their corporate communications.
More from 3BL CSRwire