Published 12-29-08
Submitted by 3BL CSRwire
SPRINGFIELD, MA. - December 29, 2008 - This week CSRwire welcomed ASSET4, Fairgreentrade.com, Financial Times, Hormel Foods Corporation, and Chloregy.
CSRwire membership of more than 1000 organizations includes public and privately held companies, socially responsible investment funds, non governmental and non profit organizations, universities, trade associations and think tanks. The following organizations will be using CSRwire to communicate their corporate citizenship, sustainability, and socially responsible activities and initiatives to a passionate and enthusiastic audience in over 200 countries.







Asset4 - ASSET4 has the world's largest database of transparent, objective and auditable environmental, social and governance (ESG) information.

Professional investors use our database and analysis tools for a variety of applications such as positive and negative screening, compliance monitoring and integration of ESG into their investment analysis. This enables them to systematically engage with companies, improve investment performance, reduce risk and lower research costs.

Corporate executives, investor relations, CSR managers and corporate communication professionals have one-click access to ESG benchmarking and best-in-class tracking and evaluation capabilities. This enables companies to reduce enterprise risk, enhance corporate governance and increase accountability, transparency and trust, while at the same time improving communications with long-term investors and other stakeholders.

ASSET4 has 240 employees and is headquartered in Zug, Switzerland with locations in London, New York, Paris, Frankfurt, Mauritius and India. It is a proud signatory of the UN's Principles for Responsible Investment. For more information, please visit www.asset4.com.










Fairgreentrade.com - Fairgreentrade.com is designed to allow consumers, retailers and manufacturers the ability to interact and create the easiest path to finding products, services and source materials. The world of sustainable/green/organic products and services is wide and growing.

Fairgreentrade.com will offer specific areas of interest to help narrow down what you are looking for and put you in contact with the companies or individuals that will help you accomplish your goals. Whether you're a business looking for sustainable raw materials, a traveler looking for eco-tours or green hotels, a home builder sourcing energy saving equipment, a home owner looking for a contractor to install that equipment, a supermarket sourcing organic and natural products or someone who is just trying to get their arms around this way of life, Fairgreentrade.com is your source.










Financial Times - FT Global Conferences & Events offer an accurate and unbiased overview of the world markets as well as an insight into future opportunities. Whether it is evaluating Commercial Property in Dubai, debating 'The Future of Energy' in Frankfurt, discovering Mobile Business in California, or partnering with 'Southern Multinationals' in Mumbai, FT Global Conferences & Events are renowned for their agenda-setting programmes and getting to the bottom of business analysis and views within the FT newspaper.









Hormel Foods Corporation - Hormel Foods Corporation, based in Austin, Minn., is a multinational manufacturer and marketer of consumer-branded food and meat products, many of which are among the best known and trusted in the food industry. The company leverages its extensive expertise, innovation and high competencies in pork and turkey processing and marketing to bring quality, value-added brands to the global marketplace. In each of the past eight years, Hormel Foods was named one of "The 400 Best Big Companies in America" by Forbes magazine. The company enjoys a strong reputation among consumers, retail grocers, foodservice and industrial customers for products highly regarded for quality, taste, nutrition, convenience and value.






Chloregy - Chloregy facilitates the sharing of ideas for sustainable development ofbusinesses, governments, educational institutions and our planet. We offer relevant news, events and jobs aggregation, and integration with social media. We will feature research and analysis of matters of interest, and interviews with leaders of organizations. For proactive organizations Chloregy offers tailored recruiting and advisory services.


About CSRwire Members:
CSRwire Members are Companies and NGOs, Agencies and Organizations interested in communicating their corporate citizenship, sustainability, and socially responsible initiatives to a global audience through CSRwire's Syndication Network, News Alerts, Web Site, Blogs, RSS Feeds, News Aggregators, Send to Friend Feature and Search Engines.
To become a member of CSRwire, or for more information, please click here.
About CSRwire
CSRwire is the leading source of corporate social responsibility and"¨sustainability news, reports and information. CSRwire distributes news related to Diversity, Philanthropy, Socially Responsible Investing (SRI), Environment, Human Rights, Workplace Issues, Business Ethics, Community Development and Corporate Governance to Journalists, Analysts, Investors, Activists, Academics, Public Relations, Advertising and Investor Relations Professionals in over 200 Countries.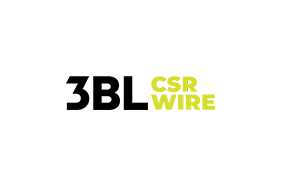 3BL CSRwire
3BL CSRwire
Respected and relied on by journalists, bloggers, business leaders and academics around the world, 3BL CSRwire is a dedicated, real-time source for major news and updates from within the worlds of ESG, corporate social responsibility and sustainability.
3BL CSRwire offers a-la-carte press release distribution to a global network of influential stakeholders and mainstream audiences—perfect for organizations just getting started in CSR or for those looking to get the most out of their corporate communications.
More from 3BL CSRwire