Published 12-15-08
Submitted by 3BL CSRwire
SPRINGFIELD, MA. - December 15, 2008 - This week CSRwire welcomed Bentall Lp., Futureye Pty Ltd.,Golite, HRIA Steering Committee, Unitus, Rogue Element, jhr(Journalist for Human Rights), Kenan Institute for Ethics at Duke University, Association Partnership for Corporate Social Responsibility.
CSRwire membership of more than 1000 organizations includes public and privately held companies, socially responsible investment funds, non governmental and non profit organizations, universities, trade associations and think tanks. The following organizations will be using CSRwire to communicate their corporate citizenship, sustainability, and socially responsible activities and initiatives to a passionate and enthusiastic audience in over 200 countries.







Bentall LP - We are Canada's largest real estate investment advisory and services organization,with nearly a century of successful operations under out belt. Our coast-to-coast capability is soundly supported by widely experienced teams in all major Canadian markets.

At each of our offices, Bentall's asset management specialists work in tandem with our property management, leasing and development groups to actively manage the assets entrusted to our stewardship.










Futureye Pty Ltd. - Futureye was established in 2002 by Katherine Teh-White, who believed that a different kind of consultancy was needed to undertake the analysis, strategic planning, proactive thinking, and communications demanded by sustainable development.

We work to develop proactive organisations that will succeed in the new stakeholder era. Our proposition is that sustainable development will never be realised without people inside organisations and communities being willing to explore and apply new concepts and change the ways in which things have always been done.

Futureye specialises in providing challenging and integrated solutions to complex organisational problems. We have helped some of Australia's leading companies, government departments and authorities and not-for-profit organisations to:

Reduce uncertainty
through a better understanding of organisational risks and opportunities, impacts, and emerging issues;

Find new ways to look at a problem or approach an issue through strategy and policy development;

Reduce outrage risks by making stakeholder engagement and communication programs more effective;

Align personal, organisational and stakeholder valuesand 'do well by doing good'; and

Enhance their understanding of sustainability and how it applies to their organisation, earning a social license to grow, creating competitive advantage or opening new markets.

Through understanding changing expectations at an international policy, government and community-level, we help organisations assess their behaviour and risks to facilitate an organisational response that will enhance its reputation and secure its social license to grow.
Our name and logo

The name Futureye was coined to reflect the purpose of the business; developing peoples power to change the world as it is today, through developing their sense of their current and potential issues and how they want to be perceived now and in the future.

The logo was designed to look like an eye, yet when you look more closely, it is composed of very different characters with very different eyes, who join together to form one, emphasising the diverse and often conflicting viewpoints, cultures and communities that must come together if we are to solve our most pressing problems.










GoLite - GoLite is the world's premier producer of lite-weight clothing and equipment for active, outdoor sports. Inspired, designed, and tested in Boulder, Colorado, GoLite(R) products offer uncompromised performance at the lightest possible weight to maximize a person's enjoyment and performance in the outdoors. Since 1998, GoLite has been pushing the envelope of theory, practice, & design innovation and has led a "lightweight revolution" that has changed an entire industry. GoLite is more than a name: it is a philosophy, a lifestyle, and a commandment to do more with less. Environmental stewardship and social responsibility have been fundamental to GoLite's mission and core values since its founding. GoLite is committed to minimizing its environmental footprint "" to GoLite on the Planet - through innovation, resourcefulness and partnership. GoLite Athlete Ambassadors regularly share "how to GoLite" techniques in outreach seminars around the world. For more information on GoLite products, ambassadors, environmental or outreach efforts, visit www.GoLite.com or call 888-5-GoLite.









HRIA Steering Committee - The Steering Committee was established by Memorandum of Understanding to oversee the management of a human rights impact assessment of the Marlin Mine. The Steering Committee is to set the scope and timelines of the assessment, will select the assessor, and will be responsible for managing the assessment process. The Steering Committee consists of three people with representation from the company, the shareholder group, and a Guatemalan with expereince in civil society issues in Guatemala. All decisions of the Steering Committee are made by mutual consent of the Steering Committee members.









Unitus - Unitus, an international nonprofit organization, works to reduce global poverty by increasing access to life-changing microfinance services. We seek out and partner with young, high-potential microfinance institutions (MFIs), helping them build capacity, attract capital, and achieve exponential growth. Through this leveraged approach, Unitus seeks to empower millions of the world's working poor while transforming the financial systems now left out of their reach.

The Unitus portfolio currently reaches more than 6 million families through 23 partners in India and Southeast Asia, East Africa, Mexico, and South America. Our goal is to reach more than 15 million of the world's working poor by 2010.

Unitus has been featured in the New York Times, the Wall Street Journal, PBS, and National Public Radio. We received Fast Company magazine's Social Capitalist award for 2006, 2007, and 2008, and were awarded the prestigious 4-star rating for sound fiscal management from Charity Navigator in 2007 and 2008. Unitus is a 501(c)3 with offices in Seattle, Washington and Bangalore, India. For more information, please visit www.unitus.com.










Rogue Element - Positively charged design.

Rogue Element is a small strategic design agency with big project experience that fuses a passion for creative communication with clients who make a difference. We collaborate with you to visually-charge your message with a unique and memorable voice that stands out from the crowd.

We believe in being involved.

Whether it's in our national guild, our local community, or in global issues, Rogue Element likes to stay engaged. We believe staying involved makes good design (and good citizens).










jhr(Journalist for Human Rights) - jhr's (Journalists for Human Rights) goal is to make everyone in the world fully aware of their rights. Creating rights awareness is the first and most necessary step to ending rights abuses.

Co-founded in 2002 by Ben Peterson, jhr is Canada's largest media development organization. Internationally, jhr harnesses the power of media in 16 countries - including the Congo, Sierra Leone and Liberia - to reach over 20 million people per week with local stories that provoke and inspire change. Across North America, jhr has an established presence on university and high school campuses, encouraging students to spread rights awareness within their own communities.










Kenan Institute for Ethics at Duke University - The Kenan Institute for Ethics at Duke University is an interdisciplinary "think and do" tank committed to understanding and addressing real-world ethical challenges facing individuals, organizations and societies worldwide.

The Institute promotes ethical reflection and engagement through its research, education and practice in three core areas: Moral Education & Development, Organizational Ethics, and Civic & Global Ethics. Current projects include work on the nature and nurture of morality, workplace culture, and U.S. immigration policy.










Association Partnership for Corporate Social Responsibility - Association "Partnership for Corporate Social Responsibility" is an independent non-governmental organization in Bulgaria, established in 2007.

Its main purpose is to create a partnership network by joining the efforts of the socially responsible companies and organizations and to help in integration of CSR in their daily management practice.

The association works for the steady development of its members, for high standards of company management and Corporate Social Responsibility, for improving the quality of socially significant services, for stimulation of ethic and loyal behavior of the organizations, improving the competitive power and companies' investments in Bulgaria.



About CSRwire Members:
CSRwire Members are Companies and NGOs, Agencies and Organizations interested in communicating their corporate citizenship, sustainability, and socially responsible initiatives to a global audience through CSRwire's Syndication Network, News Alerts, Web Site, Blogs, RSS Feeds, News Aggregators, Send to Friend Feature and Search Engines.
To become a member of CSRwire, or for more information, please click here.
About CSRwire
CSRwire is the leading source of corporate social responsibility and"¨sustainability news, reports and information. CSRwire distributes news related to Diversity, Philanthropy, Socially Responsible Investing (SRI), Environment, Human Rights, Workplace Issues, Business Ethics, Community Development and Corporate Governance to Journalists, Analysts, Investors, Activists, Academics, Public Relations, Advertising and Investor Relations Professionals in over 200 Countries.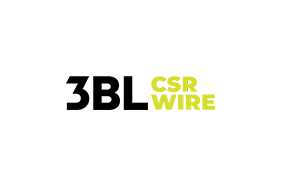 3BL CSRwire
3BL CSRwire
Respected and relied on by journalists, bloggers, business leaders and academics around the world, 3BL CSRwire is a dedicated, real-time source for major news and updates from within the worlds of ESG, corporate social responsibility and sustainability.
3BL CSRwire offers a-la-carte press release distribution to a global network of influential stakeholders and mainstream audiences—perfect for organizations just getting started in CSR or for those looking to get the most out of their corporate communications.
More from 3BL CSRwire